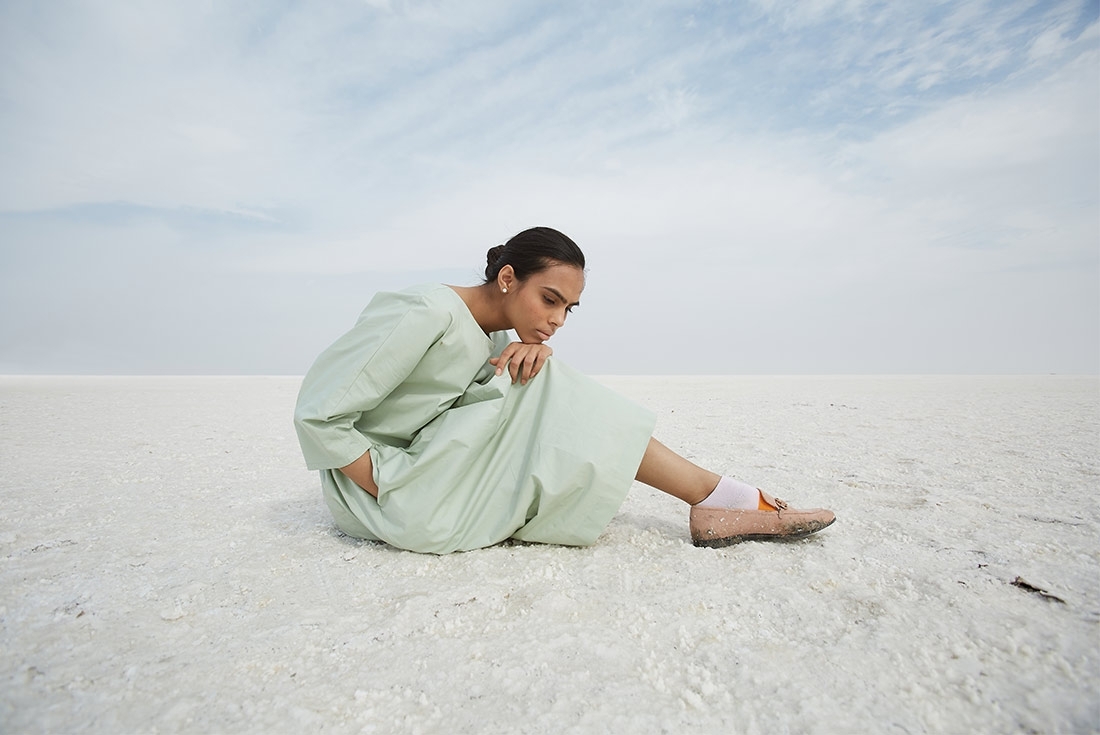 Girl From Kutch, Spring/Summer
The Summer House
Shivangini Padhiyar
With no formal training in fashion or design, co-founders Shivangini Padhiyar and Rekha Datla came together through a shared vision of conscious and ethical living. They believe pure is beautiful. The duo collaborated to create The Summer House, a modern lifestyle brand with an emphasis on handicraft and responsible techniques presented in contemporary aesthetic. They have made a choice to question every process and explore better possibilities. They choose the alternative to the easy way of sourcing materials.

Their inspiration comes from everyday life, Indian handcraft techniques that are otherwise dying with generations, vintage design books and even fiction stories they grew up with. Sometimes even a line from a story serves as a great starting point for a new edit.

Co-founder and creative head, Shivangini Padhiyar narrates the label's behind the scenes, stories and unique textile inspirations.

Tell us about your formative years and the journey to design.
Rekha owned a darling little store for a couple of years in Bangalore where she curated fashion clothing & accessories before she took a long break to have and raise her children (now aged 8 and 10). I worked in advertising for nine years before I decided I had the audacity to leave the security of a job to work on something I had been dreaming of for a while. I knew I wanted to work with design and craft though I had no idea what it would be. Luckily, Rekha and I met by sheer chance, instantly hit it off and after months of discussion and dreaming and doing,

The Summer House website was launched with its first collection in February 2015. All our fabrics come from an environment that does not abuse the earth. All our clothing is made in our own production studio. Each edit we produce has a story, heart and uses responsible processes and old fashioned techniques to create products that will outlast the season. We design and manufacture in small batches, keeping in mind ethical production, quality and affordability. We have made a choice to be inclusive, fair and responsible.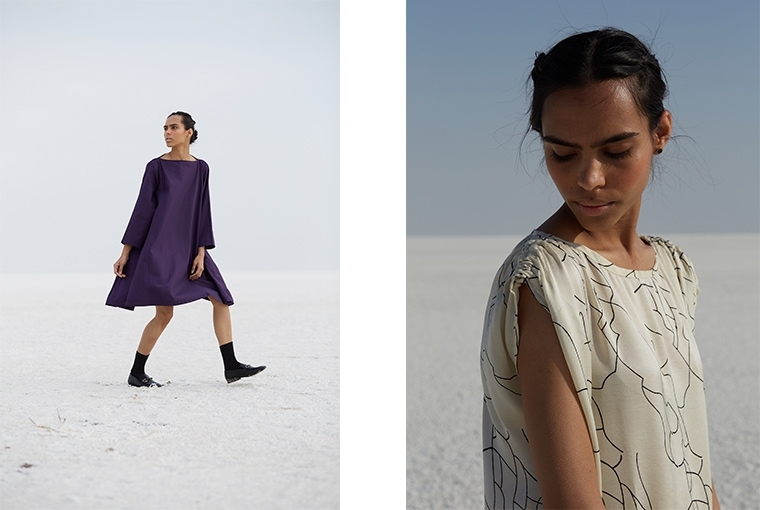 The edit Girl From Kutch; features 25 timeless, easy styles that draw inspiration from the terrain, the life and the women of Kutch, Gujarat.
What led you to sustainability?
When you move from a smaller town to the city and life becomes a blur of activities, you start missing the simplicity and celebration of everyday life that one experiences in places that are not rushed. So it wouldn't be a stretch to say that The Summer House was simply born from nostalgia. Both Rekha and I grew up in households where meals were home cooked, life was laid back and mostly spent running wild in the outdoors, craft techniques were appreciated, worn and lived. Long discussions about this inherited love of handmade and craft and technique combined with our appreciation for modern aesthetic is what eventually set the ball rolling for The Summer House.

It was not about sustainability, but simply is who we are as people, irrespective of whether we own a lifestyle brand or not. When we started The Summer House, we didn't know the impact of fashion on the world or that sustainability would soon become the trend or buzzword. We simply did things the best way we could, without cutting corners for the sake of profit. As people, we can't imagine doing something that is not right for the people who work with us, our planet or our customers.


It is challenging to carry a brand that relies on sustainability and traditional processes?
The more we learned, the more interested we were in sustainability and responsible processes. There really was no strategy to get seeped into it, it just so happened that we kept asking questions and seeking answers. Simple things like black dyes are most damaging to the earth (we only buy deadstock black fabric if we need the colour). Or that if you use handwoven cloth or eco-friendly colours or fabrics but then transport it across various parts of the world in a conventional way, your actual carbon footprint is much higher than the good you did. So technically then, you aren't a sustainable brand. Also, the fact that cotton is actually quite damaging to the Earth. It is a thirsty crop that completely takes everything out of the earth it grows on. Or the irony that we spend more time in closed spaces in clean clothes but our detergents are getting harsher and have more chemicals than before when we were actually working and playing outdoors. So many simple facts like these that help us function more sensibly.

I travelled for a year across the country to meet craftsmen in the many corners of India, understand the possibilities and nuances of different craft styles and that was very exciting. Rekha learnt about the construction of various fabrics, their qualities and behaviour. She went about the mad task of finding the right team of pattern makers and tailors that could achieve the quality we desired. It is not an exaggeration to say everything was a challenge. Especially since our kids were even younger then. The biggest challenge right now is to get our craftsmen and vendors in India to deliver on time.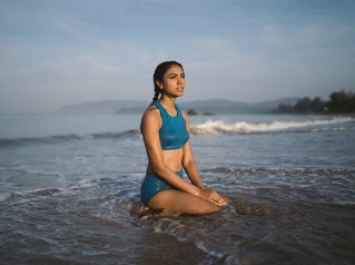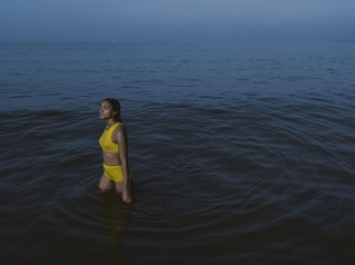 The first Swim line made out of Econyl, a hero fabric we sourced from Italy and that is not only made responsibly but actually helps clean up the oceans.
What is the long process of sourcing like?
We released our first swim line made out of Econyl, a hero fabric we sourced from Italy and that is not only made responsibly but actually helps clean up the oceans. Made from fishing nets and gear abandoned in oceans, this waste is fished out, polymerized and converted to regenerated nylon yarn that is then made into fabric that is beautiful and strong.

Our textiles come from all around the country. Our Khadi comes from Gujarat and Bengal, while Cotton, Organic Cotton and Linen come from Andhra Pradesh and Tamil Nadu. We work with craft clusters across Rajasthan, Uttar Pradesh, Gujarat, Tamil Nadu and Karnataka. For our much loved Farmers Baskets, we worked with an NGO that employs women from underprivileged backgrounds.

You work directly with craftsmen and NGOs to ensure their benefit. Where are these clusters? Describe your relationship with the artisans.
Between concept, sampling and final prototype, our teams communicate with remote artisans on a weekly basis. This process does take time and sometimes we even do face challenges with language and meeting deadlines, but it is sheer joy to see finished product in a modern design made using traditional techniques by these skilled artisans. We celebrate their skill and contribution each year through initiatives such as Fashion Revolution Week during the month of April.


"There is a sense of simplicity and modern subtle detail in every design we create. We believe in living beautifully, even when no one's watching."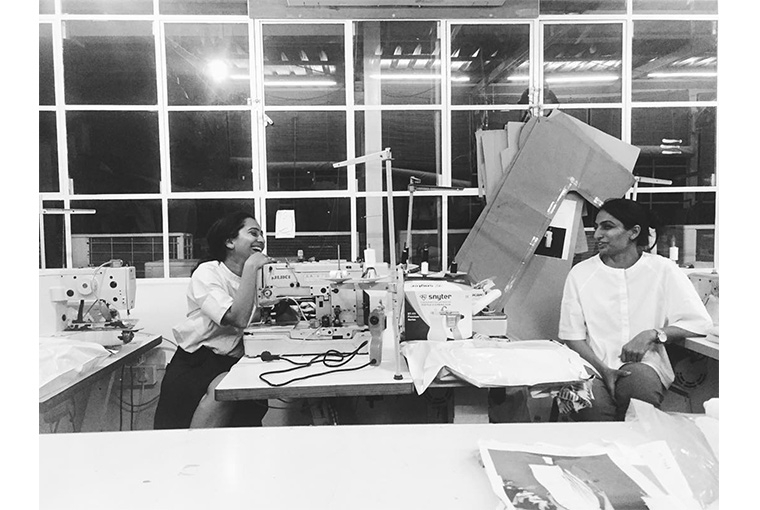 Co-founders, Shivangini Padhiyar and Rekha Datla
Looking forward to...
With each edit, we hope to create timeless styles that surpass trends or fads. Our new edits will continue to explore traditional techniques that may be amalgamated in modern designs, be it with clothing or homeware.

More from The Summer House edits here.

Text Garima Gupta