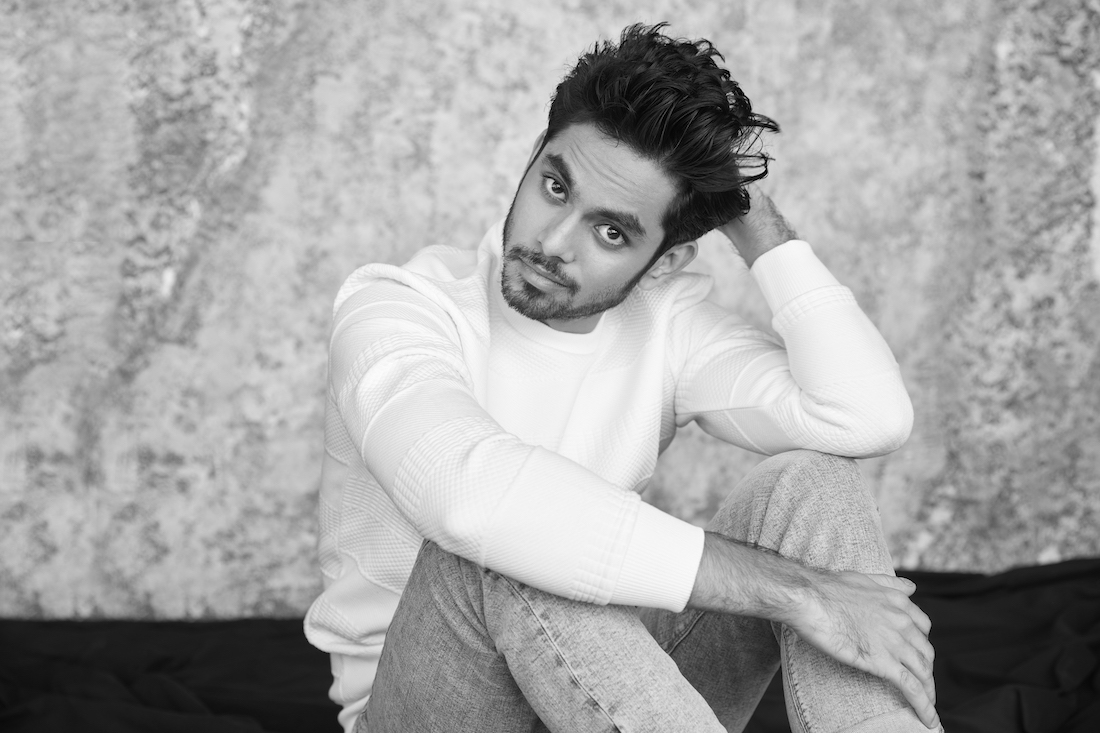 Aditya Rawal is the unlikely star born in this pandemic. Even though he comes from a family of stellar artists -- he is Paresh Rawal and artist Swaroop Sampat's son -- he had to go through his share of struggles to bag his debut film, Bamfaad [presented by Anurag Kashyap and directed by Ranjan Chandel]. Then, a straight-to-digital release owing to this crisis was definitely not what the debut actor had in mind but these are tragic times and things have been challenging world over. Finally, he plays an Allahabad based Muslim boy in the film, who is quite removed from his milieu. However, standing tall against all odds, Aditya Rawal is the talent of the year and a definite force to reckon with in the future.
Academically, he has attended the initiation course in Devised Theatre and Performance at the London International School of Performing Arts, while simultaneously writing plays and short films. He followed that up with a two-year course in Dramatic Writing from The Tisch School of the Arts, New York University. We connected with him to know more about him and his story. Excerpts follow.
Could you please tell me about your growing up years. I'm sure you grew up with huge exposure to everything cultural and artistic.
Growing up, we were always in and around the world of film, art and theatre. My brother and I would attend our parents' rehearsals and watch their shows, maybe 15-20 times. Often our family vacations were bundled with my father's theatre tours. Like if he was going to America, he would go around the country doing 50 shows in 60 days, and we would accompany him, spend a little more time in cities that we wanted to see as he went on to do shows. It was just wonderful. Also my mother is an artist so Sunday afternoons were spent doing clay modelling or going for painting classes or reading. Childhood was just a whole lot of fun.
Your teenage years were marked by sports, you even pursued it professionally. So when and how did you decide to get into films?
Despite being intimate with the world of film, theatre, art and culture, my primary interest in school was sports; especially cricket. Once I left school it became football, which I then started playing professionally. As a professional football player you need to train at least six hours a day, but the rest of the day you're doing nothing. So I started writing screenplays, plays and short stories, which I began to enjoy very much. It became a passion, and as for acting, theatre was always something I did side by side and started to gravitate towards it more. Then I had a fork in the road as I realised that you can't do sport, film and theatre, all at the same time. They are both very demanding professions and it is just not viable to sort of divide yourself in this manner. I had to make a choice. My gut told me to go with film and theatre. I felt like I would enjoy it more, felt that it would be more fruitful and today, I'm so glad I made the right choice.
Could you tell me a little about your time studying in London & New York and how it honed your skills as an actor & writer?
The time I spent in New York and London was one of the most enlightening and enjoyable periods of my life. Previously I had been on tours with my football club and the various teams I'd played with, but this was the first time I was staying away from home for a prolonged period, which gave me a great sense of independence. It gave me confidence that I could make it out on my own and fend for myself. So the human aspect of it was just great but as an artist it had a massive influence on me. My school in London was a physical theatre school based around devised theatre and it was something that I had never been exposed to before. Hence, every day was like a revelation for me over.

Then, going to New York was amazing because of the quality of the work that is expected from you, the ability of your colleagues, and the expertise of your professors, it just raises the standard of your work immeasurably. New York is such a wild, eclectic place that you're always exposed to things that you won't see anywhere else in the world. It was just fabulous to watch the theatre there, to watch the films by filmmaker that you've never heard of. Even being exposed to different cultures, since every country has some sort of representation in New York City!
You returned to India two years ago…what has kept you busy since then?
Once I returned to India, I got quite busy with my film writing actually. I started working with some directors whose work I admire deeply. One of the screenplays that I co-wrote was that of the film Panipat with Ashutosh Gowariker Sir, who is an absolute legend in his own right. Just the focus and discipline with which he approaches all of his work was enlightening to me. It was very humbling to see somebody who's achieved so much. But if anything, his achievements make him work harder, as opposed to the other way round. It was just a wonderful experience. So that was a major part of the two years that I spent. Then of course, we started shooting for Bamfaad, which was a great pleasure. We were a young dynamic team. We were all learning at the same time and trying to make a good film.
Do you remember your first ever audition? Can you describe it for me?
It's funny because the first ever audition that I can remember, led me to finally score the part of Nasir Jamal in Bamfaad because it was about five or six years ago for another film with Honey Trehan Sir and Taran Bajaj, who was the casting director of Bamfaad. I did this scene with Taran bhai, it was a two-minute comic scene. We kept improvising for about six to seven minutes. We both really enjoyed the audition. However, I didn't fit the part of the character because I was too young then. When Bamfaad came up, he told me that the moment he read it, he felt that I would fit this part very well. So we did a few rounds of auditions which Ranjan Chandel, the director, liked. Then we went to Anurag (Kashyap) Sir to get his blessing.

It was a lovely coincidence how he still kept me in mind for years. As for how I felt before the audition, I think I like to prepare meticulously before I perform something or even before I'm writing. I wasn't particularly nervous honestly. I was just excited to go and perform. I was pretty relaxed, I think auditioning is something that I really enjoy doing because I don't see it as an examination, but as an opportunity to just try something new as an actor, to work with a different casting director who might have a different style of direction. The stakes aren't very high -- what I mean to say is there is not much to lose. If you go there just looking to enjoy yourself and not worrying about whether you will eventually get the part, it is something that takes a load off my mind and allows me to enjoy the process of auditioning. So yeah, it's great.
Bamfaad was a very unlikely launch pad for you. Why did you choose it to as your debut film?
I think for me the attraction to Bamfaad arose the moment I read the character, because I fell in love with him. He was so different from how I am in real life, whether it is the manner of speech, the physicality, or his personality. I just felt like it would give me a great opportunity to work on such a different role in my first film. It's like a dream for an actor at least, in my opinion. Then, there was the script, which I really enjoyed. The world that the writers Ranjan Chandel and Hanzalah Shahid had created really excited me. It was a world that has been portrayed in films before, but not quite in the manner that these guys had written it, which was raw and very unique. I felt like it had a lived-in quality. I think that was because Hanzalah Shahid is from the same neighborhood where the story is set in.

Then the other reason was the team that I would be working with. I'd obviously met Ranjan bhai after he liked my audition. Then there was Anurag sir who was presenting the film, Taran bhai who I think is a fabulous casting director. As we progressed, the cast that they put together was an exciting proposition for me to work with. Hopefully for me, these would be reasons why I choose any script in future -- the character that I'm playing, the script of the film and the people that I'm working with. So I'm really glad I made this choice and I hope for more such fulfilling experiences in the future.
Nasir is so different from you. How did you prepare for the role?
As far as preparations go, I'd already started working on the accent and the physicality of the character for the auditions. Once I got the part, I used to have conversations with Ranjan bhai and the co-writer Hanzalah Shahid. I joined the production and direction team for the tech recce as well in Kanpur, Allahabad and Lucknow, just so I could get a better sense of the world, and be able to observe first-hand, the kind of person that I would be portraying. There is a special sense of self confidence that the young men from Allahabad have. There's a very different sort of flavour to their sense of humour as well, which was exciting to get a hold of, and helped me understand the script and the characters better. In addition to that, there was a three week long workshop that all of us actors were a part of. So by the time we began shooting, we were all primed and ready to play our characters. We were already in many ways inhabiting our characters. So we were just eager to get going.
How are you coping up with the lockdown?
The lockdown has been quite alright, to be honest. I recognize the privilege that many of us have of having a roof over our head and food in our stomach, and once you understand that, it all becomes much easier to to go through. As far as what I do, if you ask any writer, what lockdown is like, they will tell you that it's more or less like a regular life for them. It's very much the case for me as well. I'm trying to write as much as possible, working on stories that I'd been hoping to work on for very long, watching films, reading books that I had on my list, but never got around to. So it's been a rather fruitful period. Also the film released during lockdown, so those were a very exciting few weeks.
Lastly, what's next for you?
There are a couple of things that I've written that will hopefully see the light of day soon. When it comes to acting, I've signed a film and a show that I would be most happy to talk about once I'm able to, but it's going to be very exciting. It's something that would require me to again dive into a new world altogether. Something that I find truly rewarding and enjoyable. So I'm looking forward to that very much.
Text
Hansika Lohani Mehtani