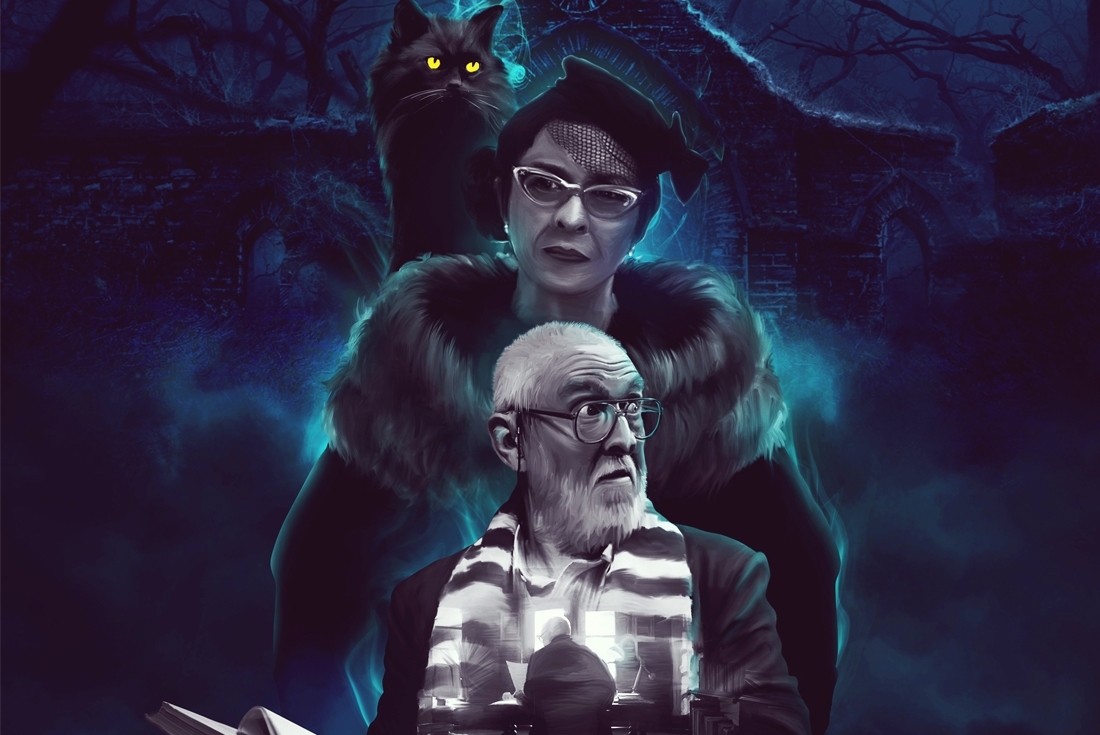 PROFILE OF THE WEEK
The Black Cat
Bhargav Saikia
The Black Cat, Director
FilmQuest Utah, Bengaluru International Film Festival, Signs Festival Kochi, McMinnville Short Film Festival Oregon and Brahmaputra Valley Film Festival - all have one thing in common. By the end of the year 2017, each will have screened the official film adaptation of The Black Cat, a short story by none other than the revered author of more than fifty children's books - Mr. Ruskin Bond.

Bhargav Saikia, is no stranger to film festivals or genre cinema. Aside from conceptualising an idea that turned into an oddball mix of fantasy, horror and comedy in The Black Cat, his previous stint with the same, titled Awakenings earned him wide recognition and established him as a key player in changing the face of fantasy/horror genres in an industry that doesn't pay much heed to either.

His latest project, Mr. Ruskin Bond's The Black Cat, is a short fantasy film of the same name and stars British actor Mr. Tom Alter playing the lead character by the name of Ruskin Bond, alongside Miss Shernaz Patel who portrays the witch, Miss Bellows. And in clearly the most peculiar titular role, is a Persian Black Cat that plays the, well, black cat - a central character in the story. In conversation with the director of this short, Bhargav Saikia discusses everything there is to know about his upcoming film and what went into realising one of his favourite stories by one of his childhood heroes.
Why do you do what you do? What's the story behind choosing a career in cinema?
The first film I remember watching as a kid was Mani Ratnam's Anjali. It was a touching story about a girl and I remember being really affected by it. Back then I watched a lot of Mani Ratnam's films like Bombay and Roja. Back then, I didn't really understand the nuances of filmmaking, but I was really fascinated by the concept of being in a dark hall and watching stories come to life on a huge screen. I attended the The Assam Valley School where I had a really progressive English teacher who used to discuss books like the Harry Potter series, Charlie and the Chocolate Factory, Fantastic Mr. Fox with us. They gave me a very interesting perspective towards children's fantasy stories which is what I think contributed to my interest in the genre that I explore today. Other than that, I enjoyed horror and fantasy cinema that appealed to both adults and kids and watched a lot of Tim Burton films. He was the one filmmaker who I really admired even as a kid. Every film of his is built around a strange world with a lot of eccentric characters. You'll see traces of his style in The Black Cat, although it wasn't really a conscious effort, it's mostly a result of growing up watching his movies.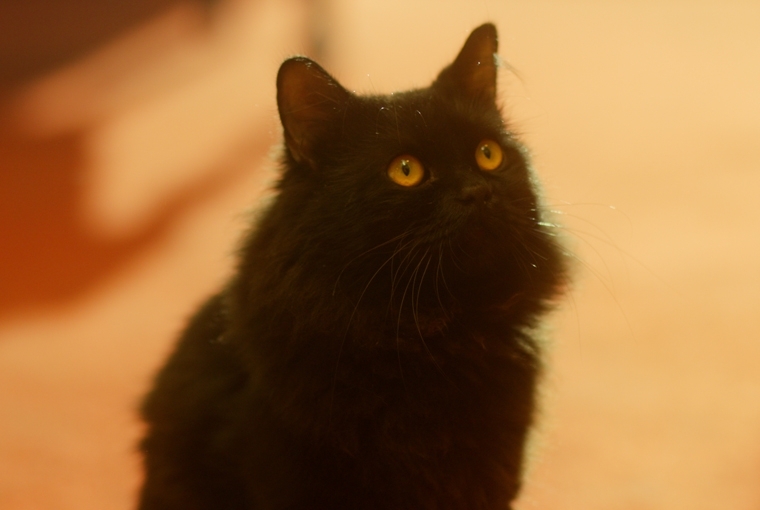 Your film is an adaptation of Ruskin Bond's short story of the same name. What drew you towards this particular fantasy tale?
My first film as a director, a short film called Awakenings, was also an adaptation of literary text. It did really well in the genre film festivals in Europe and the US. And it gave me the opportunity to attend the Sitges International Fantastic Film Festival in Spain which is the best for genre cinema. That's where I got to witness a lot of excellent filmmaking, including short filmmaking from all over the world. On returning to Mumbai I spent some time figuring out what I could do to help the same genre grow in India. I wanted to work on something written by an Indian author and of course Ruskin Bond was the first to come to mind, considering I've grown up with his stories. A lot of which are these spooky stories set in the hills. I read this one book by him, a collection of spooky stories and The Black Cat was one of them. It really stood out because of the characters and the weird situations they found themselves in. A very eccentric read, cut off from reality with all the makings of old-world charm set in a quaint hill station with over-the-top yet relatable characters. It gave me a lot of scope as a filmmaker to explore avenues I couldn't before.

Was there any pressure at all, considering you'd be translating the words of one of the most endeared authors for the visual medium?
More than pressure, it was this sense of responsibility towards the author and his story. Ruskin Bond is one of the most beloved writers in our country and I grew up with great respect and admiration for him and his work. I made sure that the pre-production for the film was done right which is why it lasted eight whole months. When I met Mr. Bond to talk about the screenplay, I discussed how and why he wrote this story. He spoke to me about the time he spent in Mussoorie and how this black cat and his land lady both used to irritate him (laughs). So these two became the central characters in the story and the land lady became a witch. This seemed really interesting to me and I made sure the essence of the story remained intact in the screenplay since Mr. Bond is known for his signature wit and humour that he applies to his stories including this one. As a filmmaker, I respect the words of an author which gave me a certain responsibility towards adapting the same. Also they way Mr. Tom Alter and Miss Shernaz Patel have contributed to the story helps brings out its true essence.
Tom Alter portrays the character of Mr. Bond in the film
What were the dynamics like on set, working alongside such veterans?
When I decided to adapt the The Black Cat, I had absolutely no idea of how I was going to get in touch with Mr. Bond. I'm quite new to filmmaking so I didn't have as many contacts. Somehow, a friend from boarding school had a relative in close association to him and at that point it seemed like the world conspired to make us meet. Of course I was nervous the first time we met but he was so warm and friendly, it made me feel really comfortable. The meeting which was supposed to last 30 minutes but we ended up chatting for three hours. The same goes for Mr. Alter and Miss Patel.

Mr. Alter was also the very first actor who came to mind for casting the lead character, also because he is a very close friend of Mr. Bond. They live in Landour and have known each other a long time. Also, the language of the film is English so I wanted two actors who would perform naturally and both of them do a lot of English theatre. When I met Shernaz Ma'am for the first time to discuss the script and the story, she was instantly excited because the role she'd be playing was of Miss Bellows, a traditional, eccentric, English witch. A role really different from what actors in Indian cinema usually get to play, where they don't get to experiment all that much. So they're automatically thrilled when roles like these do come come their way. When I met both the actors, they were kicked about the project since day one and were really supportive, something I'm really grateful for.

Your current and previous works have been focused on a certain kind of genre cinema, mostly fantasy and horror. Any particular reason behind this?
Every filmmaker has his or her own style and for me, I relate to these strange worlds full of strange characters - it's the kind of environment that really excites me. Even the name of my film company, Lorien Motion Pictures, is a name I've adapted from a place called Lothlórien in the Lord of the Rings universe. I've taken away the word lorien from it which roughly translates to the land of dreams and fantasy. I'd really like to explore these genres and contribute to their growth in Indian cinema as not too many filmmakers are exploring them enough. In India, the horror genre has a relatively narrow perspective where a lot of sub-genres are ignored. The slashers, the complete gore, zombies, vampires - so much can be done. And they can be done keeping the Indian ethos in mind. I'm frankly quite surprised I haven't seen such films made here and it's high time someone brings these stories rooted in local India to the attention of the Indian and international audiences who I think will be really receptive to them.
Shernaz Patel as Miss Bellows in a still from the movie
Tell us a little about your creative process and the approach you take while converting a short story into a film.
It's very important for me to keep the essence of the original story intact. Of course I'd need to take a few cinematic liberties here and there and bring out my own directorial style through certain improvisations. But 80% of the story is as is. It's a very organic process for me. Writing the screenplay felt like writing a story book. And I treated the film in a way for it feel like you are watching a dark fable unfold. And I think it's something that can be thoroughly enjoyable for kids and adult alike.

The story stars Tom Alter as Mr. Bond and Shernaz Patel as Miss Bellows in lead roles. How did the casting process shape up?
Above a lot else, the reason for casting Tom Alter was his close friendship with Mr. Bond. He was a natural when doing takes for the film. On the first day of the shoot, he called up Mr. Bond and asked him about his favourite songs which he ends up humming throughout the film. There are several many of these little details that he's brought to the film which helped make his overall performance pretty entertaining. At the same time we've made sure it isn't a mimicry of the real-life Bond but rather an improvisation that appeals to a wider audience.

Speaking of Shernaz Ma'am, firstly, I'm a huge fan. I've seen her in Black, Guzaarish and Talaash. I knew she'd be up for playing a slightly off-beat character that gives her a wide scope for a memorable performance. We don't reveal her as the witch in the first part of the film. Instead we've given her character an interesting arc, which starts off with her as as a normal, mysterious lady that's built up to the point where she's revealed to be the witch. I had this intuition about Shernaz Ma'am, it's something I can't put into words. I couldn't think of anyone else to play the role. One of my references for the character of Miss Bellows was Meryl Streep in the film, Into the Woods. I could totally picture Shernaz Ma'am pull-off the witch-long nails, messed up hair, the works.
Bhargav Saikia | Behind The Scenes
Was there a special reason to choose Nainital, Uttarakhand as the prime shooting location for The Black Cat?
Regarding locations, I'm naturally drawn to ones with a lot of history. I did a quick Google search for what I needed in the location - a cottage or a bungalow with a lot of character. The leading male character in the film is someone who likes living a peaceful life and because he's a writer, is prim and proper about mostly everything. I stumbled upon this property called The Retreat in Bhimtal, an hour's drive from Nainital. It was built in the 1860s by two British men and is currently owned by Padmini Smetacek. So post looking at a couple of pictures in the internet, I went to have a look at the property myself and when I finally did see it, everything seemed to just fall in place. The way the sunlight entered Mr. Bond's study room it gave it a really fresh and cozy look, and underscored the subtler details of the living room. I didn't really have to carry too many props from Mumbai. The owner of the property was also super excited that we'd approached her with a Ruskin Bond story, being a huge fan herself. She was very supportive throughout the shoot.

The second location was this British cemetery near Nainital on the Bhowali Road, called The Pines British Cemetery. It was completely in ruins with no renovation of any sort despite the visiting tourists. It has this huge, imposing Victorian arch, which coupled with the rest of the location was interesting enough for me to shoot the climax of the film there. And when you see it in the final cut, with the added visual effects, it brings forth a ton of character. We also needed an antique shop for the opening sequence which I couldn't find anywhere in Mussoorie or Nainital. We ended up shooting it in Mumbai's Chor Bazaar but we've established the film as set in Mussoorie, for which we've highlighted the Mussoorie library, one of the hill-station's most iconic landmarks. So overall, we've shot in four different locations for a twenty minute film.

Do you recall any challenging or truly testing moments during making of the film?
My biggest worry was the cat, the central character of the movie. Even Mr. Bond was quite skeptical while discussing the story, regarding whether we were planning to animate the cat or make an animated film altogether. And getting a cat to act is the most difficult thing in the world since they're really stubborn. There's this dialogue in the film where the male lead says that cats are the most perverse and obstinate creatures (laughs). I hired a professional animal trainer from Mumbai. We started working on this, six to seven months prior to the shoot so that the cat could at least have a sense of experience in a totally different environment. We gave it training with the broomstick used in the film, and I made sure the scenes with the cat weren't too complicated while writing the script. At the same time, to make them look convincing. I broke down every scene for the trainers who were equally excited because they got to do something different this time around. We had two cats, a Persian black cat, the main cat and the other was a back-up cat. Surprisingly, they performed quite well during the shoot but of course there were challenging situations and I had to work my way around them during the shoot. Filmmaking being quite an unpredictable practise, and you've just got to be ready for whatever comes your way.

My second worry was the visual effects. We didn't have a huge budget for it but I wanted to ensure that the effects met certain standards. Fortunately, my cinematographer, A. Vasanth from Chennai has been working in the Tamil film industry for eight years and had Phantom FX in mind, the company that worked on major segments of Baahubali 2. They were thrilled to join in, especially since they had the opportunity to work on scenes never dealt with before, like those of a witch flying in the night sky. I think the visual effects have come out quite decent and whoever has seen it ended up complimenting it.

The Black Cat is currently doing festival rounds and will soon be available for the Indian audiences to view and experience a refreshing tale from a promising genre.


Text Shristi Singh