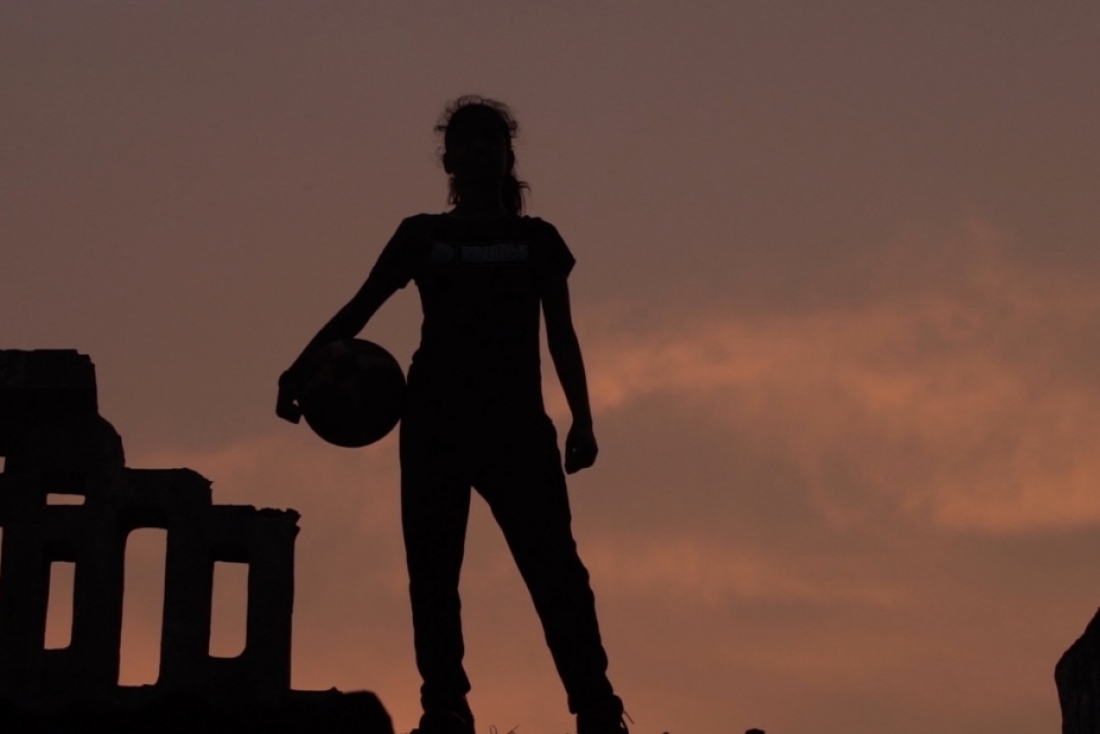 Dribbling Dreams
by Varun Tandon
Varun Tandon's 7 minute long documentary explores how Basketball impacts the lives of underprivileged children residing in Gheja Village, Noida and provides them with a new direction. Gheja Village Project, an offshoot of Dribble Academy is shown in the documentary, where Pradyut Voleti, the founder, coaches these children in the sport of Basketball. Other than Basketball, Yoga, English and Dance lessons are also held in this academy. A major chunk of these children come from families where domestic violence, alcoholism and drug abuse is prevalent. In this context, Pradyut gives them a new light of hope by imbibing values of honesty, discipline, teamwork and sacrifice alongside coaching them on basketball.

Prior to this, Varun has already made a mark as a filmmaker with his award winning releases, Gulcharrey and Syaahi, both of which were compelling in their own light.

Varun lets us in on his revelations while filming Dribbling Dreams and his journey as a filmmaker

What draws you to telling stories and when did you discover that you wanted to be a filmmaker?
As I grew up in a small town, there was no television, no electronic medium so my afternoons and evenings per spent listening to stories from my grandparents so that was the first exposure to storytelling. That's when I started listening to stories and enjoying them and later on without realising I started to enjoy telling them as well.

There can be so many mediums of storytelling. What attracts you to film?
Film is unique. As a child I got attracted to film or cinema or any kind of visual medium as I felt it took you to another world. Just the fact that a film can transport you to another world, in an audio visual sense, is what drew me to cinema.
You had very little knowledge of filmmaking when you started making films. Take me back to your earliest experience of making films.
The process was quite crazy. I was lucky that I met some friends in college who were also interested in cinema but none of us had any technical knowledge of cinema, so we just had 1-2 minute ideas that we wanted to make into films, so we decided why wait when we could just start making films and that time we could make a film for as less as 1500 bucks. Therefore, We thought there is no reason to not make a film. Also at that time we had old video cameras and not advanced video cameras, we didn't even know how to press the record button on the cameras but slowly we kept on making one film after another and then once you show it to people, you to get feedback, you learn, you get to know what is the next challenge you can take, so yeah that is the only way about it. Though I always had an idea in mind or a story I wanted to tell.

What made you choose Dribble Academy and Pradyut Voleti as a topic?
So I have known Pradyut for a while and I was seeing the kind of work he was doing and even I have played hockey in school, I have played at the national level so I understood what sports can do to the self esteem of a kid while growing up, how it gives you a sense of purpose and I also noticed that Pradyut was helping these kids with the same. The idea was not to make them professional sportsmen but to help these children through sports whose lives were passing by in forms of drugs. Also a lot of these children came from troubled homes where there was domestic abuse, there was alcoholism, there was drug abuse, so I saw how he was trying to help them get a new direction,grow their self esteem and their personality. I felt it was having a positive impact on the psychology of the children, so that's when I thought we should make a film on this. Some of the kids have also got scholarships from here, so they are doing well in sports, so I feel its an overall development that happens there which I thought was really fascinating so I understood what sports could do for a child.

Take us through the research process for this documentary. Was there a larger idea in when you started making this film?
The research process was talking to a lot of people. I didn't narrow down instantly on Dribble Academy because I had an interest in the subject of sports empowering children. The core of it was how sports is helping children to overcome their own difficulties. Once I started from this one line idea then I just spoke to a lot of parents and a lot of kids and once you find out their story and you get finer points and more structure.

What would be your lessons from filming this documentary?
There is so much talent in rural India and there is no sporting infrastructure. If you are in a village and you want to play any kind of sport there is absolutely zero infrastructure, so we are basically not tapping into a lot young talent which we have, which is going to waste. Also children are more interested in sports at an earlier age than academics so we have to give them some platform where they can express themselves and get into the habit of working hard, get into the habit of working towards something and in rural areas neither do they have academic or sports opportunities so they end up regretting their childhood later.
Other than that, Dribble Academy academy is also teaching them music, there are yoga and dance classes so it's also about the overall development of the child. Even if a child doesn't become a pro basketball player, he is building some skill and getting more exposure than what he would get in a Government School.

You have made around 15 short films and documentaries. How have you evolved as a filmmaker over the years?
That is difficult for me to answer. The whole idea is to remain as honest to your idea and as honest to the craft. Also slowly slowly you get better at executing. The aim is to get closer to to translating the idea you have in your mind through the medium and bringing it to life.

What difference or growth do you see in the children from Gheja Village as a result of learning basketball as a sport and coming together with other children to play as compared to other underprivileged children who don't have the same opportunity?
First difference I encountered was gender sensitivity because boys and girls are playing on the same court and from such a young age they are getting exposed to how you have to behave. Basically they are all equal, there are no barriers of gender so for a kid growing up its normal to play with a girl there. They don't come with any preconceived notions.
What I am saying about gender also applies to caste, so people from different castes are coming to play but once they come to the court they are all equal. So the major impact that I saw was that it is breaking down, at a very young age, barriers of gender, caste and the economic background you come from.
I read somewhere that one young's girl's family objected to her wearing a pair of shorts and going to play basketball in Gheja Village. Have you seen people becoming more open to the idea of girls playing a sport after the inception of the Gheja Village Project?
Initially there was a lot of objection, there were only five kids who were a part of this program but slowly one or two people allowed.
One of the girls got a scholarship at Shiv nadar purely on the basis of basketball, which is one of the big schools so once the village people saw how sports can help you move ahead in your career, all the children also started doing well in academics as a result of coming to the court. So the villagers started seeing the tangible benefits of the sport.

What would be your advice to aspiring filmmakers? Your first film Gulcharrey was made on a budget of merely 6000 rs. A lot of people in India feel that getting into an art field or film is an expensive affair.
My advice would be earlier people could make an excuse like if they didn't have a camera or something but now if you have story to tell there is basically to no excuse to not make a film, because you can shoot a film on your phone right now. So people can make a film for as less as 3000 rs, I am not even exaggerating. You can shoot on your phone, you can edit on your phone. You can upload it on youtube where you have an audience for free so the only way is to not think about it, just do it. If you are really passionate about your story, there are enough people to support you, the film gets made. It is about deciding that you have to make it and taking the plunge.

Text Supriya Jain