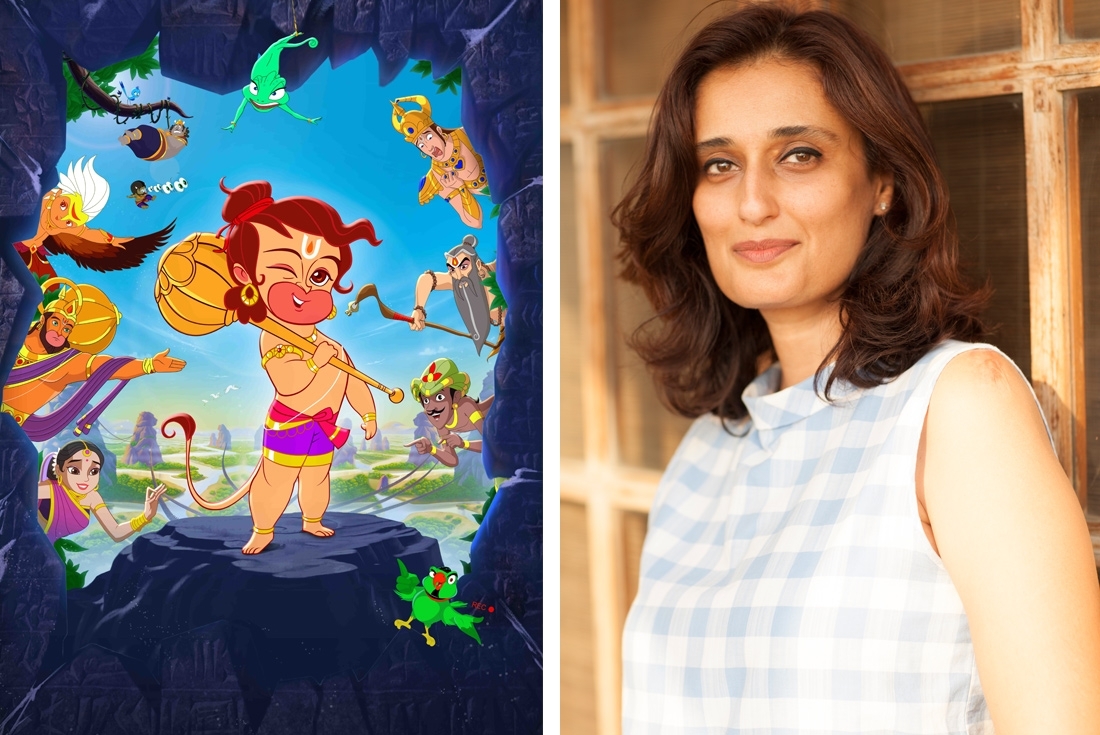 L to R: Hanuman Da' Damdaar Poster; Ruchi Narain
Hanuman Da' Damdaar
Ruchi Narain
When Ruchi Narain wrote the story for Hazaaron Khwaishein Aisi, she won many hearts and also bagged the Filmfare Award for Best Story. Later, she penned scripts for Snip! and Calcutta Mail and soon found herself on the director's chair with Kal: Yesterday and Tomorrow. But after a conversation with the director and writer, it's not hard to guess that an animation film was always in the making. This summer will see her returning to her seat, with Hanuman Da' Damdaar, an animated 'tale of adventure about finding your 'dam' and what makes you truly 'damdaar'.'

Why Hanuman? What inspired you to dorn the director's hat for this project?
After winning a Filmfare for Hazaaron Khwaishein Aisi, many people called me and I told them I want to do an animation film. Everyone thought I was mad. And now I know they were right!
I grew up watching amazing animation films from Disney and Pixar. I always wondered why we didn't make films like that. I knew we could. We have the stories and the technical expertise. All that is remaining is Da Dam to do it!

Can you give me a blurb on Hanuman Da' Damdaar?
Hanuman Da' Damdaar is fun-filled family entertainer. It is a summer bonanza, a tale of adventure about finding your 'dam' and what makes you truly 'damdaar'. It has a contemporary flavour especially in the dialogues and a sense of humour, which we will help in making the story relatable.

How challenging was the filmmaking process, considering this is your debut in animation?
If I knew HOW much work it entailed, I would've thought twice! Kidding. It is at least 20 times more work than a live action film because every single element in the frame is planned and created deliberately. The kind of detail one has to get into is unimaginable for regular live action filmmakers like myself. For example, even the performance has to be worked on three times; once in the voice dubbing, then in the facial expressions and finally in the body language! Only when those three separate processes add up, it makes for a single performance.
From writing the script to pre and post production, I'm intrigued to know how the entire process flowed. Can you tell me a little about it?
I'll have to take a master class on that! Aside from the joy of seeing a larger than life story unfold, every bit of the process was a blast. In short; character design, performance, dubbing, story boards, colour boards, backgrounds, in addition to everything else that normally goes in.
But my favourite part was called 'smacking'. It's a process of blocking a scene with the actors and working out the body language of the characters etc. Basically enacting the whole scene and shooting it so the animators can draw it accordingly. And because it's animation, you can really go wild. The most fun part was when I would call up an actor and say, 'Come I need to smack you!' Needless to say, they would all get most alarmed, 'Ruchi! We didn't expect this from you, haha!'

Talking about the collaborations, you have many interesting names on board. How did you come about your motley crew of artists?
I am still taken aback when I see the amazing multi-star cast that is on board. It was my dream cast and I still have to pinch myself to see it's a reality. Because I wanted to make a cool, funny, entertaining film, I approached the wittiest, coolest actors from the industry and luckily everyone agreed. From the immensely witty superstar Salman Khan, to Raveena Tandon, Chunky Pandey, Kunal Kemmu, Vinay Pathak, Makrand Deshpande, Saurabh Shukla and the amazing story teller that is Javed Akhtar, they have added so much in terms of their persona, plus we worked on the scenes together and ad-libbed dialogue. They were all really into the fact that giving this contemporary edge to the dialogues would make the characters and story very relatable and most importantly, lovable.

How similar or different is the process of directing a feature vis-à-vis an animated movie?
There's no comparison. Animation is 20 times more work and you are deliberate about every single thing that is seen or heard. Nothing is the result of chance. We worked on excel sheets for each shot at every stage. There are hard drives full of my feedback on excel sheets.

On a different note, do you have a personal connect with Lord Hanuman?
Having grown up outside India, whenever we came back to Delhi for holidays, we went to the Hanuman Mandir on Tuesdays. It was my only religious connect for a very long time.
I am very drawn and inspired by the inherent innocence of Hanumanji, one who has such great strength and so many powers and yet maintains an innoncence and loyalty to serving only others. Today, only a self-serving mentality is promoted and accepted as right. I wanted to tell a story about a character like Hanumanji who embodies values of selflessness, a forgotten quality in this day and age.

What's next?
I am starting another film later this year. Together with my partners, Ashutosh Shah and Taher Shabbor at R.A.T Film, we have a three films line up. We are ecstatic about having a Damdaar beginning with Hanuman! Truly auspicious. Watch out for it on May 19th.



Text Ritupriya Basu