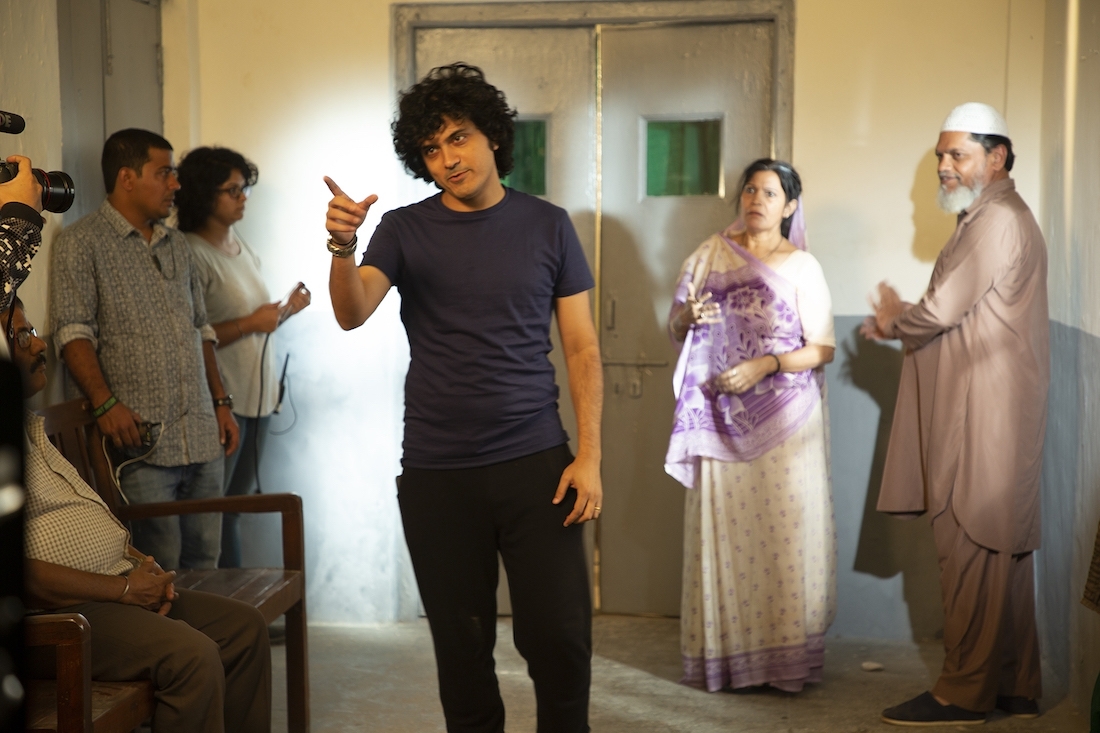 From winning a National Award for his documentary film, Amdavad Ma Famous, to working on his first big budget Bollywood commercial film, Roohi Afzana, Hardik Mehta has certainly come a long way as a filmmaker. During this time, Mehta has co-written movies like Trapped and The Affair, the latter of which he also directed, and has also made his directorial debut as a feature filmmaker through his film Kaamyaab, that premiered at Busan Film Festival last year. Mehta's outstanding skills as a filmmaker might make it seem like he was planning to be a filmmaker since ever since he was a child but such is not the case. It was only after he completed his degree in Engineering, which he funnily remarks is a prerequisite for any Indian before s/he makes further plans for their lives, Mehta ventured in the world of advertising which finally led him towards the world he actually belongs to, filmmaking. With his debut feature film, Kaamyaab, set to release commercially this week and his current film Roohi Afzana, starring Rajkummar Rao and Janhvi Kapoor, is set to release this year as well, Mehta's cinema shall certainly be creating much intrigue in the time to come.
We connected with him to know more about his journey as a filmmaker and his two upcoming film releases. Excerpts follow:
How were you propelled towards filmmaking as a career?
Well I come from a middle class family and in India arts is barely given any importance to in such a household. Like its a pretty famous saying that in India people first become engineers and then decide what to next with their lives. That is also pretty much so in my case because I finished my high school as a science student and then enrolled myself in a B.Tech course in Dairy and Food Technology. During those four years of my Bachelors I recognised that I was not made for it. That of course led to the question of what was I actually made for then? So I decided to try my hand in media and I was in Baroda at that time where we did not have much exposure to film and cinema, so advertising was the most accessible field for any outsider. I thus became a copywriter and the thing is that when you do copywriting, you have to visualise stuff, ideate, create brand campaign, write funny one-liners, et cetera, which lays really good groundwork for you in case you want to become a screenwriter or a filmmaker. So for me, two years of copywriting really helped me. Overtime of course I realised that I was towards filmmaking and cinema and thankfully I was 23 around that time so one could still take that plunge and change careers.
How would you describe your cinematic sensibility?
I think one word that comes to mind is humour, and using it to explore the emotional aspects of society and life. This is something that I want to be consistent with through my cinema because in India I feel that if you want to say something, its best said through humour. Everyone has their own set of problems and they don't want to hear about your problems as well over that. It is important to use humour or employ really heartfelt emotions to what you are trying to say in order to catch people's attention and make them pause and feel whatever it is that you want to convey. This is my approach in my filmmaking, of course what I am making right now is a more commercial pot boiler but there are still sensibilities that I draw upon in my work and humour is one of them.
Your first cinematic venture was a documentary and now you're making Roohi Afzana which is a full fledged Bollywood feature film. Could you tell us a little bit about your transitions between these genres and what your experience has been like with them?
I personally think that we are living in a really good time cinema wise because all kinds of cinema are now being appreciated and all kinds of mediums are available to a filmmaker, from a documentary, to musical to theatrical, et cetera. So these are actually really good times to tell all kinds of stories in all kinds of formats. So when I wanted to establish myself as a filmmaker, I was sure that I didn't want to be helped by a senior filmmaker or a producer or live on this principle that you can only make a film with a big budget. I always thought why can't I just make a film on my own because all the filmmakers that I look upto started out on their own and never really depended on anyone. So that is how the idea for Amdavad Ma Famous came. Amdavad Ma Famous is about this boy named Zaid who flies kites during the kite flying festival in Ahmedabad which is humongous in scale in the city. Everyone from a little kid to a 60 year old is staring just walking on the street and staring at the sky and somehow I found this visual really funny. I mean I am myself from Gujarat but sometimes when move away from your cultural roots and come back to it gives you a different perspective to it. So I thought that this festival had to be captured and documentary would be the best medium because not only documentaries have to be academic in nature. That is how I ended up making a documentary and I didn't think that it would travel to so many festivals and we were very lucky to have been awarded the National Award that year. This film actually made me a filmmaker.
Then of course, as you live and work in Bombay and since I had assisted in films like Lootera, the fought of making a feature film was always at the back of my mind. A feature film is much more accessible and it reaches a wider variety of people and much faster at that. Also with today's cinematic landscape one can always go back to making a documentary or a short film after doing feature films as it allows you to do so. Thus this transition is perhaps easier to make now, back and forth, for filmmakers worldwide because of such great platforms have opened up now.
Kaamyaab is your debut feature film that has been making rounds of film festivals across the globe. Please tell us a little bit about the film and the inspiration behind it.
Kaamyaab stars Sanjay Mishra and Deepak Dobriyal, both absolutely brilliant actors. The film has also been produced by Drishyam Films and Eros. It is actually about this side character in Hindi movies who has done these typical small roles in films here and there and then one day, after playing so many roles like these he is reminded that he has actually starred in 499 films so far. After he realises that he is now just one number short of making a record and starring in 500 films, he starts his journey of pursuing that one film that will help them achieve this. This journey of pursuit is essentially what Kaamyaab is about, asking you that at the end of what really is kaamyaabi (achievement). Is it personal, is it professional or is it governed by what society thinks is an achievement, hence what is it really? This is the emotion that the film speaks about.
I think the main inspiration for the film was mainstream Bollywood in itself. I think we have all grown up watching films on Zee Cinema and Set Max. We've all come across these stereotypical side characters in films which are important and we really enjoy them but are yet not really remembered much. Its basically a simple movie about Indian Cinema. I think that Sanjay Mishra's casting and acting was essential to the film because it would have been very unfair to cast a big star to play a side character. Sanjay sir knew exactly how it feels to be on the sidelines after having acted in so many films as the side character and he has done a fantastic job in the movie. The film, as you said, has been travelling to many film festivals since its release and the response has been incredible. I am now looking forward to releasing it commercially either theatrically or through a digital medium somewhere by the end of this year!
How has it been working on your current film, Roohi Afzana?
I am actually not allowed to say much at this juncture about the film but what I can tell you is that its a horror comedy with Rajkumar Rao and Jhanvi Kapoor in the lead. Dinesh Vijan is the producer and Mrigdeep Singh Lamba and Gatuam Mehra are the writers. So this is the first movie that I am directing which I have not written. Even though the movie is completely the kind of cinema that I want to make but the script isn't mine and its a really funny story so I feel privileged to have this opportunity of making the film. We've already shot some of the movie in pretty cool locations in North India around Manali and Roorkie, so its been a lot of fun actually. The movie is releasing early this year so I have to be a little tightlipped about it right now! Of course its also a completely different ballgame from the kind of work I have been doing so far as this is extremely commercial and comes with its set of challenges. But at the same time its a good thing as well as I don't feel stuck on the same route, on the same genre of making documentaries and shorts films only. I actually feel really lucky to have worked on a documentary, a short film, a feature film and now a commercial feature film because I've had the opportunity to work on different mediums which is really interesting!
"I personally think that we are living in a really good time cinema wise because all kinds of cinema are now being appreciated and all kinds of mediums are available to a filmmaker, from a documentary, to musical to theatrical."
You're working with Rajkummar Rao and Jhaanvi Kapoor in Roohi Afzana. How has it been working with these two tremendously talented actors?
Honestly working with Raj is an actual pleasure. I've worked with him before because I had assisted on the movie Queen and that is where we met for the first time. I had also co-written Trapped and Raj was the absolute soul of Trapped, so that's how our friendship became stronger. Then when Roohi Afzana was being planned and they were looking for a director, I was also simultaneously pitching to different production houses with my stories and I think Raj was also a big influence in me being selected for the role of director because he definitely must have said that he knows me and my work. I, and every director who has worked with Raj, can tell you that he brings so much to the film and adds so much energy to it. He could almost make the director an audience.
With Jhanvi I am very impressed because she's brought this unique thehrav (calmness) to the character and the way she actually consumes your instructions and then produces something completely unique yet perfect for the film is really amazing. We also have Varun Sharma in the film who is another delight to work with because of his perfect comic timing!
Lastly, what's next for you?
Well I have still seven good months to go working on Roohi Afzana itself. So I will be occupied with that. I am actually very excited to be working on a horror comedy film and as this genre is really making its way back into the mainstream.

Text Nidhi Verma