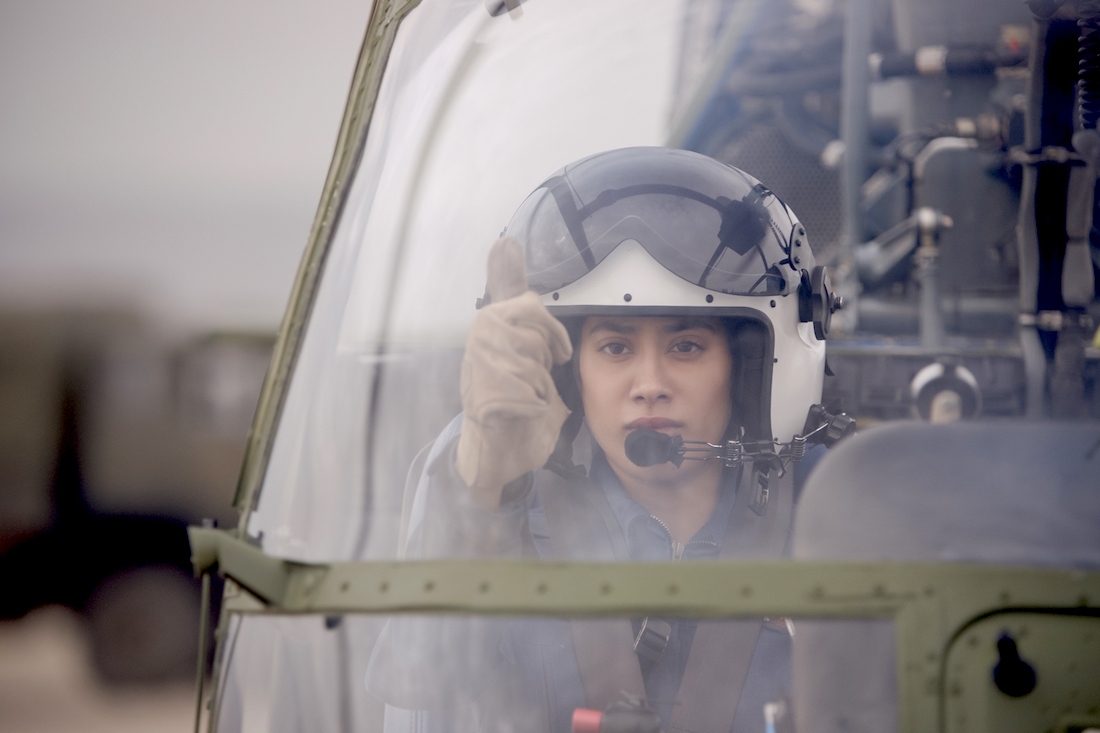 Janhvi Kapoor in a film still.
In the Netflix Original film, Gunjan Saxena, two kinds of battles unfold. While the one on the India-Pakistan border at Kargil is the ultimate climax everyone is rooting for, the other rages on the vast gender gap that runs throughout the script. Both the wars push Gunjan to fight the patriarchy, at home and at the battlefield as a member of the armed forces. But she hangs in there, propelled by her robust ambition and the undying faith of her father in her. The narrative's lightness of touch over status-heavy storytelling deserves good credit.
In focus today, playing the titular role, is Janhvi Kapoor, who makes for an inspired choice to play Gunjan Saxena. Strangely, the real and the reel Kargil Girl have a lot in common. Both 24 — Gunjan in the film and Janhvi right now — share a fragile face, stoic voice, and a strong sense of ambition. The fact that Janhvi too, at a nascent stage in her career excelled as a performed rather than just doing a 'feminist' role, proves that and helps the character as well. Her film heritage mirrors Gunjan's army family/background. Come what may, both have stayed true to themselves and also proved that what they do, acting and flying, is not so much their identity and livelihood, but their passion.
Platform connected with Janhvi Kapoor to understand her film choices, preparation for the film, and what comes easy to her — emotion or combat.
Dhadak, Ghost Stories and Gunjan Saxena later, it's safe to say that your filmography is more than just usual. On what basis do you choose your films?
I think the story. Definitely the story. The story needs to make me feel that I am going to take away something from this experience. I don't know if this is the right approach or not because I have been told that I need to consider more how the audience will react, as opposed to how the script makes me feel or what I'm going to take away from the film. But that's my approach, and I think I gravitate towards stories and characters that are as different from each other, and as different from me, as possible.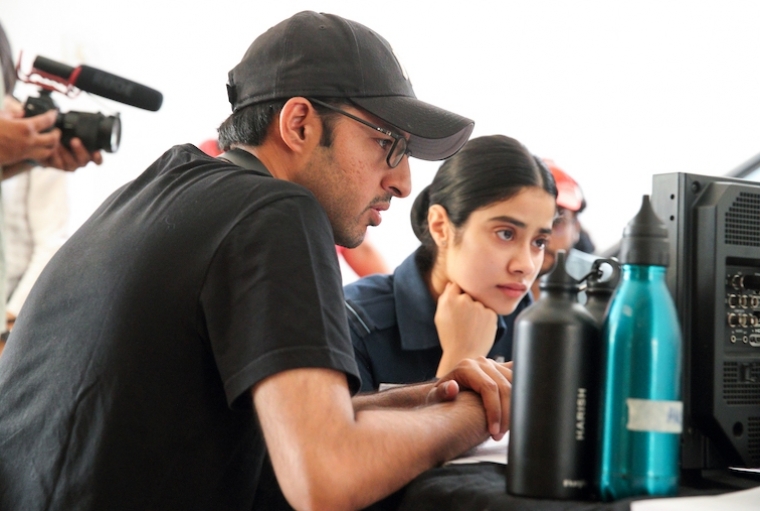 Janhvi Kapoor with director Sharan Sharma
Good acting is far from imitation. Biopics I feel are tougher to do justice to only because the audience has something to compare the performance with. How did you get into skin of Gunjan? What are the conversations you had with her?
The conversations I had with her were more about understanding her general outlook and understanding how she is as a person. Her likes, her dislikes, her upbringing. Her general attitude and on a deeper level, her soul and things like that were more important because for all the technicalities, we had her on set for a lot of it. And in terms of her body language, she isn't your stereotypical rough and tough, intimidating member of the armed forces. She is gentle and more delicate in her demeanour. Having said that, I did go through all the training that was required to be able to do the sequences as authentically as possible, and then I had her to guide me whenever I needed guidance.
The first half of the film is very enjoyable because you see a beautiful father-daughter relationship. It's difficult to find such progressive fathers in India. How would you describe the relationship and how was it working with Pankaj Tripathi. Also, what was easier for you, the heavy-weight scenes or the softer bits?
I don't think anything was easy or difficult to handle. I enjoyed doing both things equally. But in general, in the whole film, I don't know if it's okay for me to say this but I enjoyed my scenes with Pankaj sir, more than anything else. It was just such a fun father-daughter relationship and it was like that even off-set. We spent quite a bit of time before we started shooting the film, which is why it was so effortless to tap into that equation because I do idolise him.
Was the physical transformation challenging, considering you had to do it twice in the film?
It was fun for me to do that. I think the fun of it is in transforming oneself as an actor. I was so happy that this film gave me an opportunity to have a physical transformation not once, but twice in the film. And I think as an actor, it almost serves you as a crutch when your appearance changes from what the audience has seen of you. It is automatically easier for people to buy into what you're doing and performing when you are helped with the externality of it.
Text Hansika Lohani Mehtani