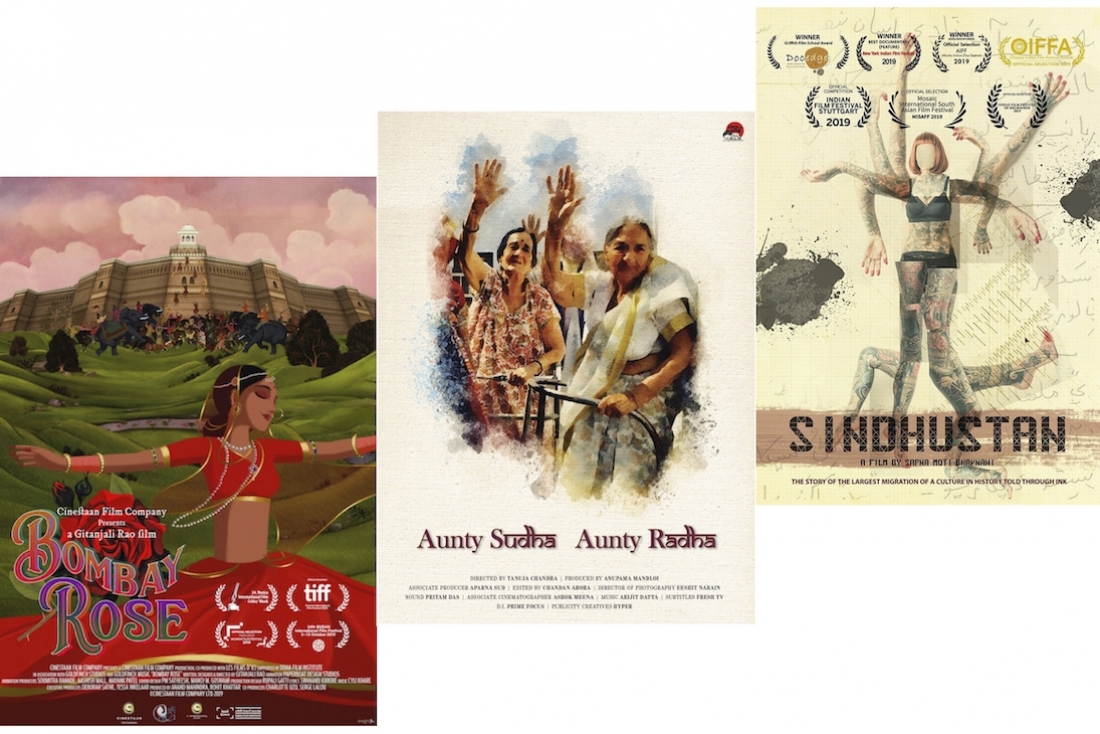 Three original women storytellers making their debuts at Jio MAMI Mumbai Film Fest 2019. Geetanjali Rao's debut animation feature, Bombay Rose (Fiction) is making India Premiere in India Gold, Sapna Moti Bhavnani's debut documentary feature, Sindhustan is making Asia Premiere in India Story and Tanuja Chandra's debut documentary feature, Aunty Sudha Aunty Radha is making Asia Premiere in Spotlight section of MAMI. We revisit our conversations with the filmmakers about their films that have garnered critical acclaim worldwide. Excerpts below:
Gitanjali Rao:

What inspired Bombay Rose?
Stories about common folk living and surviving on the streets on a great big city. And their suppressed dreams. Since I live in Bombay I draw from my own surroundings. The dreams which travel through the rest of India mostly came to me through my travels. My favourite historical places and time and events all come together in the film.

How would you describe your relationship with Bombay?
I am born and brought up here, in Borivali. As a kid travelled to Santacruz to meet grandparents every Sunday by the BEST buses, then college in VT by local train and through all of Colaba on foot discovering my home through it all. I never had a native place to go to in the school vacations like other kids. So I would dream of belonging to tranquil villages and make up those spaces in my imagination filled with visuals from storybooks. That comes back to me in my filmmaking.
Film Still of Bombay Rose
Sapna Moti Bhavnani

What inspired your film Sindhustan?
Sindhustan was inspired by an interesting conversation that occurred between me and my maternal grandmother many years ago. I was visiting India after staying in the U.S for 14 years. During this time, I was considerably inked and was desperately trying to hide my inked body. My grandmother who also sported tattoos remarked "Sapna, you are so old fashioned". I was taken aback when my grandmother told me that, "When we first came as a human race, we didn't have countries or governments, we lived in extended families and we all had our markings. We all looked like you. I'm happy to see that you are going back to our roots, your roots." I was surprised because until then I had believed that tattoos were my way of rebelling against the Indian culture. I then set out to chronicle the Sindh community's history and thus Sindhustan was born. Another important inspiration behind the film is my favourite singer, Abida Parveen, who is also Sindhi, and which made me realise that unknowingly I had always loved music made by the people of Sindh region.

Could you tell us a little bit about your process behind the making of this film?
I have worked on the documentary for a period of 7 years. Initially I did not even want to direct the documentary but anyone, who I pursued to do it for me, told me that it was my story and I should be the one to direct it. During the process, I spoke to people from India as well as Pakistan hailing from the Sindh region, as I wanted to cover all the perspectives of its fascinating history. I also took the help of her friends from Pakistan for shooting footage of the Sindh because I was denied a Visa. The biggest challenge I faced was filming while being inked because the pain and the pressure together were ridiculous. Especially with a documentary, I had to be responsible for everything and keep in mind the budget constraints, which is not what you would face while filming a feature film!
Tanuja Chandra

What inspired Aunty Sudha Aunty Radha?
I've wanted to make a film on my aunts for a while, it was my mother who gave me the idea first. My aunts would invite me to their village every year, but I'd usually be too busy to go. My parents would visit in the winters and come back with such fun stories that I felt this was an account worth filming. When I finally did visit them, it was with my small crew who felt very welcomed by my aunts. We also relished the food a great deal - fresh vegetables straight out of the farm in front of their house, cooked with love and care, it was delicious, North Indian food. This film means a lot to me not just because it's personal to me, but also because this is a way of life that's not going to be there for long. I felt it was something I had to capture because it has a nostalgic value and it's a simple kind of lifestyle that's fast disappearing. And the fact that viewers have adored my aunts, thrills me. I'm so glad my producer agreed to back this little story and my crew came along out of affection for the story.
On one level, Aunty Sudha Aunty Radha comes across as a journey that is nearing its end, and yet has just begun, it highlights the good aspects of old age. What did you intend on the readers to take back from their story? What are the most important lessons you learnt from your aunts?
Yes, it's about a journey that's about to end as well as about things like relationships, love, and even our human flaws, things which are without an end. Human emotions were there before stories were told and will be there long after filmmakers are gone. If viewers laugh and feel empathy and they leave with warmth in their hearts, that'll be a great earning for me and my team. There were some people who after watching the film, longed to be with their grandparents or parents who lived away from them, and there was one who even made the trip a couple days later!
I've learnt many lessons from my aunts and the elders in my family, but the most important one by far is how to look at death with grace. These ladies aren't in the least, fearful of death. Neither are they obsessed with it. It'll happen when it happens, they say, and until then, they will live with glee and enjoyment. Now, that's no small lesson!
Film Still of Aunty Sudha Aunty Radha