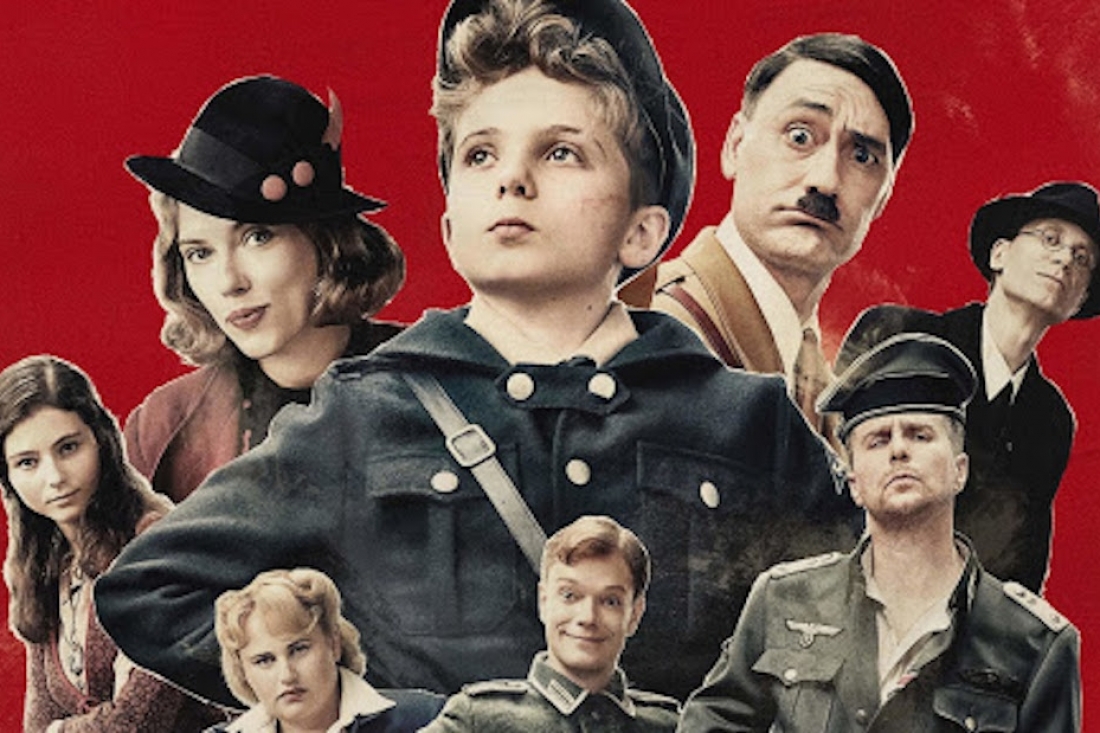 Platform Review: Jojo Rabbit
Cinema has often found itself concerned with one of the biggest tragedies the humanity has faced, the Holocaust. From Schindler's List to The Reader, the deeply problematic past of Nazi Germany has been explored by various films in myriad ways. Yet, a satire based on the Holocaust has been attempted by very few and let alone be successful in its attempt. Taika Waititi's Jojo Rabbit, hence is a unique feat of cinema in its own right, one that successfully satirises Hitler's dictatorial regime and the World War II, making it one of the greatest dark comedies of our times.
To make the audience laugh every time someone said 'Heil Hitler!' in the film is something only Waititi's cinema could have achieved. The film traces the journey of young boy Jojo, from his blind fanaticism for Hitler's Nazism to rejecting it. The film starring Roman Griffing Davis as the protagonist Jojo, his mother played by Scarlett Johanson and other important characters played by Thomasine McKenzie, Sam Rockwell, Rebel Wilson, Alfie Allen, Stephen Merchant and Taika Waititi himself, manages to capture all the idiosyncrasies of Nazism. From training young little boys to fight in wars to the absolutely ridiculous ways in which they are taught who Jews are, Waititi script uses simple dialogues and deeply comical German accents by the actors, to push to fore, time and again, how deeply problematic and at the same time absurd the view of Nazi Germany was regarding their own Aryan supremacy over the Jewish community.
The ten year old Jojo, growing up in the later stages of World War II, is not only aiming to become one of Hitler's personal guards but also has Hitler as his imaginary friend, who intervenes quite heavily in all his life decisions. Having lost his elder sister to influenza and told that his father is fighting in the war, Jojo only has his Hitler Youth training camp, his imaginary friend Hitler and his mother to keep him going. Overtime he is faced with a horrifying conundrum as he finds that his mother is hiding a Jew girl in their house. From hereon, Jojo's character sees real growth as his fanaticism begins to dissipate in the face of the young Jew girl who not only becomes his friend, but he also falls in love with her. As the movie progresses, a poignant turn of events shatters Jojo's world even further, forcing him to recognise even more, the follies of Nazi jingoism.
Jojo Rabbit uses the the perspective of a young boy to show what it means to be influenced into toxic nationalism that regards anyone that seems as the 'other' as monstrous, leading to violent and, especially in the case of Nazi Germany, war like consequences. The film is filled with sharp critique of this prejudice against any race, which seems like a very important reminder in our current political climate. Yet, the comedy that emerges from ridicule and satirisation of this horrifying historical catastrophe is extremely engaging. It goes to show how stupid it really is to consider any race of humanity as superior to another when we all really are human beings at the end of the day. Satirical exploration of the absurdity that underlies such ideological politics is a tough nut to crack, but Waititi does so with utmost excellence. I rarely say this but the film is almost faultess, with beautiful mise-en-scenes, hilarious dialogues, a gamut of great characters and absolutely amazing acting by all the actors. From the time the film begins to the time it ends, you'll find yourself crying, both sadly and with laughter. The theatre that I was sitting in was roaring with laughs from everyone who even remotely understood the underhanded and sometimes not so underhanded jabs at Hitler and his turbulent ideology. It is a film that will shock you to your core, but with a few laughs along the way and deserves to be seen and discussed by humanity at large to remind themselves to never lose their inherent humanity and be tolerant to anyone and everyone.

Text Nidhi Verma