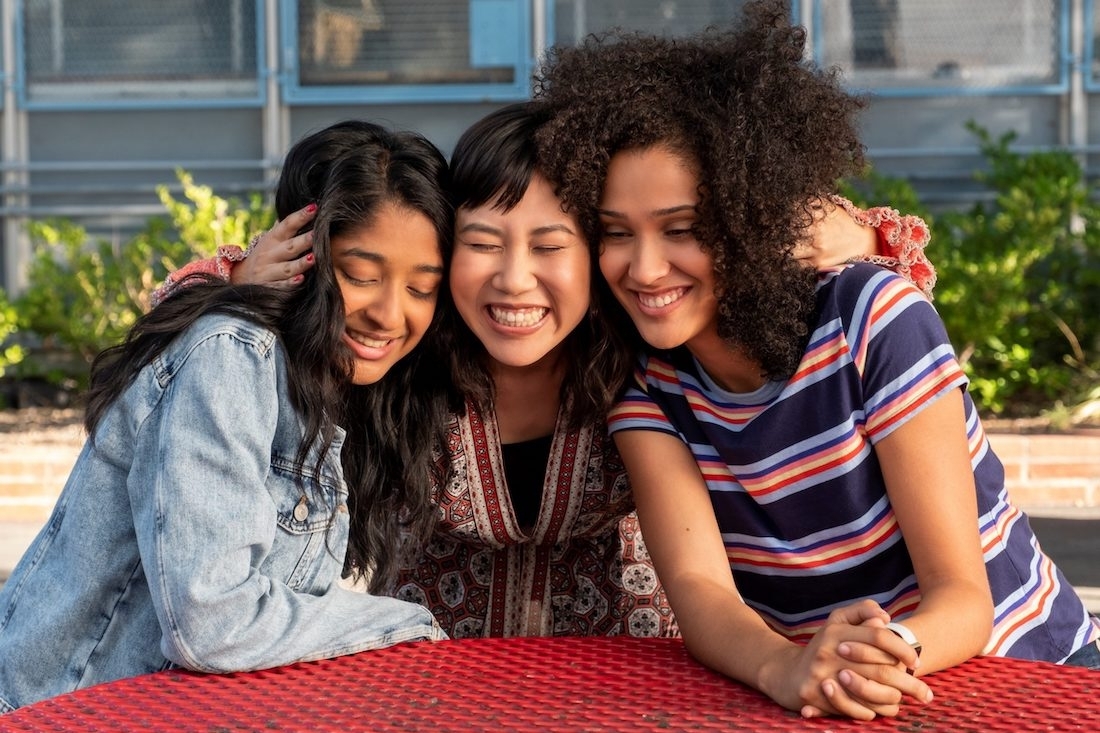 From L to R: Maitreyi Ramakrishnan, Ramona Young and Lee Rodriguez
Platform Reviews: Never Have I Ever
Never Have I Ever seen such authentic Indian American representation in a mainstream American sitcom…..actually scratch that, whether the representation in the Maitreyi Ramakrishnan starrer is authentic or not is dubious. Produced by Mindy Kaling and written by her in collaboration with Lang Fisher, the coming of age saga is loosely based on Mindy's own life. The show is set on a simple premise: lack of representation of the various members of the South Asian community in the mainstream. While growing up Mindy barely had individuals similar to her to look up to and this is what makes the show worth talking about in contemporary times.
The young Indian diaspora, world over, now has a figure they can relate to. The protagonist, Devi's struggle with her identity is a concern faced by many second generation immigrants. Whether to assimilate oneself in the new culture or hold onto the roots that are quite literally a 1000 or more miles away. This precarious identity and its in betweenness has finally found representation in and through Devi. What's even better is that she has a life beyond this said identity, it isn't the focal point of the character. The only bummer, Devi Vishwakumar's tale is replete with the done to death Indian cliches, as much as it attempts to avoid them.
Maitreyi Ramakrishnan as Devi
John McEnroe as the omnipresent narrator, holds your hand throughout the show, constantly spelling out who Devi is and what she feels in the moment. This acts as hindrance rather than being enjoyable and inevitably slows down the connection one may feel with Devi. The ten episode narrative takes its sweet time to get to the exciting parts. Her friends Fabiola and Eleanor played by Lee Rodriguez and Ramona Young, are brought down by half baked arcs that conveniently aid Devi's story telling and are also tokenistic in nature. Fabiola's coming out story seems too simplistic and Eleanor's dilemma with her acting and mother, come just at the right time to portray how Devi, like any other teenager, indulges in taking selfish and stupid decisions.
The one character who appealed to me throughout is that of Ben and the narration of his episode by none other than Andy Samberg comes as a pleasant surprise. Ben's history makes his clashes with Devi all the more interesting to watch -- they're both fairly similar in nature. Another disappointment comes in the form of the mother-daughter relation. The clash between the first and second generation immigrants, brimming with Indian tropes such as the nerdy overachieving kid and the relevance of religion and pooja. While these cliches certainly do hold true in the lives of Indian kids all across, the lack of a deeper look into Nalini Vishwakumar's psyche makes it seem almost caricature-ish and leaves a lot more to be explored and desired.
Richa Shukla and Maitreyi Ramakrishnan
Devi's too good to be true cousin Kamala has a rather anticlimactic closure for season one. Fighting with the age old custom of arranged marriage, she suddenly succumbs to it and breaks it off with her non-Indian boyfriend. Her sudden decision to give in to the 'good Indian daughter' trope seems arbitrary and difficult to believe. Despite such issues, the show has laughs to offer, though fair and few. More importantly, Devi might not have been able to fight all the stereotypes and may have presented Indian Americans through a myopic lens, but she placed their journey and struggles into the mainstream. Despite all of its flaws, I ended watching season one feeling slightly emotional and also rather hopeful for more such narratives to emerge, and for more such conversations to begin.
Text
Unnati Saini