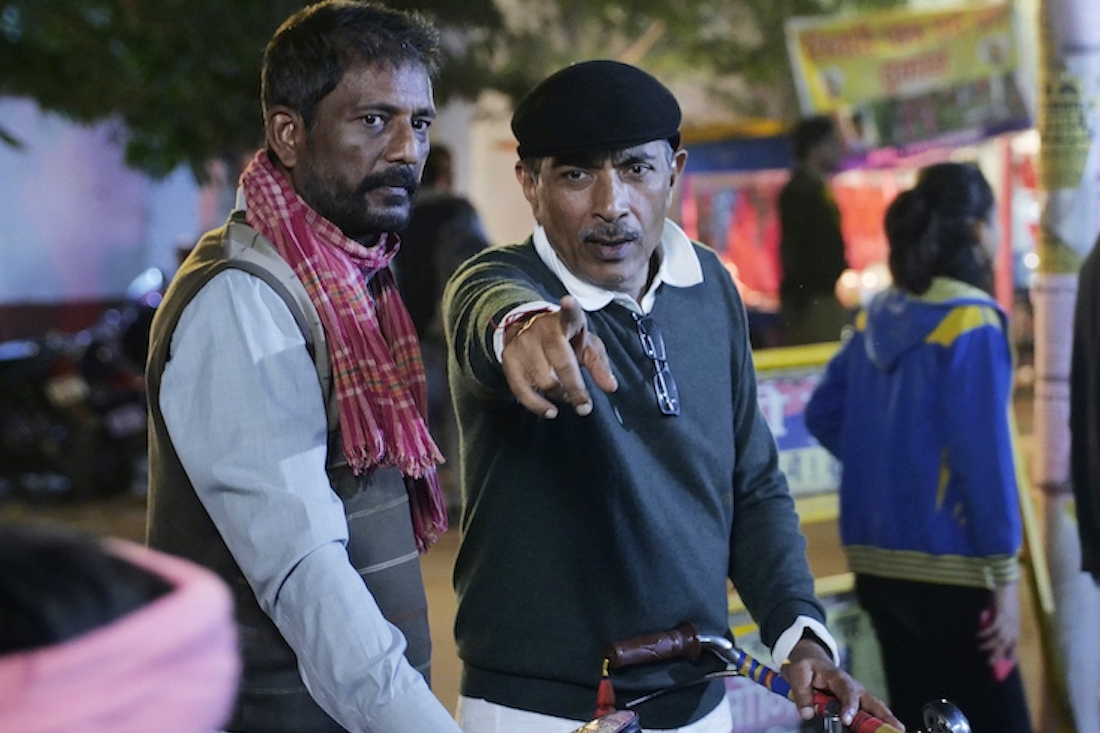 Prakash Jha with Adil Hussain
One of the biggest evils in modern Indian society and its capitalist setup is the unequal distribution of resources. With a majority of our population riddled by poverty, all opportunities of development are enjoyed by a fair few, who can manage to afford them. One of the most important tools for growth, education, in our contemporary reality comes with a price tag. Pareeksha: The Final Test starring Adil Hussain, Priyanka Bose and Sanjay Suri explores in depth the monopoly of the private sector over education. The film releases tomorrow on the OTT streaming platform Zee5.
The film is inspired by the real life events of Shri Abhayanand, an IPS officer and educationist. While serving as the Police Chief in Bihar's Naxal infested areas, he came across kids from the villages who were so bright with their native wisdom, that they inspired him to begin coaching them to help crack the IIT-JEE exam. The story resonated with filmmaker Prakash Jha, whose filmography has always strayed away from the frivolous and towards the more meaningful. A man of few words, Prakash Jha shares with us what motivates him to continue telling stories after all these years, all that went behind this movie, what's coming up next, and more.
How do you think your craft has evolved over the years? How much of your own life do you think is reflected in your craft?
I don't think I'm someone who can answer this question. I understand now that schools and colleges are shut and that classes are being conducted online, but if only one could evaluate their own selves and the work they do, it would be just great. I don't know how things have evolved but I keep telling the stories that need to be told. As for my life being reflected in the films — I truly have no idea. There must be some aspect that shows since I do keep writing, I keep thinking and it's not always easy to be completely objective in what you're doing. One does get affected by what they see and that's just what life is all about. All filmmakers tend to have these idiosyncrasies in their narratives because we're all different people with varied experiences.
You have been in the business for so long now. What is it that motivates you in this day and age to continue making films?
It isn't about today or yesterday, they're one and the same. It is about a story that needs to be told. Whatever happens, whatever you see, whatever you feel and experience, both in terms of materiality and emotions. These aspects eventually start taking shape over a period of time and at some point of time they want to be professed. Making movies is the only way that I can do that.
Tell us about what urged you to work on a project like Pareeksha: The Final Test. What is it that you want the audience to take away from the movie?
Education, I would say, is such a huge leveller of society. Somehow, unfortunately, there's a very large section of society that is deprived of quality education because it's something that's becoming more and more class-oriented. In spite of this, many work hard and can go to any length to educate their children, yet are unable to garner opportunities that are available today for a better life, due to social inequity. This story was always there in my head and when I met Mr. Abhayanand, who is a DGP of Bihar Police, he very casually brought up the time when he used to visit Jehanabad where he was posted in search of the Naxals. Of course they wouldn't be waiting for him in the villages, but he would end up meeting the kids over there and those kids inspired him, post which he started training and teaching them. They did well, which further changed the social standing of those particular villages and this resonated with me. Whoever these people were, maybe they were criminals, but the children shouldn't be the ones suffering because of that. There was another story of a rickshaw-wala that I had heard from Ranchi and these different narratives amalgamated, and hence Pareeksha was born.
If the audience takes away something from the narrative — I think it will be asking too much out of them. I just hope they're able to engage with it and see it for what it is: a good story.
Pareeksha: The Final Test tackles some very serious subjects such as class and social inequity. How challenging was it for you to portray these themes?
They're all a part of the story at hand, elements within it. I don't think there was anything challenging about it, in the sense that when you build a narrative these are the elements that need to be incorporated. Portraying them wasn't a challenge, I thought of them rather as assets that aided my storytelling.
If you could tell us a little about the casting process of this film. How involved were you and what were you looking for?
We had our casting director, Shruti Mahajan for this movie. I had previously met Adil at a function in Guwahati, Assam and I suddenly saw my Bucchi in him, and of course he is such a competent actor who knows his craft well and I was very delighted to work with him.
You have also donned these different hats of being a director, editor and a producer for multiple films, including this one. How difficult is it to juggle between the creative and business side of it?
I don't really think there's anything that's difficult about it. It's all a part of the process. When I make a film, I rather enjoy doing every bit. While I am a trained editor, I don't edit my films anymore, I enjoy the writing and directing side of it more.
You have also now ventured towards acting — on what basis do you tend to pick and choose your scripts?
If I feel that they're worth it and if I have the opportunity to dig into the roles — I don't really have any process for it. I only act for the love of it. It's one more added form of expression to my craft and all the other forms that I engage with. I respect the job very much and more than that I really do enjoy it. Everything that I do is also an extension of my role as a director. A director has to be involved in every single aspect of the film. Acting is a completely individualistic process, it's a delight to be able to understand the finer parts of acting, to be able to understand the camera, have a hold over the audience and express what the story demands you to.
Lastly what's coming up next for you?
With the lockdown and the situation at hand, everything is on pause at the moment. So I can't say but people are in the mode of preparing to proceed with precautions. We've all had to change and adjust to the pandemic. I am also working on a web-series called Ashram, but i can't talk much about that as of now, apart from the fact that it's going to be released really soon. There's also another movie which is ready, but at the moment we're exploring our options with various platforms for it.
Text
Unnati Saini