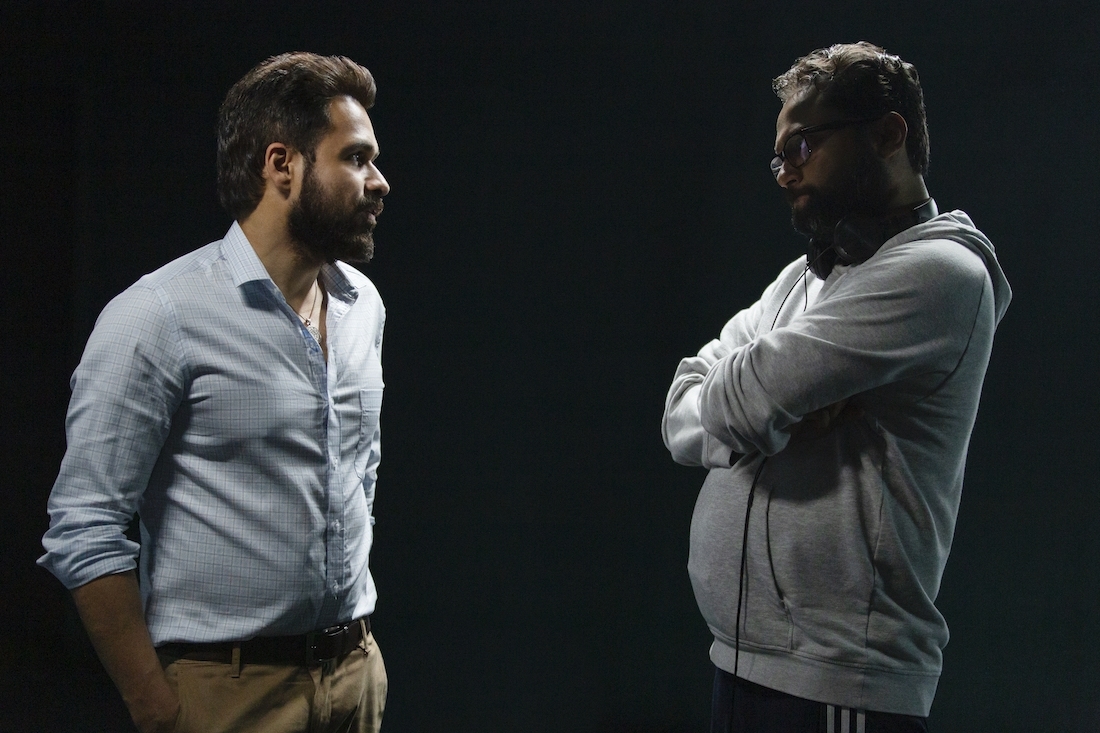 PROFILE OF THE WEEK
Emraan Hashmi with Ribhu Dasgupta
After directing television series for a couple of years, what drew him to the world of web series was the endless possibilities and the creative freedom that comes with these independent platforms. As he creates the world of Balochistan, he also builds on strong characters. He says "The most important thing that we did was that we spent time developing the characters because in a series the most important thing apart from the story is the character because the characters stay with you season after season."
Excerpts from a conversation around his new Netflix series Bard Of Blood.
What challenges did you face while shooting Bard of Blood?
I first read the book, and then I read the script. We had a big team but visually how a show would do is something you can only work towards. We had to build a Balochistan, and we had to find a place in India where we could go and shoot but it had to look like it so we did too many location scoutings and finally decided to shoot in Ladakh and a small part in Rajasthan. The only problem was that when we wanted to shoot the Balochistan part in Ladakh, it was already mid-october and the conditions were very extreme, it was very cold. But we put in our best as the shooting had to be done in the given period.
What's your creative process?
The most important thing that we did was that we spent time developing the characters because in a series the most important thing apart from the story is the character because the characters stay with you season after season so that's why all the writer's, me, Gaurav from Red Chillies spent a lot of time researching because we wanted the characters to come out, which is also why we did our casting in a certain way. You don't expect these kind of people to play these kind of parts - how Kirti played her part, and how Viineet played his part because at the end of the day when you're shooting you're only shooting and executing exactly what's written, your vision but before all that you spend a lot of time doing this and this is the best part when you spend so much time in pre-production and casting and talking to actors about their characters and spending time with them.
How was it to create the world of Bard Of Blood?
It was a great experience. I've directed a television series a couple of years ago with Mr. Bachchan it was a twenty episode series for Sony but directing this was a totally new thing because by now you have seen almost a hundred shows on netflix so you the kind of content they make, the kind of storytelling and narratives they have so, it was definitely a challenge to make it the way we wanted to make it but coming back to the same point we had to write it correctly, cast correctly, shoot it correctly so that it looks like Balochistan so that was very important because it was a first for everyone - Red Chillies was producing for Netflix for the first time, Emraan was doing a series for Netflix for the first time and I was directing for Netflix for the first time so we all had to be very careful. There were a lot of challenges but those always come with the responsibility that comes with.
How was your experience collaborating with Red Chillies and Netflix?
Netflix is the best thing that has happened to mankind in the last few years because opportunities for filmmakers and writers have opened and how. Writers have become key which should have always been and the kind of content the solo platform brings out is huge and we all watch Netflix everyday that's reality. It has a huge impact on content driven viewers and collaborating with Red Chillies was fun because when you have the great Shahrukh Khan as a producer, you cannot ask for anything more. And the team there with Gaurav heading the department and producing the show and at the end of the day as a maker if you get the creative freedom to make what you want to make, you don't need anything else and that's where Red Chillies has been really kind because it gave me total freedom to make what I wanted to make.

Text Priyanshi Jain