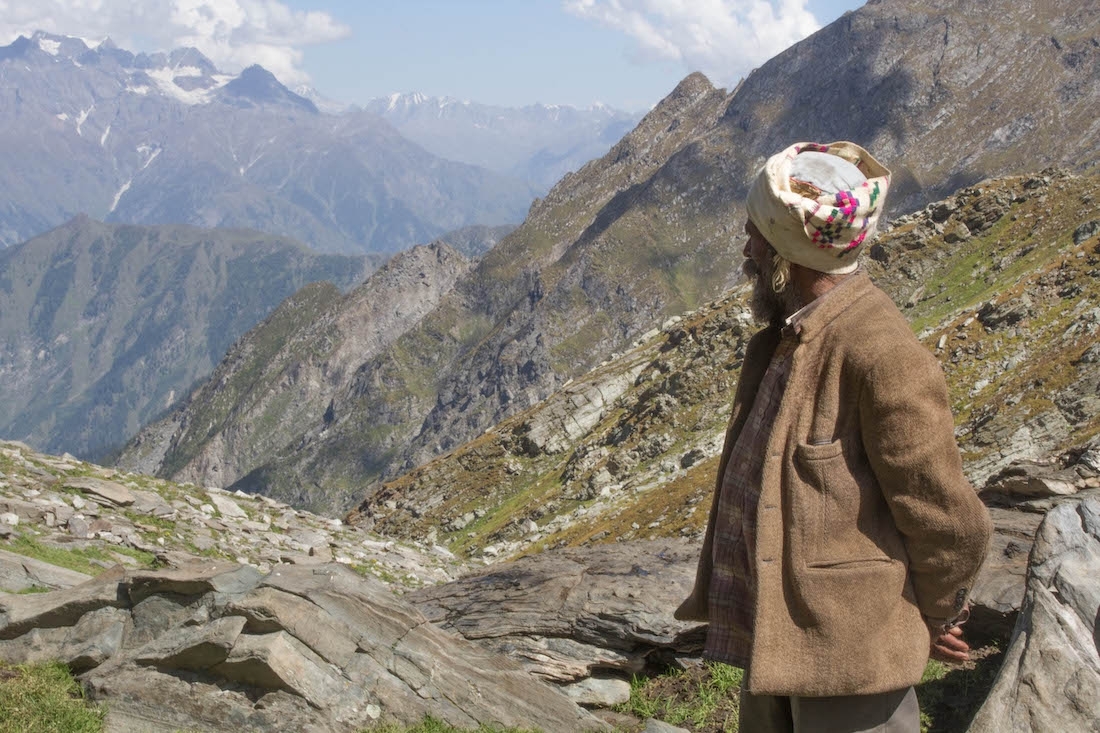 Ridham Janve
The Gold Laden Sheep
It was at NID that Ridham discovered world cinema for the first time, and he was immediately drawn to the medium of films. He fell in love with films and the crazy stories they told in images and sounds. Ridham started his own experiments with the medium as it appealed to him aesthetically, and it wasn't long enough before he realised that his calling lay in everything related to filmmaking.
His debut feature, The Gold Laden Sheep, produced by The Dark Matter Films, is set amid the pastoral Gaddi community in Himachal Pradesh, and has been made in the Gaddi dialect under trying circumstances with non-professionals and a skeletal crew. The movie explores themes of mysticism by combining anthropology, folklore and metaphysics as it explores the adventures of an elderly shepherd: the curmudgeonly Arjun is forever snapping at his assistant and complaining about his aches and pains. When the news of a plane crash rattles the valley, along with stories about the gold and silver that had been aboard the aircraft, Arjun shuffles to his feet and sets out on a life-altering journey in search of the missing treasure.
After playing at the Mumbai Film Festival and the Dharamshala International Film Festival, Ridham's film travelled to Rotterdam. He tells me about his journey.
You studied at NID. How did it help you find your voice as a filmmaker?
At NID I specialised in Film and Video Communication Design. It's a very hands-on, minds-on kind of an institute where one ends up working closely on a wide variety of projects across different disciplines of arts and design. And unlike in film schools, our film program didn't have specialisations in any particular aspect of filmmaking, so we ended up doing pretty much everything ourselves. One important thing I learned there was to make films with almost no money, which is an important skill for an independent filmmaker.
There were a few unfinished projects before your debut worked out; could you tell me a little about them and why didn't they work out?
After making a bunch of films experimental videos, and one straight-forward, narrative short film, I got an offer to develop one of my stories into a commercial feature film by a film producer. It was a road-movie. For the first time I was getting paid to write. I got Akshay [writer-friend] on board and we started working together on the screenplay. It took us almost a year to do all the research and put together the screenplay. But when it was presented to the producer, we were told that it was too unconventional for the Indian market, and since I was a first-time director it was a risky investment. Then another year went in developing another feature film screenplay, this time a psychological thriller. But this one also got shelved, as by the time I finished the screenplay, unfortunately my rich producer had shifted his interest from films to another business. As I had taken money to develop the scripts, I had already sold the rights of the screenplay, so I couldn't even take the screenplay to find another producer. It was partly the frustration of these experiences that I wanted to make a film without any dependency of external sources of money, something that could be done within the existing resources available around.
What inspired you to make The Gold Laden Sheep? What inspired the story?
Since my first visit to the Dhauladhar mountains, I wanted to make a film there. I was very fascinated by those primordial landscapes and the mountain culture in general. The story of the gold-laden sheep comes from the many stories that Akshay and I had heard over the years from our local Gaddi friends. There were frequent anecdotes of the Gaddis who still worked as shepherds and lived in the wilderness of the higher mountains, then there were stories of the missing people, rescue operations, the plane crash, the rewards, the wild animals, the miracles, the sacredness. It was during a trek that we came up with the story which formed the main structure of the film. It was partly based on the real stories from the mountain and partly from our own impressions and experiences of the mountain.
You worked with non-actors for the film. How challenging was it?
Each non-actor has his/her own peculiar ways of functioning, and as a director your first job is to understand that and to identify those special characteristics, and then use them to your film's advantage instead of posing them to play someone completely else that you had imagined your character to be like. There are some obvious constraints that are inherent when you are working with non-actors, like you can't take multiple takes and shoot the scenes in multiple angles as they might not do the same actions or say the same lines in the same way again. So one has to always leave room for improvisation. You have to basically create a situation where the scenes could play out on their own. You can't be calculative. You have to embrace the conditions and then start to work with them.
What sort of research went into writing the script? Did you spend a lot of time with the Gaddi community?
Akshay and I had both spent significant time with the Gaddi community during our previous stays in their quaint little villages, where we would go to write our other stories and scripts. Most of our research was just walking around the mountain, going for treks with some Gaddi friends, listening to their stories, and sharing our ideas, looking for possibilities. We had developed a basic structure for the film but we didn't want to write a definitive script for the film. We wanted to leave a lot of space for improvisation within some narrative beats. We knew there was a lot of magic that could happen in the mountains and we wanted to leave space for it. We only had a fifteen page treatment note which had some scenes in a script form and mostly notes for ourselves.
Tell us about the challenges once the production kicked in.
The biggest challenge was to create a smooth work flow in accordance with the extremely unpredictable weather and the extreme conditions in which we had to set up our camp while shooting. All the equipment we needed for the film had to be brought there on our backs. We were fortunate to get great support from the Gaddi community which primarily consisted our shooting crew. We would stay in tents for the whole length of production. Food was cooked on firewood which was collected from the forest. Water was brought from the nearby streams. The nearest village was a two-day walk away from our shooting camps. So, we were totally dependent on solar energy to charge the cameras and the sound equipment. Sometimes it would rain continuously for a couple of days and we would have to stay in our tents, just waiting for the sun. Since the batteries were limited we didn't have liberty to shoot as much we wanted, so we had to be more precise about what we shot. We were shooting with real shepherds, so we had to also match their movement across the mountain and shift the whole camp to our next location, while we were still filming. It was definitely not an easy pro- duction to attempt but it was a great experience shooting this film. It was like an extreme adventure trip while doing something that you really like to do.
Where does the film go next?
We have some good festivals lined up after Rotterdam, of which the official announcements are yet to be made. We hope to show the film at more festivals around the world before we try and find a limited release in India. Now that NFDC is on board, we are more hopeful to find a larger audience for the film.
What else is lined up for you this year?
I have been developing some interesting feature film projects, so I am hoping to shoot at least one of them this year. And I am producing another feature film to be directed by Amit Dutta.

Text Hansika Lohani Mehtani