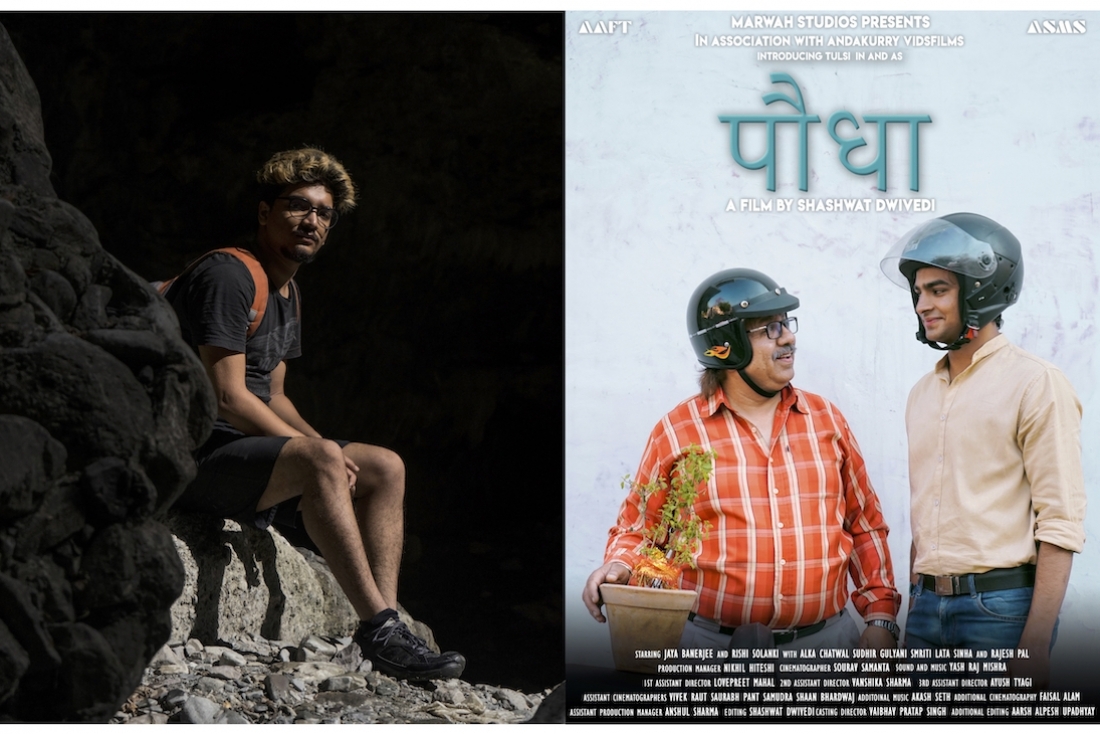 The Filmmaker
I was born in Sultanpur and brought up in Kanpur, both very humble small towns in Uttar Pradesh. After my school, I joined Asian Academy of Film and Television in Noida for my film degree. Since childhood, I've been fascinated with visuals and therefore all my school life I painted, sketched and even took up photography. I just liked the idea of telling stories through visuals. But it was only when I made my first short film at the age of 14 when I was in school, I realised film making is what I wanted to do. Other than films, I equally enjoy painting, travelling, and ofcourse, meeting and talking to new people, I just like being around people and love having conversations, it helps me observe.

The Film
Each year, thousands of Indians are married off to plants, animals, stones and even trees in order to cancel a fault in their astrology. Paudha is the story of Shravan, single child of Kishore and Pushpa who is about to get married through an arranged matrimony. When Shravan meets his bride-to-be, Aanchal, he instantly falls in love and everything goes well, until on the Tilak ceremony day, the priest reveals that Shravan had been married to a plant before this marriage. Nagendra, the bride's father blows this out of proportion and puts forth the condition that Shravan must divorce the plant if he wishes to marry Aanchal. Giving in to this illogical demand, Kishore and Shravan go on a hunt to find a lawyer to help Shravan divorce a plant.
The Inspiration
Paudha was inspired from a lot of things that came together. I initially thought of it in a conversation with a friend about how people get married to the weirdest things in India and other superstitions. I called up lot of people and asked them about the weirdest superstitions they know, and trust me, I wasn't disappointed. This country is full of stories about things people don't have explanations for. The idea grew on me since I've been surrounded by the people who were similar to the characters. Pushpa's character is inspired by my mother, I can say it's her alter ego. I started with a simple idea of a man marrying a plant and then scenes came to me. Also, it wasn't my motive to provide any social commentary about any superstition, or any practices. I just wanted to make people see how stupid this can be and laugh on themselves.

The Process
This film doubles as my final production for my film school, so all the work was done on strict deadlines. And of course, I had absolutely zero funds to make this film so I knew I'll be compromising a lot with my visions, and that's completely fine. I like working in deadlines and boundaries, it makes me think better. I started with the idea in the middle of 2018, and started writing it around November. I saw an Instagram post by Zoya Akhtar ma'am, where I could see how she has put up a sticky note for each scene. So I turned to my room's wall and put up 18-20 sticky notes, one for each scene. And then I had my script ready after 4 drafts and rewriting in March. After I sent in the script for feedback from people that I admire, and tried to fix the things as much as I could in the script, the rest of the production process unfurled. Rishi Solanki who played Shravan in the film was the first person of the cast to read the script. I tried getting everything on board but it was very difficult to get people to work for free, in a student production. I remember talking to my first AD, Lovepreet about how are we going to cast Nagendra just 3 days before the shoot. The shoot was another crazy experience. We went location hunting with our lead actor who doubled as a line producer, and then when everything was set, we shot it in 11 days. I must thank my team who put in all their efforts to shoot this film in a very less time and absolutely no money.
The Sensibility
I am only 20, so I think I'm still developing my filmmaking sensibility, and it's too soon to say that I want to make a certain kind of cinema. I'm still enjoying and learning the process of telling stories, it fascinates me. But yes, if anything, I'd want my cinema to be entertaining, and most importantly relatable. I want to make films on basic human emotions, like love because people will never stop loving, making it a theme that's very relatable. I come from a film school and we're often told how cinema should be very personal to the maker, which is true. We often listen that we must make films that please us. But for me, a good film is a story that relieves/pleases the audience and the maker equally, therefore I like listening carefully to all the criticisms for my film, I check all my YouTube comments, and even during screenings, I keep looking at the audience's reaction. It's their film after all.

The Influences
The filmmakers that inspire me are very varied and polar from each other. I personally love Sir Alfred Hitchcock's cinema solely because of the techniques and use of the medium, he leveled up cinema as a tool for every other filmmaker. Another filmmaker that I admire a lot is Imtiaz Ali and I think that's why I like watching love stories and making them, he understands life and operates on the same basic emotions that I find very appealing. Some other films that are always on my mind, and I always turn to them for inspiration are Ankhon Dekhi, Psycho, Masaan, La La Land and the Before Trilogy by Richard Linklater. I apologise for these polar Choices, but inspiration can come from anywhere!
The Future
As of now, I'm shifting to Mumbai and writing my next film which is a travel film (hopefully). I'll be attending the screenings of Paudha as well, one of which is in Jagran Film festival, Delhi. But most importantly, I'm looking for producers to make Paudha again as a feature film, my full length script is ready and I am just waiting for the funds.