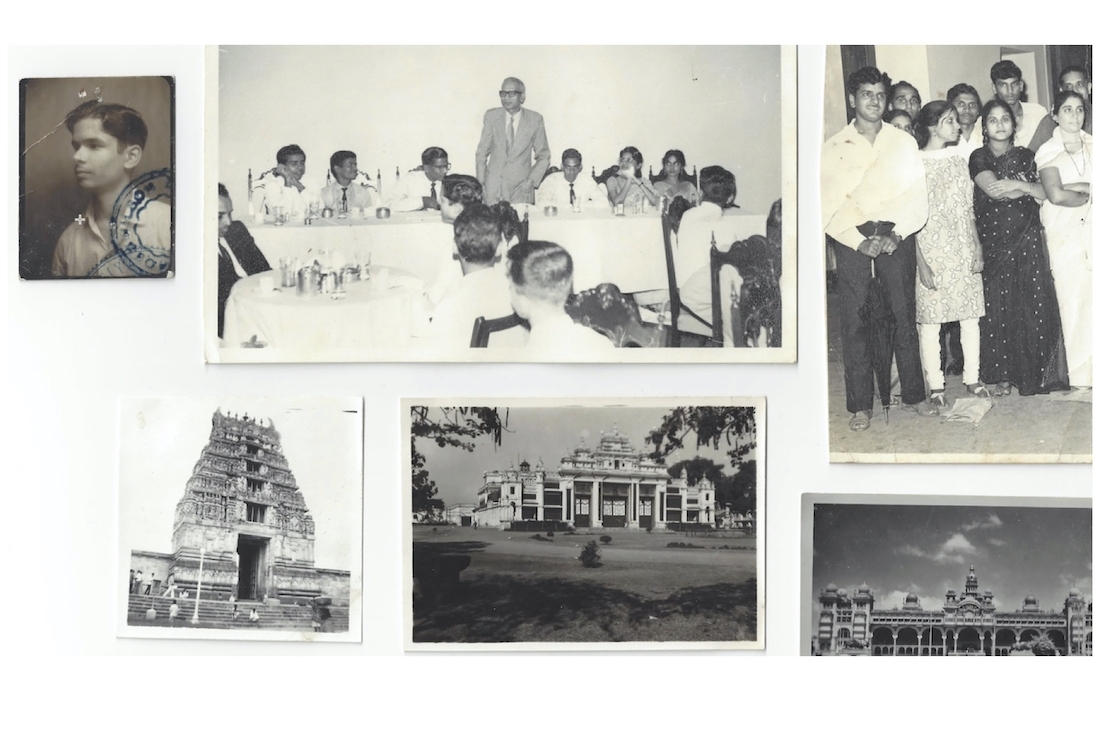 Suneil Sanzgiri
At Home But Not At Home
The cinematic space is incredibly diverse and the possibilities that the craft of filmmaking offers are endless. Experimental cinema and genres like short films are garnering more and more attention, especially with the popular rise of film festival culture and OTT platforms, which now provide a streaming space for more independent, low-budget films. As more independent filmmakers venture towards creating astounding cinema, the creative processes and thematic concerns behind the films have become starkly intriguing. During this year's International Film Festival Rotterdam, one such short short film caught my attention — At Home But Not At Home by Suneil Sanzgiri.
Suneil's father was 18 when India ousted the last remaining Portuguese colonisers from Goa in 1961. Combining 16mm footage with drone videography, montages from the 'Parallel cinema' movement in India, desktop screen-grabs, and Skype interviews with his father, the film utilises various methods and modes of seeing at a distance to question the construction of artifice, memory, and identity through the moving image. The result is a short film that is at once unique in its intention and depiction of the same. Suneil is widely known for his work as a video journalist, having worked as a producer for the massive online media outlet NowThis. His work spans experimental video, animations, essays, and installations, and contends with questions of identity, heritage, culture and diaspora in relationship to structural violence.
We connected with Suneil to know more about him, his artistic journey, the film and future projects.
Please tell us a little bit about yourself and what led you towards video journalism and filmmaking?
Film, cinema, the movies have always been part of my life (and most of our lives) since I can remember. Part of what draws me to filmmaking is that collective sense of wonderment. Still after over 125 years of the moving image we still marvel at the movies, and they fill a very central part of our lives. My particular kind of cinema seeks to simultaneously bask in that worship of the screen, and disrupt, antagonize, or confuse it using its own tools. I came to video journalism through a winding road of realizing that I could use the moving image to my advantage, which is to say push the kind of conversations that I didn't see being held in the mainstream enough, as well as shine some light on subjects that still are not widely covered such as Palestinian freedom, indigenous sovereignty, and anti-gentrification efforts. My short stint in the news industry was also influenced by filmmakers like Harun Farocki who worked covertly as an editor for national educational television programs in Germany in the early 70's. Perhaps I should take a video journalist off my website's bio now that I no longer work for a news outlet!
Both as a journalist and filmmaker, what kind of themes drive your work?
Questions of justice, freedom, and insurrection are essential to my work. How I arrive at those questions are generally through more questions provoked by history. How does one live through history? What came before? These are things I am constantly thinking about, especially as we see our shared world increasingly torn apart by ethno-fascism. It's always been driven by White supremacy, at least since the advent of European colonization, but now it's all out in the open. So the nuance around how we got here — both literally in the case of migration, displacement, exile, and enslavement, and figuratively in the case of what histories are absent or forgotten, and conversely who gets to tell those histories — becomes eradicated. I try to maintain some sort of past/present dialectic in my work while also subverting a strict Euro-cententric interpretation of time or history, knowing full well it's all a construct. So why not re-construct it yourself?
What inspired the making of your latest short film, At Home But Not At Home?
This work, which will most likely been seen as the first in a line of new work addressing ancestral memory, postcolonial identity, and liberation, came from a place of not-knowing — a not knowing of my own history, my father's history, when he was raised in Goa during both the last days of the British Raj, as well as the Portuguese Empire's last exertion of control after 450 years of oppression. But this not-knowing was necessitated by a desire to not deliver this information from a top-down authoritative place (really what do any of us know anyway?), in favor of a more constellatory approach that connected my father's memories of his experience with train travel, time, cinema, and language. At one point he started to mention Angola and Mozambique, which I had only then realized still were under Portuguese occupation. Thus I devoted the rest of the work to questioning these relationships as precipitated by the ocean, the moment these cultures came in contact with each other, and eventually speculated how their nascent liberation movements might have learned from one another.
What was your creative process like behind making the film?
To think of how I made this work last year, before the COVID pandemic, almost feels like how I would need to make the work out of necessity now, which is remotely. The technologies that were used in my film, drone videography, google walkthroughs, animations, archival footage, and movie clips all surrounded my inability to comprehend the vastness and richness of the subjects I was diving into — memory, history, liberation, and the breakdown of all of these things, and the distance of it all, both physically and psychologically. The images you see at the beginning of the dismembered bodies, limbs, books, and vehicles that were sutured by the 360 degree camera's inability to look in on itself is what sparked the work. That image spoke so clearly to me about the interstices of identity, the in-betweenness of being a bi-racial person alienated from his ancestral homeland.
With the film's recent world premiere at IFFR and run in multiple festivals, what has the response been like and what do you hope the viewers take away from it?
I'm truly humbled and so glad that this film seems to resonate with folks around the world. Honestly, I hope that this work gets people to think about what it means to understand how all of our liberations are intertwined with one another. None of us are free until we're all free. India, Africa, and the rest of the world still dominated by racial capitalism still face on-going forms of neo-colonialism and imperialism, not to mention new threats of weaponized and targeted hatred for political gain. What does global solidarity of the oppressed look like today? Where is our Bandung Conference? As Homi Bhabha says in his introduction to Frantz Fanon's The Wretched of the Earth, 'Who still waits in the antechamber of history?'
How have you been coping with the pandemic and what will be the new normal for you post it?
I arrived back to my home in New York from India where I was shooting my new film right as the city, and both the United States and India, went into lockdown. If I hadn't left when I did, I don't know when I would have made it back. I was lucky and privileged enough to keep my day job and work on my new film in my time off. So I really dedicated myself to finishing this new project during New York's lockdown. To be honest, I hope we don't go back to 'normal,' because the normal that has occupied American thought is a vicious and pervasive form of white supremacy that seeps into nearly all aspects of our lives. What we've seen here in the U.S. is a step towards the dismantling of that pervasiveness in the form of some much needed soul-searching as a nation. I want that to be my normal. I don't want to go back.
Lastly, could you tell us a little bit about the kind of projects you're working on next?
I've just finished a new film, titled Letter From Your Far-off Country that is in essence a follow up to At Home But Not At Home. This new work continues interviews with my father, but explores other forms of family history through a distant relative Prabhakar Sanzgiri, who was a writer, freedom fighter, activist, and eventually Communist Party of India (Marxist) leader in Maharashtra. I overlay a letter to Prabhakar with more titles, questions, and interjections that focus on the legacies of Ambedkar, my time spent at Shaheen Bagh when I was in Delhi, and inspiration from Iqbal Bano, Agha Shahid Ali, Safdar Hashmi, and Shabana Azmi. I hope people respond to it as well as they did this one. It's a bit longer, running just over 17 and a half minutes. So stay tuned for that.