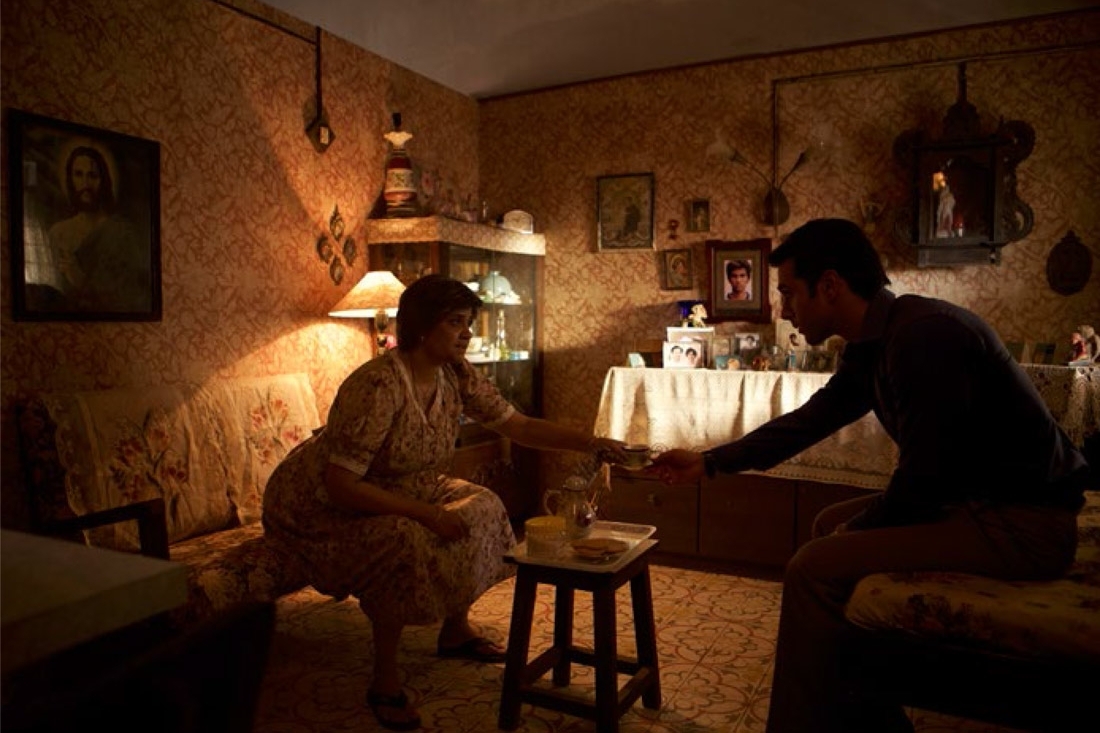 A still from Three Storeys
Three Storeys
Arjun Mukerjee & Priya Sreedharan
Humans are a complex lot. Our ability to mask ourselves and also change circumstantially is rather fascinating. How far can you go knowing that this is not you? The guards come down sooner or later. Three Storeys toys with a similar idea. It takes you through three intertwined love stories of masked people locked in a chawl. Dark secrets and past regrets are revealed and it becomes clear that life here is not quite what it seems. Producer Priya Sreedharan and director Arjun Mukerjee share more.

Priya
From Oye Lucky Lucky Oye to LSD, Shanghai and numerous other films, you've been producing for more than 10 years now. How would you summarise your journey?
My journey has been very challenging and sort of addictive. I started my career in advertising before I moved to feature
films in 2007. Since then every film I've produced has been a new experience—whether it's identifying the right story, bringing people with different skill sets together—basically making sure everyone is working towards one direction. It has been very stimulating.

Three Storeys is the first outfit backed by both Open Air and Excel Entertainment. What intrigued you about the story in the first place?
Althea Kaushal, the writer of the film, has set most of the film in a chawl. When I read the script it was like these stories were coming out of Pandora's Box. Unique, unexpected with fabulous characters jumping out of each story. I really loved it.

How was the experience of working with Farhan and Ritesh?
Ritesh and Farhan are very cool producers—they have a good nose for stories and great clarity of what makes sense commercially. They've been the perfect partners for the film.

You have worked with Arjun before. What made you think he'd make the perfect director for Three Storeys? How did you pick the other members of your production crew?
Since Arjun and I have worked on commercials together, I was very aware of his potential as a director. For this film, Althea and I were clear we wanted someone who will bring a certain cinematic and aesthetic style to the film. Arjun was the perfect fit. I strongly believe film sets are about people and your relationship with them. It's always comforting to work with people I have worked with in my earlier films, but on this one there were a few new associations. I always handpick my crew along with the director; eventually it is about one vision and the joy of working together.

What is it that you look for in a script before taking it up as your next project?
The story. From Oye Lucky Lucky Oye to LSD, Shanghai and now Three Storeys—I've done films with different budgets and crew size, but the joy of telling a good story is always the inspiration. I try my best to bring a balance between creative ambitions and commercial restraints. The project has to be realistically possible. Making a film is half the job but selling and distributing is the tougher, other half of the job. I take on a project only if I can see it to the end.
Arjun
What was it about the craft of filmmaking that intrigued you in the first place and when did you decide that this is what you want to do for the rest of your life?
I was never a film buff as a teenager. While studying in college, I watched a film called Salvador by Oliver Stone. It stunned me for its sheer beauty and exploration of the human psyche. It also introduced me to the notion that a good-for-nothing loser could be a hero in a film, and make everyone root for him. Then there was a film called The Hairdresser's Husband by Patrice Leconte which showed me that a simple story about two people in one location can be riveting. And then the dots joined back to Shonar Kella by Satyajit Ray which had seen as a young boy. I came back to Bombay from England and joined an advertising film production house called White Light Moving Picture Company in Famous studios, Mahalaxmi, as an intern. I wanted to use the ad film world as my film school, and ended up getting comfortably stuck here. I directed almost a hundred commercials before making my first feature.

What inspired you to make Three Storeys?
I have always been fascinated by the ability of human beings to effortlessly wear many masks and keep changing them during the course of our lives. We have different masks for our colleagues, our friends, our superiors, our subordinates, our clients, the household help, the taxi driver etc. We even have different masks for a Bombay kaali peeli driver and for a London cabbie. This amazing chameleonic ability separates us from other animals and also makes us very complex, and rather fake. And then there is love—it has the power to make us shed our masks and be who we really are to those we really love—to reveal what lies beneath. This is what really attracted me to Althea's script, which has three intertwined love stories, and which constantly peels away the layers ...the masks...and shows people for what they really are. All one has to do is ask the question, scratch behind the surface, look into the eyes, knock on the door, and fascinating things come tumbling out from behind the facade—sort of like an onion being peeled.
The film follows the lives of people who stay in three different storeys of a chawl. Did the setting of the film play an important part in the story?
Yes absolutely! The chawl itself is a character in my film— a Pandora's Box from which all kinds of fascinating things come tumbling out. What is great about a chawl [and I have lived in one called Talmakiwadi in Tardeo for two years], is that it is such a close knit community where everyone's lives are inextricably intertwined , as are the stories in my film. There is also a big element of voyeurism in chawl life which is very interesting, and is an important thread in the narrative.

What were the challenges that you faced?
Plenty! This was my first feature film, so dealing with such a long duration after being used to 30 and 60 second storytelling was a whole new ball game. What really helped was that I painstakingly story-boarded the entire film and made an animatic movie from the storyboard images with all the dialogues and a background score. This took me months, but was extremely useful and educational. There were many other conundrums we had to deal with, but I suppose that is par for the course in any large-scale endeavour.

Get your tickets here!
Text Hansika Lohani Mehtani