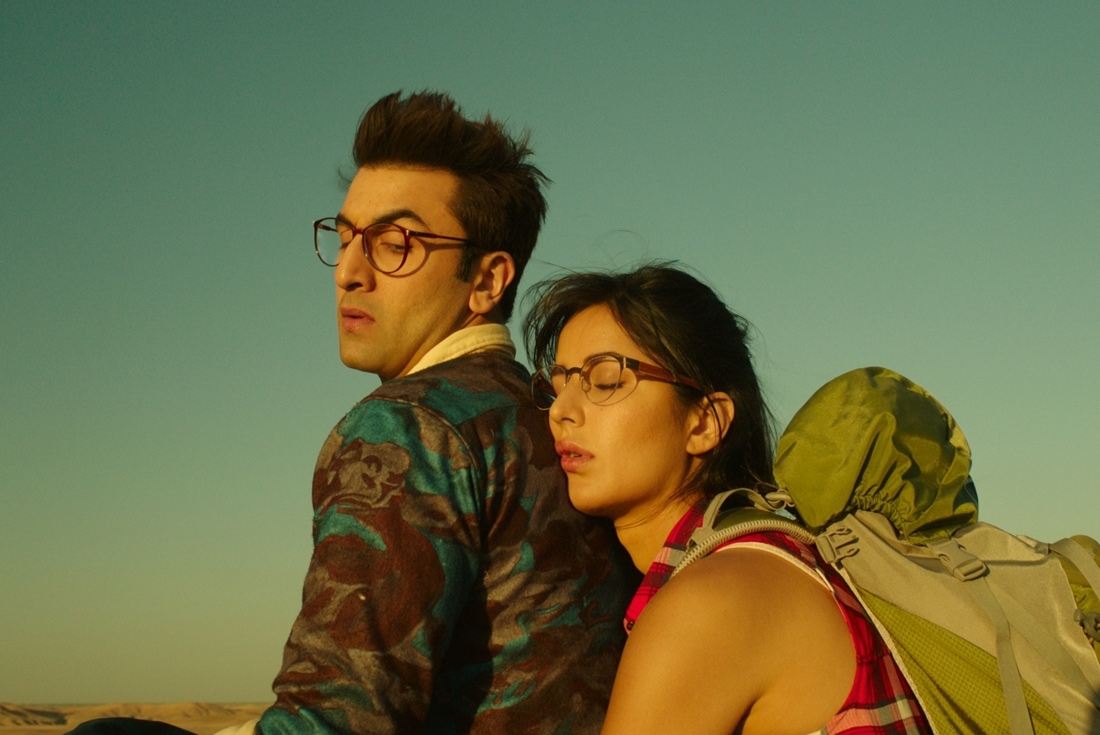 A still from Jagga Jasoos
#ThrowbackThursday: Anurag Basu
As Jagga Jasoos gets ready to hit theatres tomorrow, we revisit our conversation with the incredible Anurag Basu as he walks us through his life and how Bollywood discovered him.

The Bare Naked Fervour

Sensitive, realistic, intense and refreshingly different, are the first few words that spring to my mind when I think of Anurag Basu and his oeuvre. Even though he very categorically states it was only post Gangster that he began to feel a sense of achievement and pride in his work, one cannot ignore his exceptional talent that has helped create his unique identity in this mammoth industry.

Born and brought up in the small town of Gulai, in Chhattisgarh, he didn't grow up watching a lot of cinema. In fact, his childhood was spent sitting in on rehearsals and buzzing in and out of green rooms, while accompanying his father's theatre group. It's the exposure he got from the books his father gave him, and the theatre he was nurtured around that has helped and influenced him till date. Always interested but never obsessed about making films, he did however, want to pursue a more technical course in either cinematography or editing in FTII. A pre-requisite for these courses at that time was a B.Sc, so, he set off to Bombay to graduate with Honours in Physics. While in college his sporadic interaction with the film fraternity scared him, and made him study even harder as he felt that if he didn't cut it in films he would need a Plan B.

Since then up until now, his life has moved very easily from one phase to another, much like his multi-layered yet evenly smooth style of storytelling. Nothing was ever planned, it was mostly impromptu, just as he constantly improvises and very rarely comes on-set with a complete bound script. Though he has directed a number of films, he prefers calling himself a storyteller and much prefers the writer's pen to the director's seat. 'I feel direction is an overrated job. People say you are the captain of the ship but ultimately as a director you are executing what has already been written.'

Anurag Basu fills us in about his life and work while on a breather from babysitting his daughters.

What is your earliest memory of being on set?
The first time I went to a film set was when I was in college. I did a lot of theatre back then, and happned to be one of the 'strugglers' – that's what we were called back then. In those days, I used to frequent film sets with my actor friends in the hope of getting some work. There was a director who saw me around the set during one of our trips, and he asked me to smile. So, I smiled. And, he said, 'Aapki daant ke beech mein gap hai. You are very lucky!' I didn't know if he meant it or was making fun of me – but that remains my earliest memory of being on a film-set.
"In the multi-narrative genre, you have to give each story importance and the fluidity within the script has to stay smooth. It has to look like one film and not five different films."
Television and film have both been a part of your life since the beginning of your career, and continue to co-exist. What is it about each medium that gets your pulse racing?
When I first came to Bombay, the television boom was at its peak. Satellite television had just made its way to India. So, getting work in television was comparatively easy as opposed to the long unsteady lines of film work. I was a complete unknown in the film world, I came from a small town and no one would give me the time of day in this very crowded film industry. Television was more easily accessible on the other hand. In television you have to think very fast and are always running against time. At the same time, you have to deliver and you have to deliver quality. Cinema on the other hand is easier and you have ample time to create your own visual language and set. It also gives you enough time to make the necessary changes. That's probably why it's very easy for a television director to direct a film, but difficult for a film director to direct television. Both mediums, however, are very exciting and challenging in their own way.

Your first film released in 2002 and over the past seven years you have carved a niche for yourself. What has the journey been like and how have you evolved as a director?
I feel I am still evolving. I think I need atleast three to four more good films to feel I have actually achieved something. My first film Saaya was a complete rip off of a Hollywood film and is not something I am proud of. I was given a written story that I was told to direct. It obviously troubled me back then, but I was brand new in the industry, so my creativity and sensibility was not taken into consideration. Murder was also inspired from a Hollywood film. But I improvised on the script and tried to bring in my own style and treatment. It was only post the success of Murder that I could convince people that I could write and direct my own script. And since then, Gangster and Life in A Metro are films I am extremely proud of.

What is it about the multi-narrative genre that fascinated you? And how challenging is it to create parallel stories flowing in the same direction?
I feel audiences today are very greedy. They want as much entertainment in the given time as possible. So, the minute you concentrate on more than one or two characters it becomes all that more worthwhile for them. The treatment of multi-narrative cinema is very difficult. Especially the writing aspect of it because you have to give each story importance and the fluidity within the script has to stay smooth. It has to look like one film and not five different films. It's like an orchestra, where if all the musicians are on their own track they will be creating noise instead of music, but if they play as one, they will create a beautiful melody. In a similar way, every story even though an individual entity in itself has to have a common heartbeat to bind it into one film.

You capture mainstream contemporary lives but have an alternative edge to it. How do you manage balancing this divide?
I don't want to tell an average story. But I thoroughly enjoy capturing love in its most stark, bare, naked and real form and that is invariably my central theme. I am very happy with box-office success. In fact that gives me way more pleasure than having a big star in my film. I am from a small town and I feel like I know exactly what gets the aam janta's pulse racing. On the other hand I am also exposed to multiplex cinema, so I know and understand the expectations from this strata as well. I keep both of them in mind and I guess that's how I manage striking a balance between both worlds.

Our conversation with Anurag Basu was first published in our Literature Issue of 2009. This article is a part of Throwback Thursday series where we take you back in time with our substantial article archive.



Text Shruti Kapur Malhotra