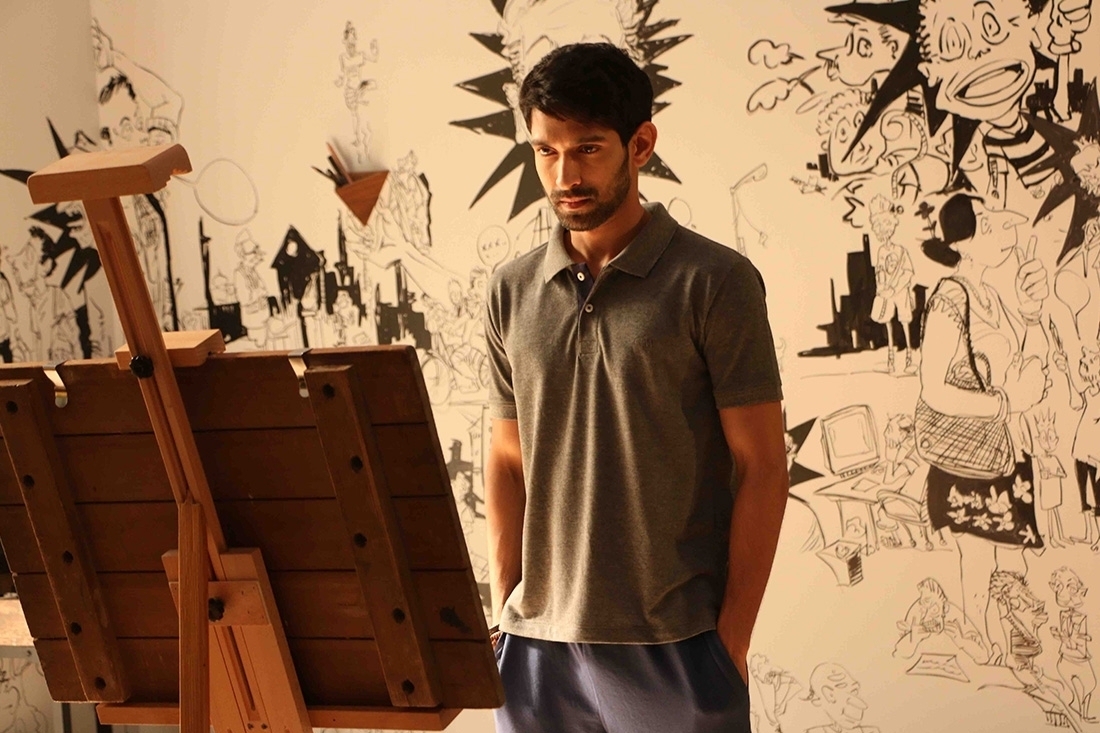 In the last five years that Vikrant has spent in cinema, his career has shown a swift rise. An actor who started with a career in television, he has managed a couple of big commercial films with production giants—played the clever confidant in Lootera with Phantom, the brooding Rana Khanna in Dil Dhadakne Do with Excel, played a crucial part in Alankrita Srivastav's small budget film, Lipstick Under My Burkha and stunned the audiences with his portrayal of the main protagonist Shutu in Konkona Sen Sharma's A Death in the Gunj. He is now creating base on the web through his portrayal of the protagonist Veer in the Alt Balaji's latest we series Broken.
What is your character like in the web series Broken and what was your creative process behind playing this character?
I play this character called Veer, who is like any other urban guy. He is very aspirational, is an investment banker and suddenly this one thing happens in his life because of which all his plans get completely thrown off. That's when the main two people of the story, two broken people who have had these certain kind of experiences that has broken them, come together. I myself have also faced such experiences and I know many people who have gone through similar things, so when I was told about the show I just realised that the relativity quotient was so natural between me and the character and also an actor I hadn't explored such a space in the romantic genre. This is an opportunity for me to work in an intense romantic story wherein people with some serious baggages come together and note everything is hunky dory. I am sure we all have a certain amount of baggage that we move forward with in life and all of us are who we are because of our past experiences. Also my creative process always differs from project to project. So, I belong to Bombay so I am well aware of how life in a fast paced city is. The underlining thought behind this work is how we are all so caught up in our lives and our aspirations while being a part of an urban fast paced city. In this story two hearts come together and become one and its not just always about ending up in a relationship, its more about exploring the various other forms of relationships we have in life and how they can be so deep in their significance in your life. So these kinds of ideas I really hadn't explored before as an actor and when Ekta (Kapoor) told me about the show and that she saw me playing the role of Veer, it was definitely a challenge for me. I really wanted to take it up and I hope it has turned out well!
Does it matter to you that your real-life stance matches the character that you decide to play?
There definitely has to be some sense of relatability. Like when I am reading the scripts in the earlier stages, something about the story should make me relate myself to it in terms of like ideology or experiences. The kind of things I actually like to do are socially relevant things, not in the sense of social impact or cause, but in a way that it resonates with the life of the common man. I always observe the society, I am not a trained actor and I am a very sensitive person. Whatever I see, think or feel, I write it down and I derive most of myself from the real, everyday life. So, I want to be a part of similar stories, be it Balika Vadhu or Broken. I want to portray stories of the common man so that they are pushed to think or feel something and it is an ongoing challenge, there is no fixed rule here as well. I am very young in this industry, just five years old so I am still exploring and learning.
Your career began in television, then you went on to be a part of some of the most successful movies and now you are venturing in the space of the web. How has your experience in ever field and if you had to choose one field, which one would you and why?
See, when I used to do television, I was bound to deliver at least five episodes a week. Now by the end of it, I am someone with a very short attention span and I was very bored with the mundaneness of it and I was probably feeling under-utilised and then films happened, and they happened on my merit. I was very surprised because Lootera was my first film audition and I got the part. In films the narrative is completely different altogether. In films you are working on one story that you know the beginning and the end of and you really believe in it. In television, the stories keep changing, like maybe some random day they will add in a wedding arc because it garners TRP. So, I really started enjoying films. Now web again is a very different world because it is a very diverse space today and it is very difficult to classify it. Also working in web also gives you an immense amount of responsibility today because its a very unfiltered space and you have to be careful about who you are catering to. To answer which one I prefer the most, I will be very honest and I am not trying to be diplomatic, I am still figuring it out. Out of films and web, I really don't know but I definitely become solely a part of a certain space and give it all. For me, content is paramount and I just move towards the medium that delivers it the best.
What are your views now on the current film industry. What do you think has changed in the time that you've been in the industry and where do you think this industry is really moving towards?
One direction, which is good content and better execution. I mean our exposure is really immense, its wide so its very important for us to pull our socks up and deliver more quality content. So you have had these so-called smaller films come out with exceptional content and so they've done equally well. Our viewers today want to see quality stuff, they want value for money. It is obvious that you cannot please everyone but you've got to keep striving to deliver good content with regards to execution and performances as well. So we are definitely heading in that direction for sure. People today are smarter, the kids who were in school ten years ago have now passed out of college and are doing something else in life and have grown up. So they have a proper identity, beliefs and opinions and most importantly, they are millenial. Especially in India, 65% of our population is below 40, so everything is changing with time.
What are you doing next?
After Broken I actually have another outing on the digital platform which is an adaptation of Criminal Justice, also an outing with Pankaj Tripathi as well. Then I have four features which are releasing next year, Cargo, co-starring Shweta Tripathi, also a sci - fi feature which is another genre that I am new to, later I have Pind Daan, for which I will be shooting in Lucknow the coming week and many other exciting projects as well!

TEXT Nidhi Verma