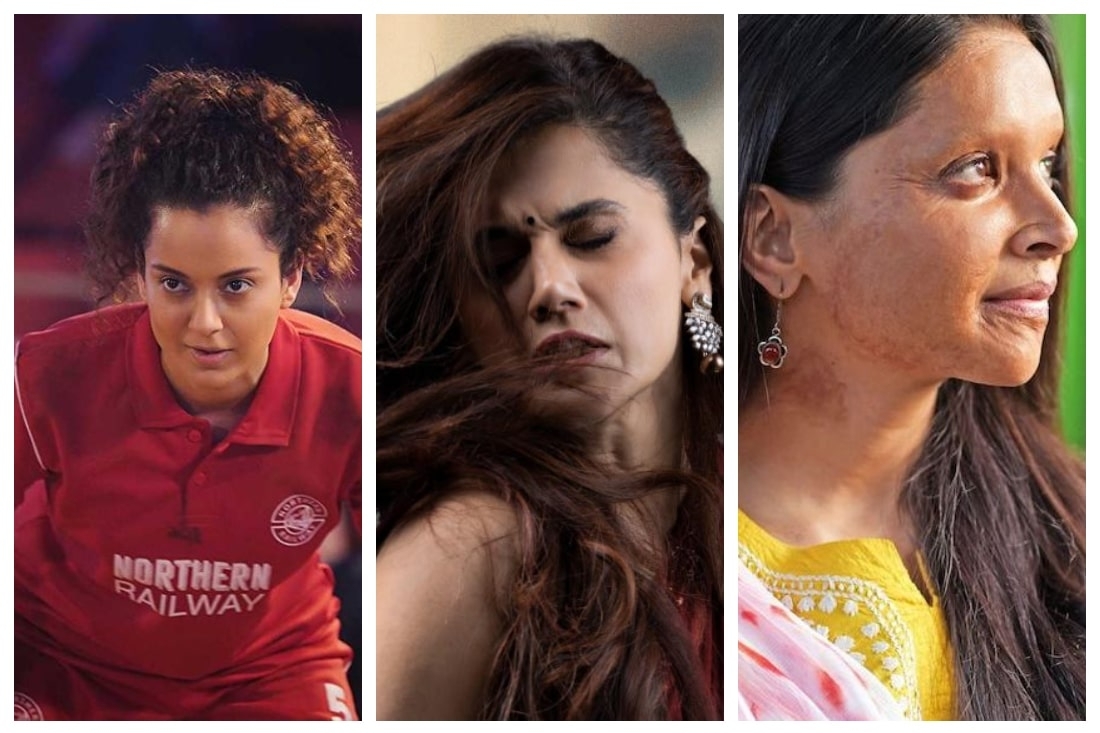 Its taken many years but Indian cinema is finally churning out more and more female driven stories. The gender trouble is now a more crucially explored theme in many films and with more female directors, producers, actors and writers coming to fore with the incredible talent, the cinematic space is rightly being occupied by women. In the very first quarter of this year, Bollywood has had three big releases with women on the forefront. Just in case you missed them, we've briefly reviewed the films:
Panga: Kangana Ranaut may always be one to stir the pot with her controversial statements, but one thing that she consistently delivers is a solid performance. Director Ashwiny Iyer Tiwari's narrative, based on the life of retired kabaddi captain Jaya Nigam, may be less about kabaddi but is high on the unapologetic assertions made by Jaya time and again. She knows her true happiness lies in the game she left long ago to take care of her son but she's helpless, for women it has always been either/or. In a world where women are constantly fighting for equal representation, Jaya decides to make a comeback but isn't allowed to play until the final match. What makes the film so special is not only the relatable premise, but also it's little moments like the one where Jaya's son tells his father he should've taken active responsibility in caring for the premature baby and the father accepts by requesting to not make him feel guilty. Another aspect that enriches the plot is the female camaraderie. Jaya's college friend and now coach Meenu, played by Richa Chaddha, isn't threatened by her mate's desire to return to the game. Instead, but she is a supporting force that pushes her to the very extreme to reach her goals. While Panga doesn't seriously take into account a mother's bodily changes in a physically exhausting sport, it surely is an inspiring story with a woman leading the way.
Available on Hotstar
Chhapaak: One of the biggest Bollywood releases of this year, Deepika Padukone's Chhapaak, helmed by Meghna Gulzar, explores the deeply tragic and heinous issue of acid attacks. Based on the life of Laxmi Agarwal, an acid attack survivor who has now become a symbol of power for victims of the crime worldwide, Chhapaak shows the story of Malti, who falls victim to an acid attack and is forced to go through the ordeal of a court procedure while trying to heal mentally. In the process, she decides to fight for justice for those like herself. The film is a triumph. It sensitively deals with the atrocities of this gender based crime and significantly sheds light on the aftermath of surviving it. It is impossible to pin down the actual root of this evil but Chhapaak manages to call out the patriarchal prejudices that are certainly a part of it. Even though the film deals with such a poignant subject, it is seeped in positivity. It is a real testatemnt to the the fact that women rise and conquer no matter what. With an incredible performance by Deepika Padukone and beautiful direction by Meghna Gulzar, Chhapaak is an essential film, one that needs to be watched and discussed by society at large.
Available on Hotstar.
Thappad: This Taapsee Pannu starrer uses one slap to intricately weave together a tapestry of the lives of women, coming from different sects of society. That one slap is just enough to unravel the lives of women controlled by years of patriarchy. The perpetrators aren't just men, it's women as well due to years of conditioning. It isn't just the narrative of Amu slapped by husband Vikram in a clear display of the power dynamics but also of her lawyer Netra in a unhappy and abusive marriage; Shivani, a single mother and her neighbour who is questioned for being too successful; Sunita, the house-help in a violent marriage, constantly beaten up by her drunken husband amongst others. There's another thing about Thappad, it's exhaustive. The detailed plot, bit by bit deconstructs just that 'one little slap'. It doesn't unceremoniously villainise Vikram, but at the same time pointedly takes a stand against violence. It pushes you to think about how deeply sexism is embedded within our society and how stagnant gender roles are. Taapsee brilliantly leads the plot and drives home various important messages. Despite being captured by the male gaze, Amu's journey is definitely one to experience in contrast to the hype of Kabir Singh and his toxic masculinity.