---

Inside Our Design Issue 2017
V. Sunil. Sumant Jayakrishnan. Rukminee Guha Thakurta. Mohit Jayal. Dhara Jain. Raul Rai & Simran Lal. Meet the makers. The believers.

---
---
---
---
Music is all about rediscovering myself, pushing my boundaries and digging up emotions that I didn't even know existed somewhere deep within me.
Lucy Rose, Singer-Songwriter
---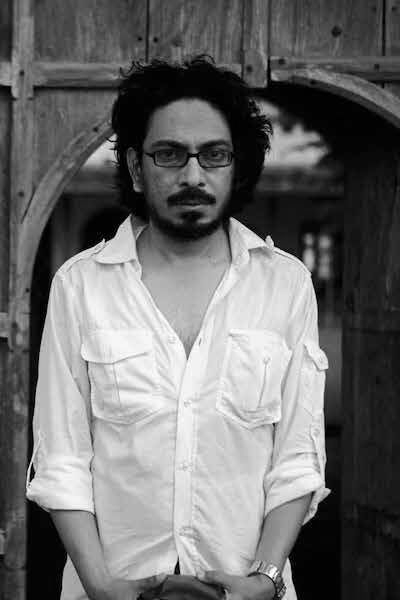 Short Take
Aatish Taseer, Writer

Contextualize yourself in one line?
A writer trying to make a whole of his past, and the past of his place.

What would the title of your biography be?
Man of Hidden Shallows.

An event form the past that has most influenced you?
The 1947 partition of India.

Three things people will be surprised to know about Aatish Taseer?
I'm a nervous traveller. I used to be - for my love of dharmic films- known as the 'bhakt' in green Park Market [New Delhi]. I once went skinny dipping in a pool in Buckingham Palace.
---
The Black Cat
Bhargav Saikia, Director
---
pg. 25

Listed

Rukminee Guha Thakurta. Dhara Jain. Sumant Jayakrishnan.

pg. 19

Cover Story

V. Sunil and Mohit Jayal unfurl their design sensibilities.

pg. 33

Forecast - New Boys On The Block

Pratik Ghosh. Sajid Wajid Shaikh. Ramakrishna Saiteja. Young turks.

pg. 41

Photo Essay

Photographer Randhir Singh shifts his lens to Ahmedabad.

pg. 61

Literature

Poet Rupi Kaur on her second book, the sun and her flowers.

pg. 64

Inform

Jim Sarbh. The Madhatter. We get to know the man.

pg. 68

Fashion

Rinzin Lama and Shenali Sema tell us about their label, Untitled Co.

pg. 70

Film

Mostofa Sarwar Farooki on his debut film, No Bed of Roses.

pg. 80

Photography

Sweet Life by Sohrab Hura is haunting and beautiful. We take a look.

pg. 94

Life is Gucci

Bharat Sikka captures Gucci and its creative language.

pg. 140

Centrestage

Ali Fazal on his debut Hollywood venture, Victoria & Abdul.

pg. 146

3 Minutes

We dig into the lesser known side of designer Masaba Gupta.
---
Newsletter
Let the platform newsletter keep you up-to-date with all things art, fashion, lifestyle, design, film and music