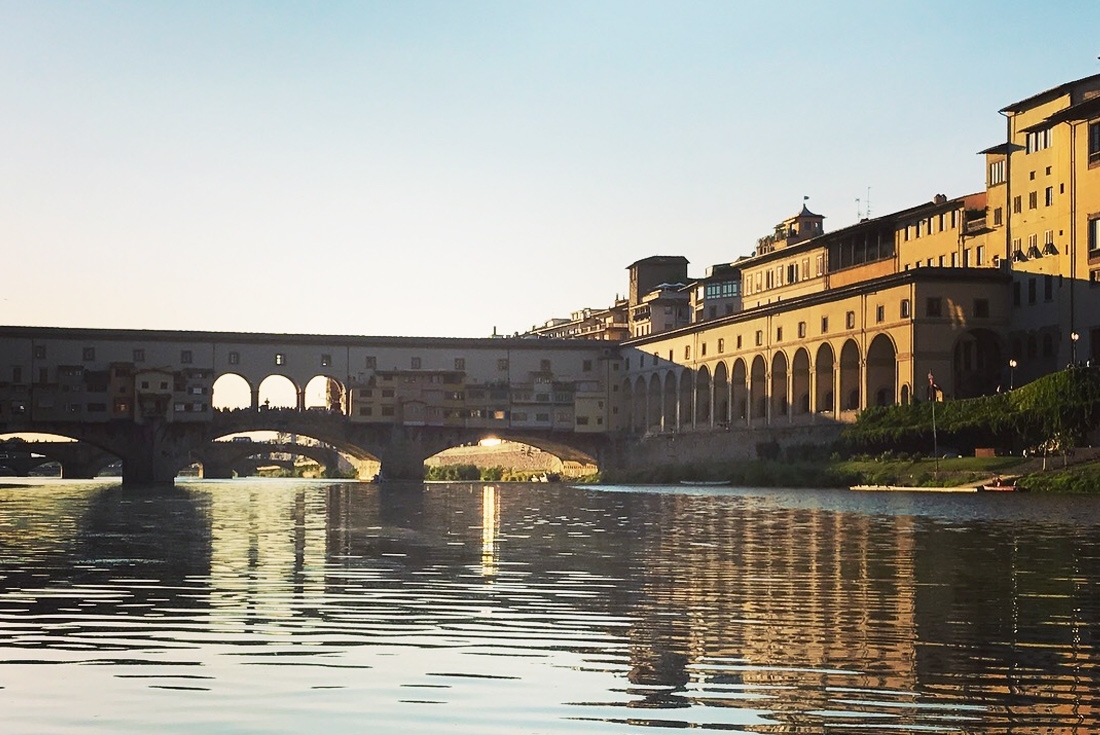 Belmond Villa San Michele Florence
I first visited Italy as an 11 year old with my mother, we were on a grand tour – just the two of us, starting in Rimini, stopping in Venice and Rome and ending in Florence. It was a wonderful, bewildering and inspiring few weeks, and amongst the few things I remember, the river Arno somehow stays as an abiding and lovely memory.

I have been back a couple of times since and always enjoyed it, but taking my 13-year-old son this summer for the first time will surely rank on par with my first, all those decades ago.

A hot sunny day greeted us on arrival, the temperatures were already well into the high 30s, and as we drove through the city towards our hotel, I was thankful that we were staying at the Belmond Villa San Michele in the hills of Fiesole overlooking the town. A mere 15-minute drive from the center of Florence [and all the throngs of tourists, shoppers and various assortment of guides], it may as well have been on a different planet.
Built as a Franciscan monastery in the 15h century, a small rural home to begin with just a handful of monks - it's benefactors the Davanzati family donated all the lands to this Franciscan order, who cultivated it into lush agricultural fields and gardens. Over time the buildings were enlarged by the architect Santo di Tito and it retains all of its original character, architecture and details, but without any hint of monkish paucity. The original coat of arms of the Davanzati family [a lion] remains as an impressive greeting over the front entrance. As one enters the nave [which serves as the reception] to a glorious sundrenched altar with alcoves all around, you find work by 9 contemporary artists - some bizarre, some beautiful, some graffiti like….all of them thought provoking. This is how ones experience at The Villa San Michele begins. A modern day combination of the old and the new, with plenty of history to discover, along with a foot very firmly in the present.

This is a very special place, with its multiple terraced gardens, beautiful rooms that look outwards [on to the most spectacular view of the city of Florence and the majestic Duomo], or inwards into the former monastery, there is lush foliage, cypress, Italian pines and masses of fragrant flowers everywhere the eye rests. Like all Belmond properties its setting and surroundings are unique and after a quick survey of our plush and oh-so-spacious suite [I would always opt for the views of the gardens and Florence] we walked up through the terrace gardens to the pool for lunch. As we wandered through the heavenly bushes of lavender, citrus, and rosemary, we glimpsed an art installation that was both clever and amusing and seemed to be perfectly placed in juxtaposition to the grandeur of the hotel. This piece by an artist called Clet [a street sign artist of some repute in Florence] consists of 9 signs that address our relationship to food and those conventional traffic signs become [for example] a roundabout slicing salami as if it were a knife, or pastries falling upon a no-entry sign [nudging us to occasionally indulge in sweets]. It was an unexpected discovery, which I discovered was part of Villa San Michelle's exhibition of the best Florentine street artists and other contemporary painters. I was amazed to see a hotel with such a rich history welcome in graffiti and street artists, but it lends an air of energy and contrast and is a refreshing addition to the conversation about art that one inevitably has when in Florence.

Sitting by the pool shaded by cypress, we had a simple lunch of prosciutto with the sweetest Italian melon, followed by pasta pomodoro, and a delicious rosé from Radda in Chianti. Lulled into the most relaxed state with the sound of cicadas and a gentle breeze, its not hard to imagine being back in a former time, with the monks working the land and a place of meditative calm above the rush of the city below.

Part of the history of the hotel includes some of the land that were the launching grounds for Leonardo da Vinci's flying machine, and a charming tale of the forbidden romance of Margarita of Medici and the Duke of Parma. This is the beauty of Italy and in particular some of its cities. The history is evident in every nook and cranny and while it is the reason most people visit, the danger is that some cities become frozen in time, museum like.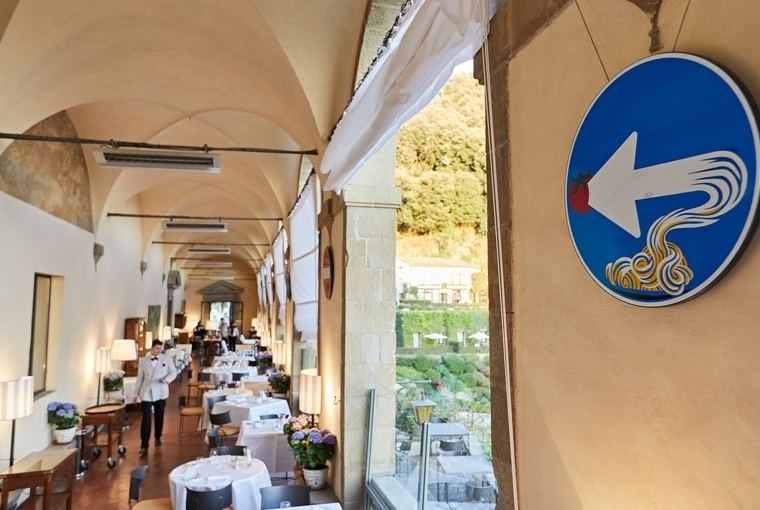 Florence is one such city that has decided to nurture its contemporary and street artists while preserving its unmatched history as the birthplace of the Renaissance. Like Paris, the city has revitalized its river front, building small beaches, bars and restaurants down on the banks of the river Arno, engaging its youth by commissioning local [and other] artists to create structures, installations and graffiti that populates the city and especially its river banks.

We decided to view this renewal in the most exciting way, which was a rafting excursion down the Arno at sunset organized by the Belmond hotel exclusively for their guests [lucky for us!]. Run by Firenze Rafting it is a unique vantage point onto this great city and its landmarks. We set course in the company of the captain Marco and one of the artists who works under the self-styled pseudonym Il Sedicente Moradi and who uses recycled and organic materials like dead branches to create his sculptures…a few of which dot the river banks [fantastical mythological creatures such as a unicorn, and a most fabulous crocodile].

We rafted and did some serious paddling down the Arno, with our guide pointing out some of the commissioned work, painted on to the walls and dotted along the river. To our right was the Uffizi with all its splendours, and ahead of us was the Ponte Vecchio under which we passed, giving us a breathtaking view of the bridge, and the city around us. One of the most memorable moments was our slow drifting stop at one of the walls of the river, just past the Ponte Vecchio. After a few 'Ciao! Ciaos!' exchanged between our captain and a lady high above – a basket was lowered to us with a chilled bottle of prosecco, and some warm paninis, and we set off again at a leisurely pace down the river sipping our drinks, handing over the steering to my 13-year-old son who kept us down the straight and narrow while we enjoyed the views, the golden sun reflecting off the mustard, terracotta and sand colored buildings and hearing about the history of the city [the great flood of 1966 that destroyed hundreds of thousands of pieces of art and literature and the Angels of Mercy - known as the 'mud angels' who came from all corners of Italy and Europe to help restore the treasures] and marveling at how a different perspective can transport one into a wonderland.

Thrilled and tired after 3 hours, we headed back to our haven - the Villa San Michelle and cocktail hour. Twilight from its terrace garden and bar, with the lights of Florence twinkling in the distance, was the perfect end to the day and beginning of the night ahead. There is a beautiful bar within the dining room of the spectacular 16th century loggia of the hotel, set into the hillside…and martini in hand I wandered through the hotel taking in their contemporary art project which is a new venture for them and their guests [including guided tours through Florence's street art with one of the artists, visits to artists studios, graffiti classes] and on display in various areas of the hotel. Each artist has a different and unique approach; one named Hopnn has taken a physical piece of the Villa's history [a large old carpet] and painting it to give it a new context while preserving the history of the hotel. This is the kind of fresh perspective that many grand hotels need…engaging with the arts and culture of where they reside, making it interesting for adults and kids alike and bringing something thought provoking and intelligent to their guests while preserving its heritage, luxury and history.

It added to the delights of Florence and they plan an entirely new art project for 2018 which I cannot wait to see…upon my return to this magical city and heavenly hotel.
Till next year Firenze!

Belmond Villa San Michele Florence, Via Doccia 4, Fiesole (Florence), Italy.
www.belmond.com
[The Belmond Hotels have multiple experiences in Florence and Tuscany including Hot air balloon rides over Florence, private views of the Uffizi, a Fresco workshop and food lovers market tour, amongst others. Visit their website to find out more]

A design consultant and writer, Rymn Massand's design studio includes Random House, Columbia Films, Penguin Books, Nickelodeon, Simon and Schuster, The MOMA, Bloombsbury Books, Doubleday, Hearst Publishing, The Metropolitan Museum of Art, Paramount Pictures, HBO, Chronicle Books and 3 Clive Road amongst others. In additon to deisgn and art direction, she has also been writing for various publications including Vogue, CNN Traveller, Architectural Digest, The New York Times to name a few. In 2016, Rymn started RYMN, a creative consultancy that helps brands tell inventive and creative stories through a range of mediums - from brand work to book design, photography to illustration, editorial and writing. Rymn lives in New York City with her husband and her young son.