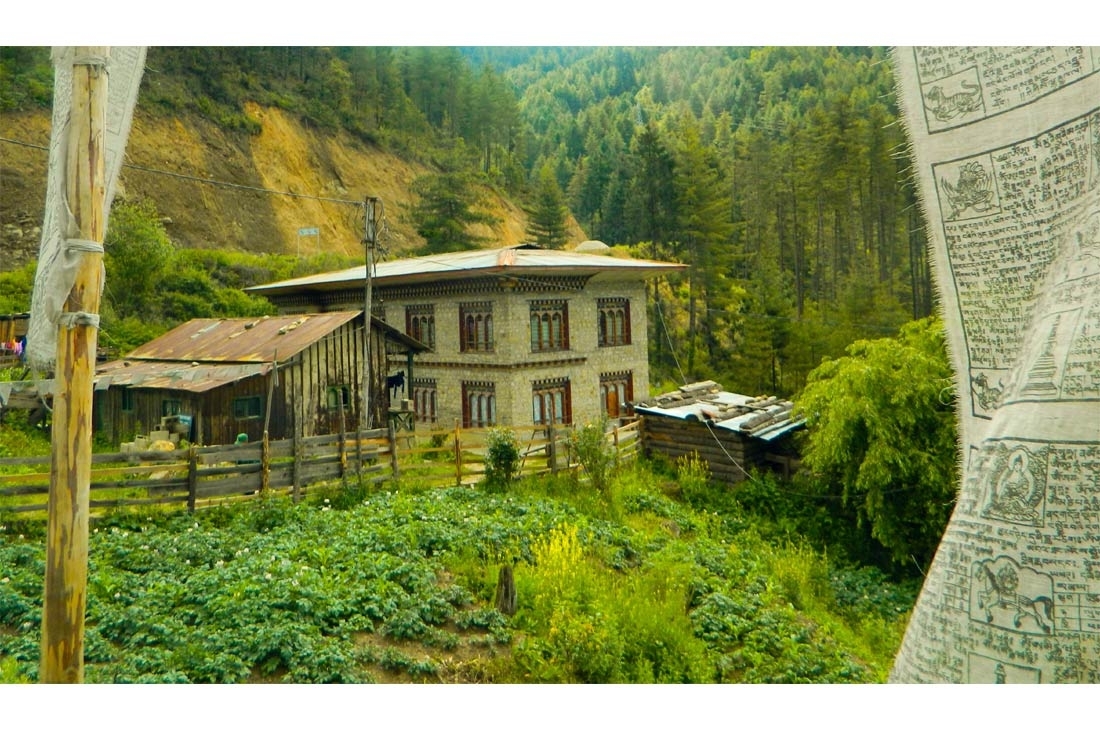 As we descended down the stairs of our aircraft stationed at Paro Airport, a majestic expanse of barren ground sheltered by lush green peaks on all three sides surrounded us. We found ourselves in a small swathe of Paro valley, which was just a tidbit of the glorious terrain that the country encapsulated.
Bhutan, very simply put, is nature's untampered masterpiece. It's terrain mirrors one out of a fairytale book. It is unreal and utopian. On our way from Paro Airport to our first sightseeing point, The National Museum in Bhutan, the drive was clothed in sheer beauty, escaping the scope of even our own imaginations. Paro valley is as lush as it could get, with hues of shamrock, lime and emerald green blending at mountain tops and grasslands interspersed with sparse housing and architecture. The architectural style is strictly controlled- all the buildings comprise similar structures. Small areas of terrace farming too glisten under the sunlight. A river called Paro Chhu (Paro is the town and Chhu, means River) flows on the side of the road, dotting the terrain. It's waters are crystal clear.
Littering in Bhutan is prohibited. Even the act of throwing a small plastic wrapper is fined at 1500 Indian Rupees. The Bhutanese vehemently believe that cleanliness is akin to godliness. 72 percent of the country is under forest cover and more than half of Bhutan's area comprises of national parks, wildlife sanctuaries and nature reserves. The development of the country is measured in Gross National Happiness instead of economic growth. The administration is of the belief that personal wellbeing transcends all forms of advancement - be it economic or technological. In fact, until 1999, television and internet were strictly prohibited in the country. It is development which has taken place at a caterpillar's pace that has sustained Bhutan's rich culture and identity. The identity too, is vastly unique. Rules such as wearing the national dress to workplaces, schools, government buildings and formal occasions fall short of being restrictive and are widely admired. The respect that the general public fosters for it's royalty is unmatched from any other part of the world. Although Bhutan today is a democracy but given a choice, it's people would revert to a monarchy without even batting an eyelid.
Although the places we visited in Bhutan were all one of kind, some inevitably stand out. The place had something to offer for every facet of my personality- the history buff, the nature lover, the aesthete, the photography enthusiast and the contemplative wanderer. The towns we covered were Thimpu, Punakha and Paro. A glance at the internet and you'd find all the places you can visit, though I want to narrow it down to what is truly worth a visit - the places that can't go amiss, the places that would be etched in your memory for a long time to come.
Travel is about creating experiences, not about following a rulebook. It's about infusing a little more life into you and Bhutan has marvels to accomplish the same. While spiritual sites and monasteries exist in abundance, Paro Taktsang or Tiger's Nest and Buddha Dordenma are must visit places. Paro Taktsang hangs at a cliff approximately 10,000 feet above Paro valley with a total hike of 8 km, back and forth. Although a pony could take you halfway, the real pleasure is in walking up to the monastery. What awaits you? A beautiful terrain witnessed on the hike, breathtaking views of Paro valley shrouded with mist and clouds as you go higher and pure water from the Himalayas coming at taps along the way. The final prize? Paro TaktSang itself, where once Guru Rinpoche flew on a tiger's back giving the monastery it's alternative name, Tiger's Nest. While from afar it is hidden in the clouds, as one nears it, it's majestic form bleeds into clarity. It seems desolate yet divine. As one enters, it's glory seeps in with it's cave like interiors transporting you to another world. There are rooms for different buddhas here, each rewarding it's pilgrims' toils. The other site, Buddha Dordenma is a grandiose golden coloured statue with a monastery under it, standing at 201 ft tall and visible from almost anywhere in Bhutan. It has been funded by a Singaporean businessman with a whopping 200 million for the whole structure.
While these structures are imposing in their own way, another site exuding magnificence is Punakha Dzong, a palatial structure situated next to the confluence of two rivers. A bridge leads up to monastery with a serene view of the rivers. From afar, this site is like a watercolour painting. Inside, the monastery is pristine, standing as an epitome of Dzong architecture. It is also imperative to have a travel guide by your side while visiting the various points of interest in Bhutan. We were a group of 20 people. To our advantage, bonds between members were quick to form and it stopped seeming like a group tour. More like age old friends gallivanting and discovering a new country together.
Nature's bounty and adventure coexisted at the Punakha suspension bridge. It is a 200 metre long bridge stretching between two hill cliffs, dangling atop a river. Some of us set out to undertake the task of crossing this bridge. Halfway across, we were trembling as the height of the bridge was not what we anticipated. I too felt the goosebumps on my skin as I neared the centre, dangling above the vast body of water. Another outdoor sight seeming like one out of a winter wonderland is Dochula Pass. Located between Thimphu to Punakha, it has a total of 108 memorial stupas arranged in a circular fashion. A thick blanket of fog and clouds covers the area. A quaint cafe is situated across from the memorial stupas, selling delectable chocolate eclairs and coffee, the interiors of which resemble one of a mountain chalet.
For anyone like me who holds an appreciation for a melange of colours and innovation in textiles, the Bhutan Textile Museum and the craft bazaar are akin to a unique fashion paradise. The fabric woven by the weavers in the textile museum are rich in colours and quality. It is known that a lot of designers source their materials from here. The handwoven fabrics unquestioningly mimic those we see at International fashion weeks being donned by fashion enthusiasts and style icons alike, and sometimes even on International runways. Although the textile museum boasts more variety and better quality, the craft bazaar at Thimpu is a better bargain. Bhutanese women too, effortlessly carry off their national dress with an uninhibited confidence and elegance.
While the ones I listed can be a part of any travel itenary curated for Bhutan, another place to be featured on a travel list should be Paro Town. The town boasts of a wide road with towering buildings on both sides, comprising of quaint shops and cafes selling foods and handicrafts. This is set amidst a backdrop of the Himalayas. The sunset here is particularly beautiful with hues of sepia and a deep yellow illuminating the whole town, rendering it with an untarnished glow. Although I won't compare Paro Town to the streets of Milan or Paris since it has it's own distinct charm and an aura resonating it's country's culture along with an unmatched serenity. Youngsters sit outside these cafes under the cloudy sky of a town that is fit for a postcard picture. Adding to this aesthetically pleasing scenario is the delectableness of the delicacies at Mountain Cafe, probably the most loved cafe in this town. Our last day was spent here savouring freshly made pizzas, Mocha Lattes and german brownies.

Text Supriya Jain