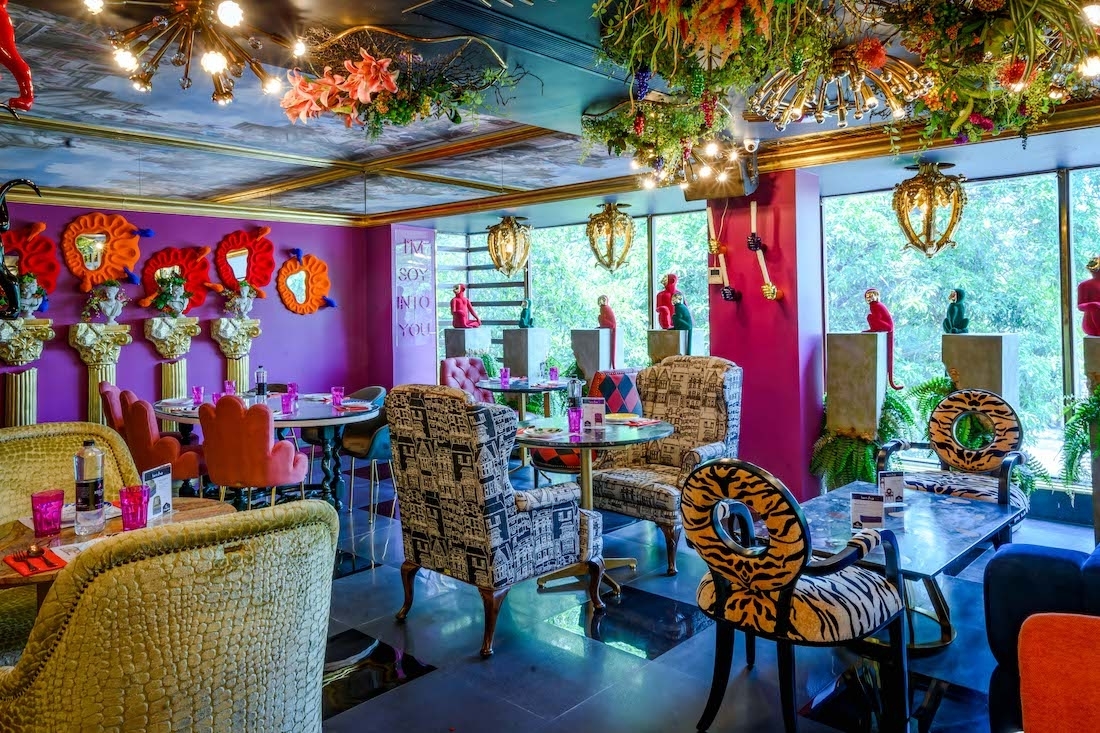 Code Red: Plum by Bent Chair
Plum is not for the faint hearted. Or the minimalist. It is like walking into a Manish Arora set, with food fierce and flamboyant to match the grandesque interiors.
Perhaps that's obvious for a popular restaurateur and his better interior-design half putting their arts together – but the mix is more explosive than one would usually imagine. Everything about the place stands out – each chair, each piece of cutlery, the shredded soldiers on the wall art to our left, the neon monkey making a cheeky statement – all what you sit on, eat out from and look at is a collector's piece that can be owned. Some is inspired from Grecian architecture; some from art deco and still others are works of contemporary design. All of it is striking and luxurious – sometimes a bit overwhelming even. So I'm glad when the plate that is presented on our table is monochrome, with interesting American pop art that has a girl slurping up her soup from a bowl. Ah, comfort in the chaos. It's summer in India though, so we opt for the signature smoked plum negroni instead. The gin, Campari and vermouth blend effortlessly - the barman has kept it subtle in the face of the deep reds and pinks. The party is picking up and the place makes the evening feel young. It's packed inside – the faux greens and close tables make it a lively chatterhouse suited for those who love colour, curiosity and the characteristic Delhi spirit.
In the meanwhile, our wild mushroom bao is giving good competition to the rest of the vibe. The Thai spiced fish is just as fierce. We are not hungry enough for the sushi and nigiri platters but the menu is vast and flamboyant. We call for chicken dimsum to neutralize the flavours – and the simplicity, is delightfully intact. A couple of small plates are big enough for a full experience. Trick: Try the #plumazing recommendations.
What's great is the location – that little cube in Janpath is a far cry from the crowded Connaught Place or Khan market and thereabouts, and friendly enough to stand outside of the hotels. It's the kind of place for an occasion or a mad night out with friends, or a date that wants to go to the museum, restaurant and interior shopping all at once. Turn up that red.