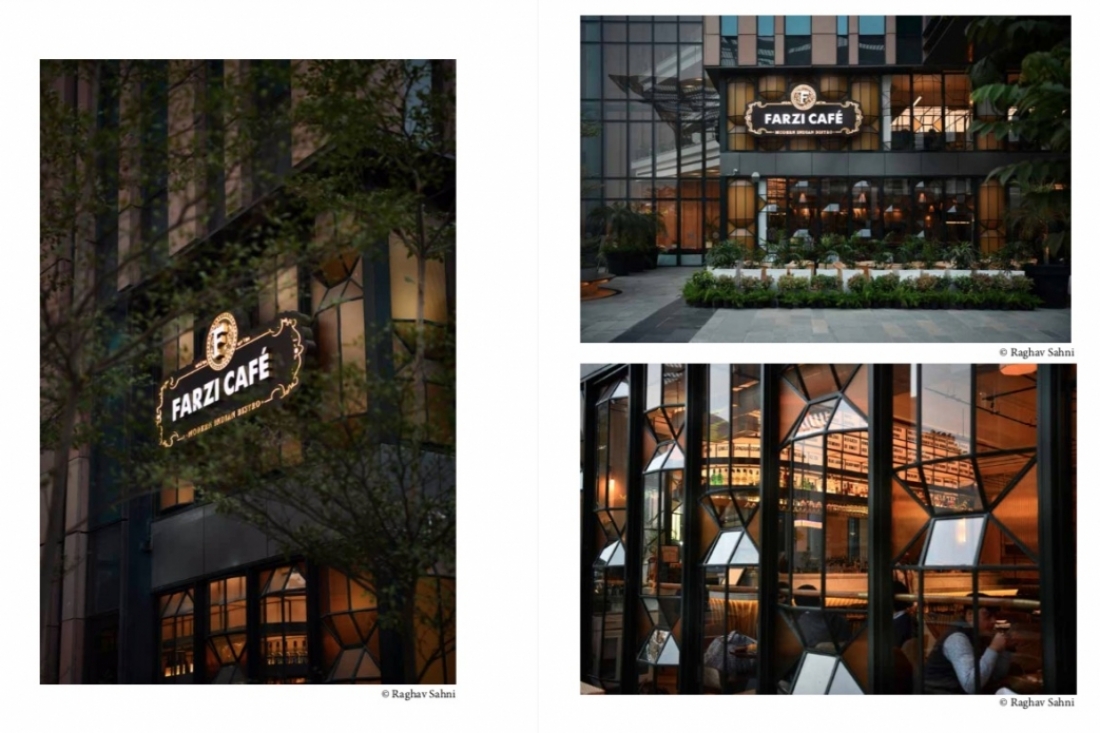 Recently launched Farzi Cafe's outlet in Worldmark, Aerocity, is the perfect harmony of aviation based design and delectable food. Being situated in the vicinity of India's largest airport, the restaurant was designed as an ode to the most romanticised era of aviation. As you walk inside the cafe, you are taken in by the bar counter which is actually a cut section of the jet engine and is inspired by the old analogue airport time boards. The two floors of the cafe are connected by a large double height atrium donning a beautiful atrium with origami staircase made by folded metal plate glowing under a stunning Art Deco skylight. A cut-out has been made in the first floor slab to create visual connection which features a huge 400 square foot skylightflooding the whole restaurant with natural light all day long. The design of the cafe is like a walk down memory lane of the illustrious aviation industry.
Pictures by: Headlight Design and Raghav Sahni
Even the food at the cafe is as impressive as its design. From the drinks menu we ordered the Strawberry Lemonade and Farzitina, the latter a summery cocktail that uses the flavour of orange predominantly and is a must try. From the starters menu, the Dal Chawal Aracini had us really curious and Farzi's take on the italian dish was a complete delight. The dish is a like a gamut of all Indian flavours packed into one small arancini portion.
L : Strawberry Lemonade and Dal Chawal Arancini
R: Farzi Caesar salad (Chicken) and Potatoes with seasonal vegetable (made by Chef on our request)
The food menu is vivid and has many interesting options. We also tried the Farzi Caesar salad, Grilled Chicken Wings and Malai Badam Broccoli. All the dishes were really made and delicious, especially the salad which was full of hearty greens and the Broccoli that was unique in its taste and preparation. We also requested the chef to whip up something special for that was potato based and he delivered a perfect rendition of sauted bioled potatoes with seasonal vegetables and greens, both a healthy and delicious dish.
Farzitina, Grilled Chicken Wings and Malai Badam Broccoli
Farzi Cafe, Aerocity is certainly a must visit for those who love the aviation industry or simply want to experience a different ambience from the usual cliched metal and glass facades seen all around us. With a great food and drinks menu, gorgeous interiors and courteous staff, Farzi Cafe is now certainbly on our list of the best places to visit in the city for a great dning experience!


Text Nidhi Verma