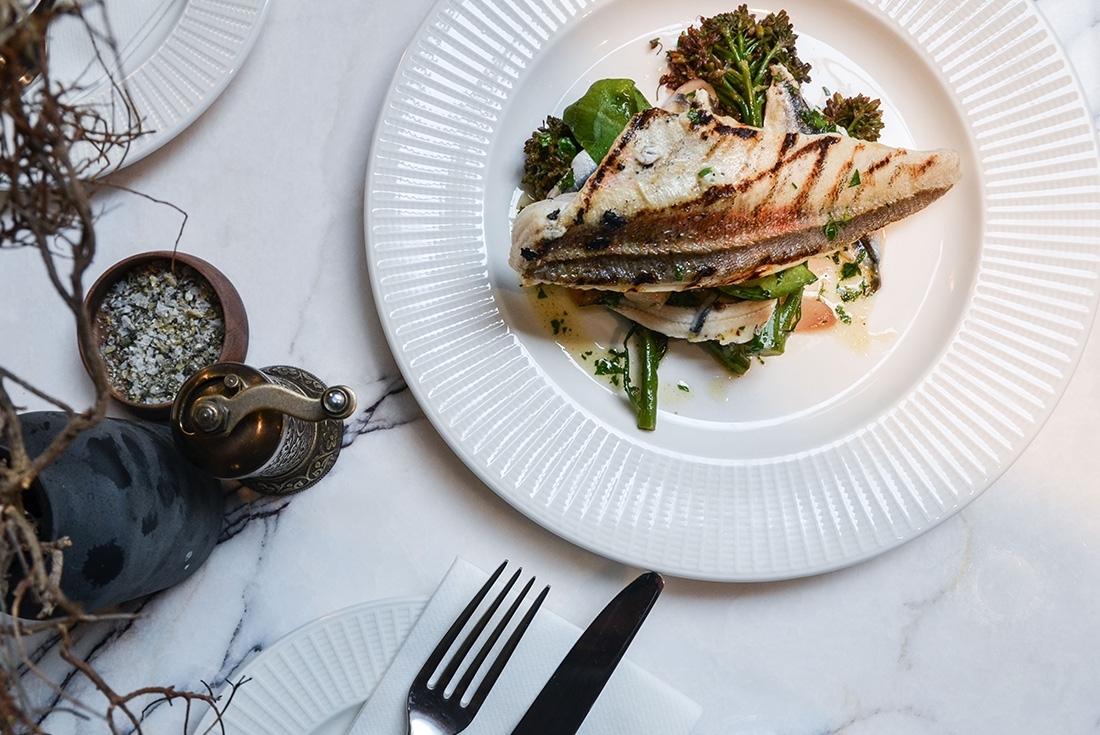 Trawler Trash, London
This new restaurant in London has conceptualised a creative menu centred on the idea of turning trash into treasure. Perched around a corner in Islington, you can't help but notice the significance of their choice of site—a place that whipped up fish and chips for over 50 years. Trawler Trash opened its doors in May this year, with a promise of celebrating British seasonal produce with lesser-known fish that often gets disregarded in favour of the traditional catch. The menu is devised around 'trash' from the trawler men, drawing on cooking techniques from around the world. Headliners of the menu feature beetroot cured ling served on rye toast with pickled beetroot, dill, horseradish and watercress; grey mullet escadeche with carrots, red onion & bay; kipper carbonara served with peas & rocket; steamed mussels with cider, clotted cream, diced apples, parsley & hand-cut chips. With no freezers installed in the kitchen, the restaurant only serves fish that is delivered that day, which is why it's closed on Monday—a day of rest for the trawler men. Only two months in the business, Trawler Trash has arrived with the idea of turning a classic dish on its head, while deconstructing it with a fresher, zestier idea.
The Fish Club, Paris
Following a brief hiatus, The Fish Club reopened their doors last year with a crisp, redesigned space and a menu that dedicates itself to all things fish, shellfish and crustaceans. Heroing fresh catch from the North Sea, the spread is designed by Julien Burlat, a chef admired by Antwerpian gastronomes for his seafood restaurant, Dôme sur mer. At the core of each plate lies two intrinsic qualities of French cuisine—simplicity and freshness. At a table at The Fish Club you will find yourself spoilt for choice—shrimp croquettes, smoked eel in a northern accent, grilled Galician octopus and a cedar-planked lobster flanked by sage butter stand centre stage in the menu. The delicate, flaky fish dishes are beautifully accompanied by a short, carefully curated line of white and red wines. If you're thinking of a balmy afternoon spent sipping wine, coupled with the best seafood in Paris, think of The Fish Club.
Poke Chan, New York
Poke Chan isn't just any poke concept. It is the brainchild of Masashi Ito [top], the New York Michelin-starred sushi chef. For his latest adventure, he found inspiration in the memories of his past, combining his knowledge of quality fish along with his favourite childhood dish. Born in Hawaii, poke is a diced, marinated fish salad that began with fishermen seasoning the off-cuts from their catch to serve as a snack. Today, poke is a global idée fixe, with many countries trying to recreate the dish, with a signature of their own. Masashi keeps it simple though, with signature poke bowls along with an option to make a custom-created version. Keep It Classic features tuna, sweet onion, hijiki, seaweed salad and avocado dressed in wasabi soy. Shell Life brings together a meaty lobster salad, cucumber, sweet onion and avocado topped with masago and sesame. With two restaurants in the city, Masashi vows to step-up the poke game, bringing a dash of Hawaii to New York. 'The fish that you're getting from us is the same fish you're getting at a high-end sushi restaurant in New York City,' he adds.


Edited by Ritupriya Basu