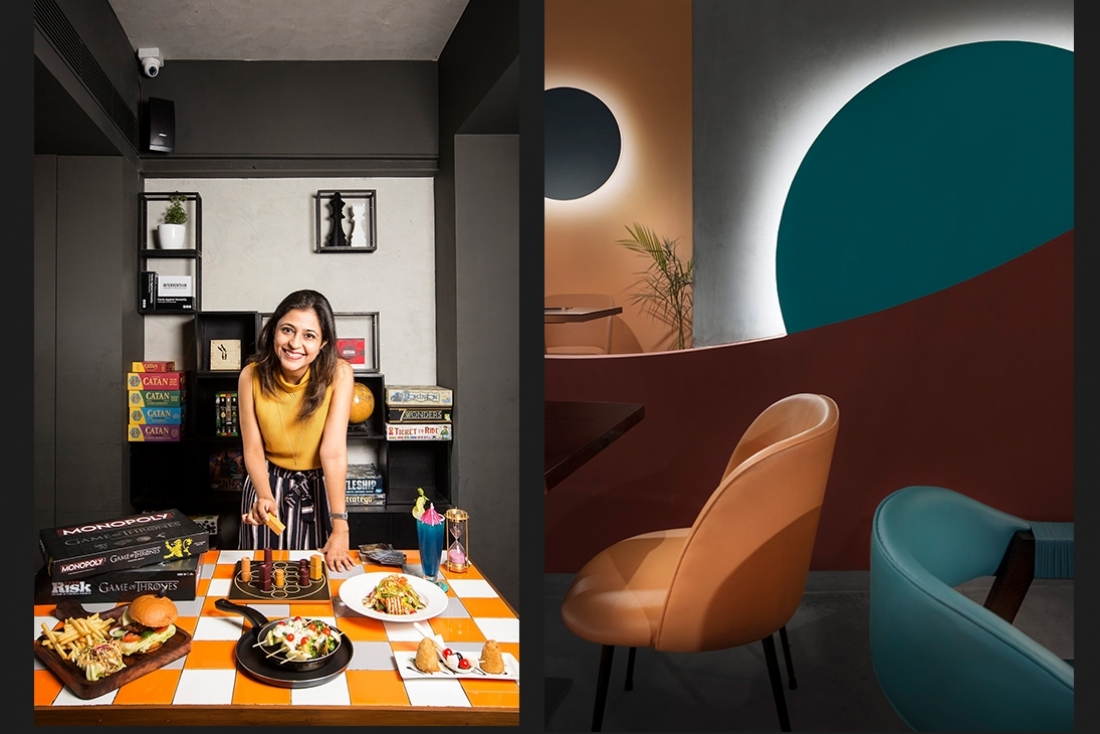 You've got to go Unlocked as a group of four or more – and go ready to have a lot of fun. Whether it is breaking the mystery at the cleverly conceptualized Escape Room, enjoying a great design aesthetic, having the prize-winning bartender explain his cocktail invention or the chef taking his good time to whip up the tempting homemade ravioli with basil, tomato and truffle – this is a space for togetherness, a creative playground for all ages and existential stages.

Play

What happens when you unlock your phone? You're with other people but you step into a different world. Liking posts, retweeting, reading updates. At Unlocked, they want to change that. When you step into this 3000 square feet space, everything from the food, cocktails and the board game library to the escape room is designed to bring you closer to the people you're with. With a roster of over 130 board games, one could pick a classic like Uno, Quoridor or Dominoes, and if you're one that takes game night very seriously, then a strategy game like Settlers of Catan, Puerto Rico or the notoriously complex Terra Mystica is going to be your go-to pick.

Inspired by geometric shapes, illusionary puzzle games, MC Escher style branding and featuring bold hues of color combinations, their space pulls you in and makes you part of the game.
Unlocked offers an expansively curated library of over 130 games, including some titles that are sure to leave you in splits and with the best 'Laugh out loud' moments; while a few other games cater to one's competitive spirit featuring focused game-play, elaborate rules and a cut-throat strategy.

Apart from board games, the Escape Room is one the highlights around which the brand is built. The theme of the escape room borrows from Alexandra Lionheart's adventures. It tells the tale of the british explorer who made her way to India back in 1897. Her story revolves around revenge, black magic and an Indian Prince. A group of 2-8 people have to find her necklace, and unlock themselves!


Eat

The food menu is inspired by founder Sanjali Nirwani's travels to different parts of Europe as well as culinary trends in global cuisine. Sourcing the freshest produce to serve freshly-created authentic flavours - all made from scratch in-house - Their selection of small and large plates brings together a range of traditional classics and some creative avant-garde cuisine.


Drink

From the classics like Whisky Sour and cocktails from the prohibition era like the Old Fashioned, to their own twists on Gin Tonics and signature board game themed drinks like Intervention and Exploding Kittens, their bar spread is fun, and their bartender shakes up some of his prize-winning mixes that up the game.

For those on a detox, they have cold-pressed juices and fresh kombucha, both of which are made in-house. Oh, and there's the good old coffee if you aren't drinking.


The Founder

Sanjali Nirwani completed her education from Mayo College and graduated in Economics from Lady Shri Ram College. Through her first stint at BAIN & Co, a strategy management firm, Sanjali gained experience in problem solving and analytical skills. After her MBA from IESE Business School in Barcelona, Spain, she completed her education. During her time in Barcelona, she developed a keen interest in board games where a multi-cultural group would connect over a game of Settlers of Catan late at night.

During her time in Europe she got the opportunity to travel a lot and got inspired by the culinary and lifestyle trends of the continent, leading up to her first experience with an Escape Room in Amsterdam. This triggered the idea of opening up with one back home in Ahmedabad, and consequently, Delhi. Sanjali has also been nominated for the Forbes 30 Under 30 Asia list this year and had been a part of the first Forbes Women Summit in Tel Aviv & Jerusalem in April, 2019.