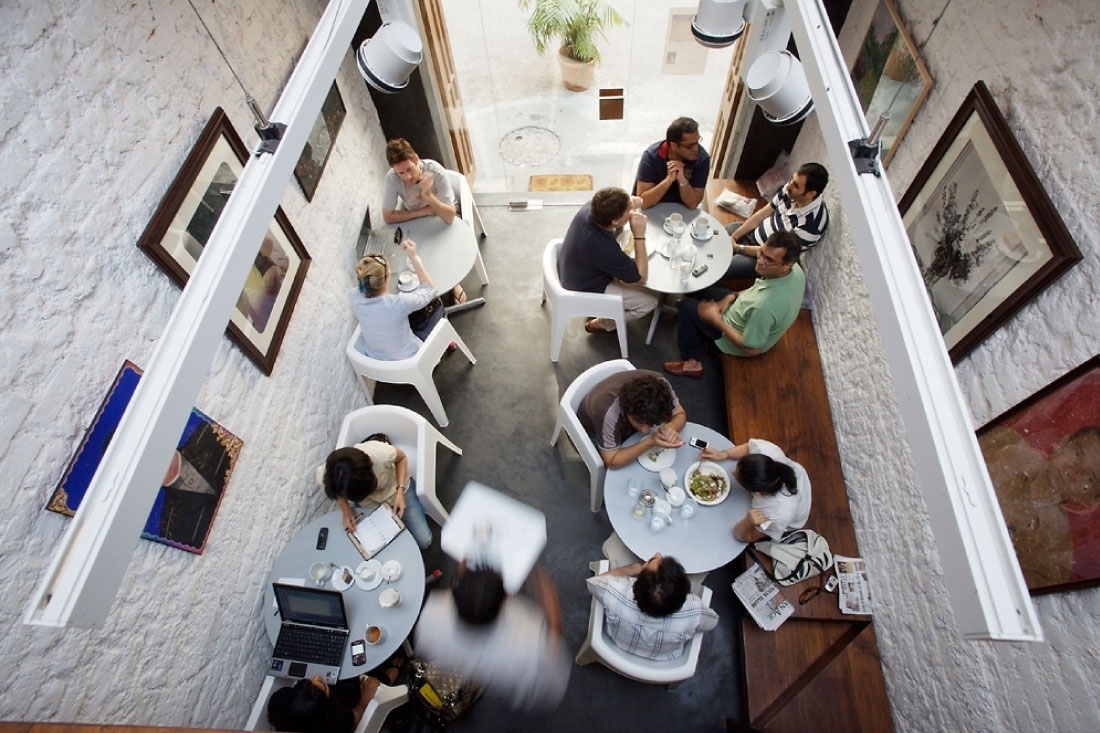 Kala Ghoda: What's Good to Eat
Kala Ghoda is blessed with the best of art, food and culture. The holy trinity that guarantees rich experiences and a certain way of being, distinguishes itself from the otherwise flashy South Mumbai that never finds itself away from the spotlight. This address downtown is just a bunch of interconnecting lanes, barely attended to in the wee hours of the working mornings but quick to switch between dimly lit and shadow areas as the sun drowns into the Arabian Sea. And when it's not the heritage architecture or the many art galleries or the giant statue of a black horse it's been named after that's drawing people to the art district, it's the sheer number of eateries and themed hotspots inviting them to a place they're definitely spoilt for choice.

So call it a fad or the time of new-wave grub joints and brunch, Kala Ghoda wouldn't keep up it's good name in the face of a rising number of food bloggers, experiential artists and of course, the ones who started it all - the millennials, if it didn't come up with it's own little sub-sulture of intriguing spaces that go beyond the philosophy of everyday food. Here's a few lifestyle-inspired eateries, one can find tucked away in the corners of Kala Ghoda that in their own turn have inspired several write-ups and raked in rave reviews, for their varied pairings of farm-fresh, locally sourced, organic or vegan approaches, making each of these a prime foodie experience straight out of the dream of a hungry hipster.
Kala Ghoda Café
Shade-grown coffee, organic, vegan, locally-sourced

Photograph by Kala Ghoda Café
Here's a place that encourages sustainable practices to an extent that it's fitted with two bicycle locking devices and won't shy away from asking you to leave your cars at home. So when you do eventually walk or ride your bike to this hole-in-the-wall cafe/gallery/exhibition space, you'll be greeted with towering white, brick walls and art pieces perched at their highest points. More often than not, the space will carry a waft of its certified organic and shade-grown coffee beans.

As far as the menu goes, one will realise that it's possible to indulge in any food under the sun even when it's meant to be farm-fresh and vegan. Taste no bar. So if you want to go for a Med Salad with extra virgin olive oil, in-house baked wholegrain toast and touting veggies from the local grocers in town, do so by all means. But if you're in the mood for a delectable pasta or a dessert dominated by chocolate, you won't have to look elsewhere because Kala Ghoda Café has both except they're healthy and yummy at once.
Sequel Bistro Juice Bar
Organic, gluten- free, sugar-free wholesome food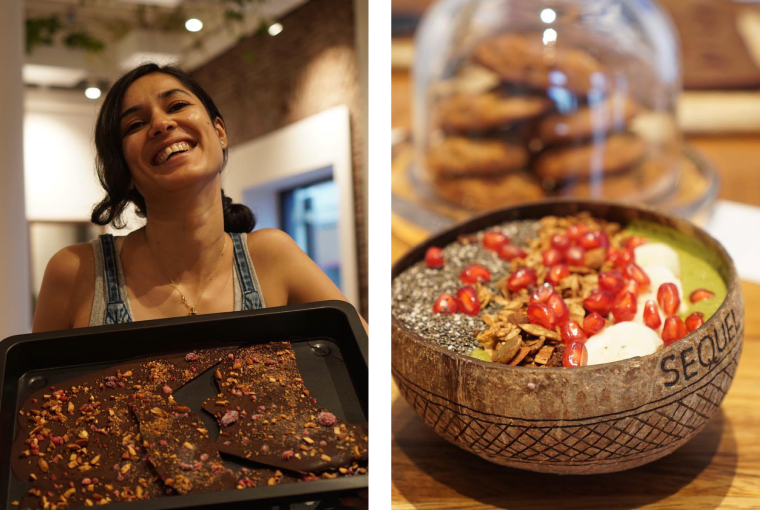 Photograph by Sequel Bistro Juice Bar
There aren't that many places with air- purifying plants hanging off their ceilings. Sequel Bistro Juice Bar happens to be one of the very few. Dedicated to clean, vegan eating, Sequel instantly turns heads if you're walking by its charming exteriors in one of cozier lanes in Kala Ghoda. Fitted with a row of glass panes that give way to the more or less minimal architectural design, wooden furniture and optimal yellow lighting, the health food restaurant was a dream turned venture for founder Vanika Choudhary. A dream built on concocting the most delicious food out of farm fresh ingredients that are minimally processed and nutrient-dense without compromising its flavour. Clearly, it's more than the high-rise ceilings that are making the café the talk of the town. Organic produce gets shipped in from the farms of Karjat, Nashik and Pune and is put to use in smoothie bowls, free range egg dishes and cold-pressed juices.

Whether it's savouries, desserts or traditional salads that you'll be ordering, it's going to involve a bunch of top quality produce, a 100% gluten free and sugar free prep and an all round nutrient-rich delivery in its making.

Henpecked - Eat. Drink. Obey
Farm to table dining, organic, never-done-before cocktails
Photograph by Henpecked Eat.Drink.Obey

The newest of the three, Henpecked Eat.Drink.Obey is already creating quite the buzz with its genius Sunday brunches. Flowing with the new-wave scheme of restos and bistros, Henpecked uses its farm fresh ingredients to champion the European cuisine. And for the most authentic experience, the casual diner perfects the rustic European charm with an overload of polished woods, glass cabinets and dimly lit lamps. It ends up looking more or less like a mini-representation of Kala Ghoda itself.

Now we confidently say brunch-famous because no one in the history of the joint has tried their Eggs Decker or Hen Benepict and regretted it. And when not the the farm raised country egg dishes that are impressing everyone, it's the buttermilk waffles and pancakes. Also introducing it's unique concept of Boards that boasts of seasonal and locally grown vegetables and artisanal cheese with a multitude of options to spoil its readers, Henpecked brings the full force of Mediterranean cuisine to the table of eagerly awaiting foodies.


Text Shristi Singh