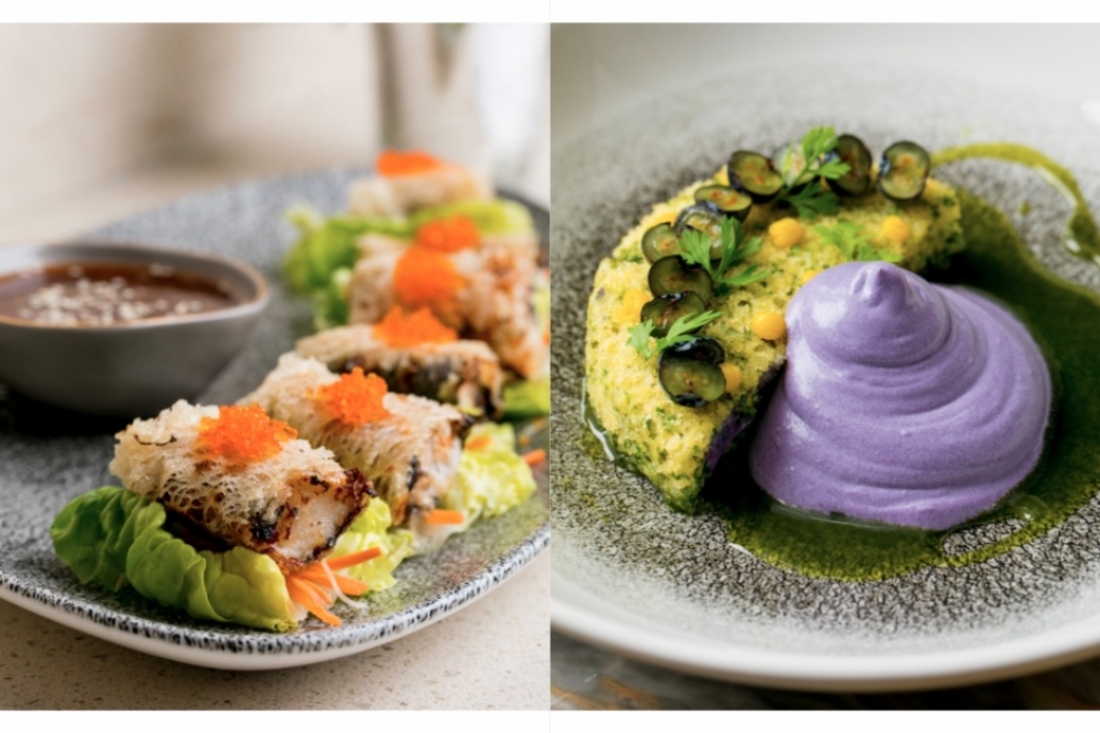 Located in the leafy by-lanes of Colaba, Miss T invites you in to its cozy two-storied bungalow that offers you an old world charm restaurant and cocktail lounge experience. With a menu that borrows from the Golden Triangle- Myanmar, Vietnam and Thailand, Miss T provides the most authentic flavours of South-East Asia. The idea behind the name was a mysterious young lady who loves to travel, eat great food and savour delicious cocktails whether on a girl's night out, on a date or even just by herself.
With a facade that invites you to a spectacular skylight filled reception, Miss T has been meticulously designed by ZZ Architects. Washed in calm shades of indigo blue and aquamarine with subtle metallic accents and soft arced edges this stand alone bungalow is an address that is one of its kinds. The entrance has cozy booths that doubles as a cocktail lounge and a waiting area. Inside the dining room and lounge on the ground level, the focal point is the striking T- shaped community bar customised in crystallised quartz along with natural overlay lighting.
The upper-level also features a private dining room. The cuisine coupled with handcrafted cocktails from a bar that has its own ice program, complete with a stamper for the ice cubes is perfect for an unforgettable fine-dining experience. The menu has been carefully curated by the Consulting Chef Bawmra Jap owner Bomras in Goa and Executive Chef Nikhil Abhyankar.
The chef suggested starting the meal with the Tea Leaf Salad, a flavourful salad prepared from fermented tea leaves, crunchy broad beans and mixed nuts making for a table essential with every meal. We followed this with the Shan Noodles a classic Burmese dish from the Shan region of Burma made from cashew nut, onion, garlic and chickpea flour served with rice noodles, zucchini tempura, peanuts and onion crumble, Bomras Tamarind Pork, slow cooked Spanish pork belly marinated with miso, tamarind, oyster and fish sauce, served with mango ginger or the Vegetarian and Chicken curry that will take you on a culinary tour. We reccomend the Kachin Style Chopped Buff Tenderloin, a comforting Burmese preparation of chopped tenderloin cooked with fresh herbs, oyster sauce and fish sauce, and the evergreen Pho in two variants- Mushroom and Duck!
Finally, we plunged into desserts like Bomras Tender Coconut Pannacotta - a signature coconut dessert served with passionfruit and candied orange zest, Chocolate Dacquoise - a three layer gluten free almond flour biscuit layered with chocolate ganache and cocoa cream, topped with fresh berries, raspberry coulis, and a torched Italian meringue and a Miss T favourite - Yuzu Tart made from Japanese lemon extract, served with a house made black sesame ice cream, coconut crumble and sesame brittle.

Text Priyanshi Jain