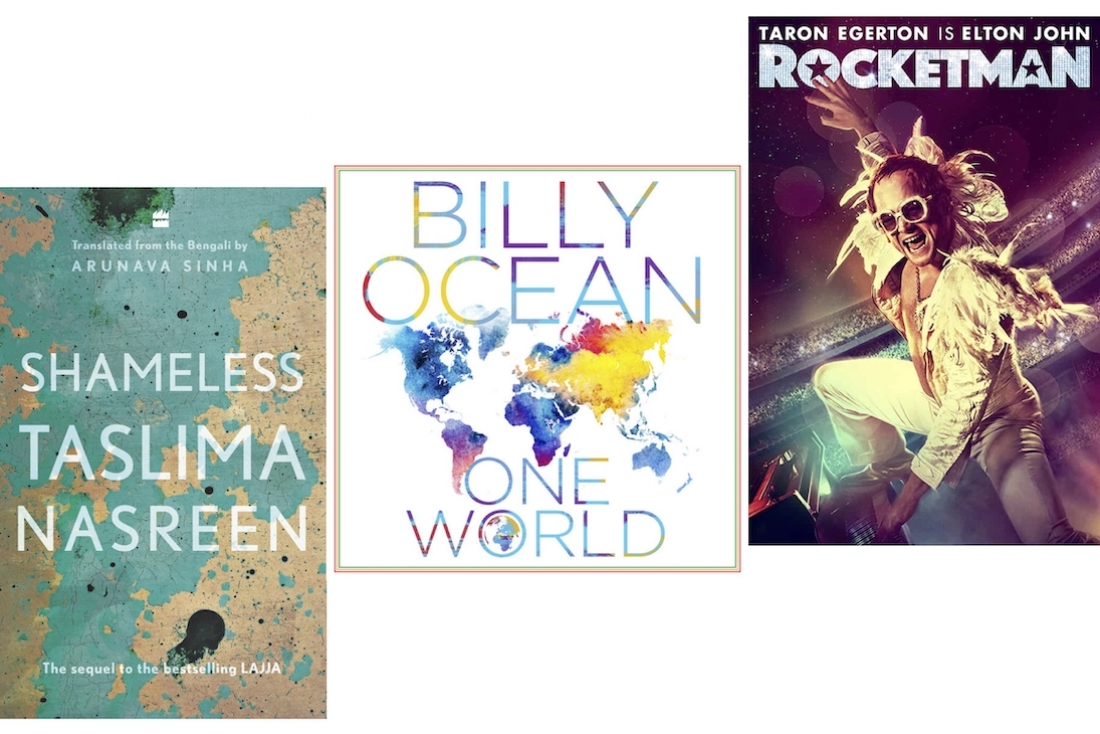 Must Calendar: April 2020
Everything you must read, watch and listen this month. The definitive Platform Calendar.

MUST READ
Shameless by Taslima Nasreen
Shameless is the stunning sequel to Taslima Nasreen's controversial and bestselling novel Lajja (Shame). This extraordinary novel has never been published in Bengali. According to Taslima Nasreen, Shameless, unlike Lajja, is not a political novel. It is instead a novel about what the politics of religion does to human beings and their relationships: a ruthless, uncompromising, heartbreaking tale of ordinary people's lives in our times. This is a Lajja set in Calcutta, in Bengal, in India.
The Dominant Animal by Kathryn Scanlan
The Dominant Animal is Kathryn Scanlan's debut collection but her adventurous and unnerving writing has already drawn praise from Lydia Davis and Mary Ruefle. In these short and sharp stories, the nature of love is questioned at a golf course, a flower shop, an all-you-can-eat buffet. With exquisite control, Scanlan moves from expansive moods and fine afternoons to unease and violence. No mercy, a character says, and these stories are merciless and strange and absolutely masterful.
The Spring of Rebels by Fahad Shah
Following the story of three generations of a single family, The Spring of Rebels is a poignant and sometimes brutal story of Kashmir's history; of the bloodbath in the valley and the countless young men who sacrificed their lives for their land. It is the story of a past that changed the face of a generation – a past that continues to haunt its children.
No Straight Thing Was Ever Made by Urvashi Bahuguna
No Straight Thing Was Ever Made bravely discusses the many facets of living with mental illness—family, physical fatigue, professional impact, romantic relationships among others. It is a collection of deeply honest essays that moves between personal narratives, anecdotes from conversations and research-driven storytelling from one of India's rising literary stars.
What Millenials Want by Vivan Marwaha
It's 2019 and more than 84 per cent of Indian millennials reported having an arranged marriage, and 65 per cent listed a government job as their top priority. Are millennials really any different from previous generations? In What Millennials Want, Vivan Marwaha documents the aspirations and anxieties of millennials scattered across more than 30,000 kilometres in thirteen Indian states. Combining an expansive dataset along with personal anecdotes, he narrates an intimate biography of India's millennials, investigating their attitudes towards sex, marriage, employment, religion and politics.

MUST WATCH
Parasite
Already released on Prime a few days ago, it doesn't to remind you to watch this brilliant piece of cinema again, that made Oscars history earlier this year. Bong Joon Ho's magnum opus is a splendid iteration of our class based capitalist society in all its folly and glory.
Rocketman
One of the biggest cinematic releases of last year, Rocketman traces the journey of young Reginald to the iconic musician, Elton John. The film will now be released on Amazon Prime on April 2nd.
Never Have I Ever
Based on Mindy Kaling's own childhood, a coming-of-age comedy about Devi Vishwakumar (Maitreyi Ramakrishnan), who wants to be offered alcohol and hard drugs just so she can politely decline. Tennis legend John McEnroe narrates. Why? Because he's the idol of Devi's dead father. The show will release on Netflix on April 27th.
More from Ghibli Studio
Most of the films by the greatest anime director and writer, Hayao Miyazaki are now on Netflix. This month will see some more new releases like Whisper of the Heart, written by Miyazaki and directed by his protégé Yoshifumi Kondo; Howl's Moving Castle, written and directed by Miyazaki, and The Wind Rises, which was to be Miyazaki's final film before he reversed his retirement, based on a true story.
Netflix Indian Originals
Hasmukh, a dark comedy series that blends Dexter and Fargo from creator, writer, and star Vir Das, possibly releasing April 10; and a new stand-up special from Kanan Gill — best known for the YouTube series, Pretentious Movie Reviews — called Yours Sincerely, Kanan Gill, slated for April 24.

MUST LISTEN
Billy Ocean's One World
The music legend's new album, after a decade, will release on April 19th.
Brant Bjork
The artist's new self titled album will be releasing on April 10th.
Soko's Feel Feelings
The French Musician's new album is slated to release on April 12th.
Birds of Tokyo's Human Design
The upcoming sixth studio album by Western Australian alternative rock band will be released on April 24th.