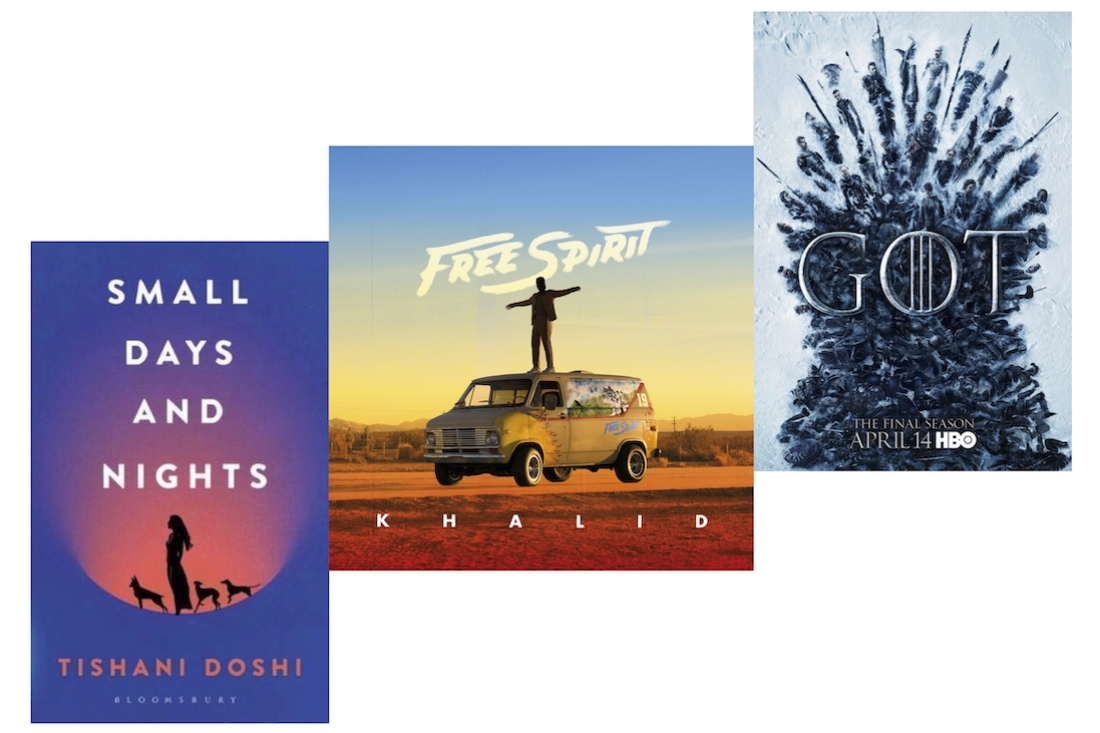 MUST READ
Autumn Light: Season of Fire and Farewells by Pico Iyer
From one of our most astute observers of human nature, a far-reaching exploration of Japanese history and culture and a moving meditation on impermanence, mortality, and grief.
Release date: April 16
Days of My China Dragon by Chandrahas Choudhury
From the author of Arzee The Dwarf and Clouds, which was longlisted for the JCB Prize for Literature in 2018 comes his latest work of fiction, set in a Chinese restaurant in Mumbai that offers an insight into the restaurant trade, but also gives us a glimpse of the moral and material world of Mumbai, 25 years after liberalisation.
Release date: April 18
Small Days and Nights by Tishani Doshi
A captivating and original story of family, of the ties that bind and the secrets we bury, set against the vivid and evocative backdrop of modern India
Release date: April 18
The City and the Sea by Raj Kamal Jha
Called the novelist of the newsroom, Raj Kamal Jha cleaves open India's tragedy of violence against women with a powerful story about our complicity in the culture that supports it. This is a book about masculinity - damaging and toxic and yet enduring and entrenched - that begs the question: What kind of men are our boys growing up to be?
Release date: April 25
Women Talking by Miriam Toews
Toews novelizes the horrific drugging and sexual assault of 130 girls in an an ultraconservative Mennonite colony in Bolivia that occured between 2005 and 2009. Toews imagines eight of the women coming together to talk about what to do; one of the women says, "There's no plot, we're only women talking," but there is a pull to the story that makes Women Talking one of the most exciting novels of this year.
Release date: April 2
Outside Looking In by T. C. Boyle
The latest from the PEN/Faulkner Award-winning novelist and short story writer, a 1960s-set novel focuses on a Harvard Ph.D. student and his wife who get drawn into the inner circle of renowned/notorious real-life American psychologist and psychedelic drugs advocate, Timothy Leary (who Richard Nixon once dubbed "the most dangerous man in America").
Release date: April 2
White by Bret Easton Ellis
The famed writer of American Psycho, combines personal reflection and social observation, in his first work of nonfiction which is an incendiary polemic about this young century's failings, e-driven and otherwise, and at once an example, definition, and defense of what "freedom of speech" truly means.
Release date: April 16
MUST WATCH
No Fathers in Kashmir
Exploring the conflicts of the valley, No Fathers in Kashmir, attempts at understanding the dynamics of a conflict striven Kashmir where men go missing, looking through the eyes of two teenagers, it explores the dynamics of how people disappearing, mostly men under mysterious circumstances takes a toll on the childhood of teenagers, who lead a life without a father figure.
Release date: April 5
Albert Pinto Ko Gussa Kyoon Aata Hai?
An official remake of the cult classic by Saeed Akhtar Mirza, written and directed by Soumitra Ranade, the movie explores the theme of personal and societal struggle in today's times, with a star cast of Manav Kaul and Nandita Das.
Release date: April 12
The Tashkent Files
The upcoming hindi thriller starring Naseerudin Shah revolves around the mysterious death of Lal Bahadur Shastri, the second Prime Minister of India, and attempts to uncover the controversy around his death, and seems like an interesting watch for history buffs.
Release date: April 12
Game of Thrones Season 8
After a wait that felt like forever for GOT fans, the last season is set to come out this month, the anticipation, anxieties and excitement around the finale and the claim to the throne makes this Season, one to look out for.
Release date: April 14
Extremely Wicked, Shockingly Evil, and Vile
A biographical crime thriller film about serial killer Ted Bundy, directed by Joe Berlinger with a screenplay from Michael Werwie, and based on the memoir The Phantom, Extremely Wicked, Shockingly Evil, and Vile shows the story of Ted Bundy from the perspective of his girlfriend Elizabeth Kloepfer, who struggled to accept the reality of her boyfriend's murders and rapes.
Release date: April 18
Avengers End Game
With the hype around the concluding film to the twenty-two film Marvel Studios ensemble movies, the avengers take a final stand against Thanos, with their vanquished allies, the avengers fight back, here is an epic shutdown you don't want to miss.
Release date: April 26
MUST LISTEN
Shashwat Bulusu - Playground
Bulusu's debut single Playground draws on nostalgia, taking us back to the joy, happiness and innocence of childhood, the song gives the comfort and happiness of flipping through old childhood memories and photographs tucked away in some shelf.
Rounak Maiti - Another Room, Another Wonder
Maiti's latest single Another Room, Another Wonder from his upcoming album "Waiting on a Comedown" echoes of being in a alone in a room with the ceiling fan rotating in the background, the odd comfort of being by oneself.
Catfish and The Bottlemen – The Balance
Upcoming Album by the Catfish and the Bottlemen is one to lookout for this April, with "Longshot", "Fluctuate" and "2all" already out from their album and much like their previous albums we expect the songs to reflect the band's lyrical genius and amazing instrumentals.
Jonas Brothers- Cool
Jonas Brothers comeback after a six -year hiatus took the world by storm last month with their single "Sucker", this month they released another single "Cool" experimenting with their new found pop sound for the band, that moves away from their Camp Rock days boy band image.
Blackpink- Kill this Love
Blackpink's latest EP is a delight for lovers of Korean pop, the only all girl K-pop group to have entered the Billboard's Emerging artist's charts, this is one band and EP to lookout for.
Khalid – Free Spirit
El Paso singer Khalid's follow up to the success of American Dream, Free Spirit released this month, the 17-track project redefines pop with its dreamy nature and with his powerfully expressive voice.



Text Platform Desk