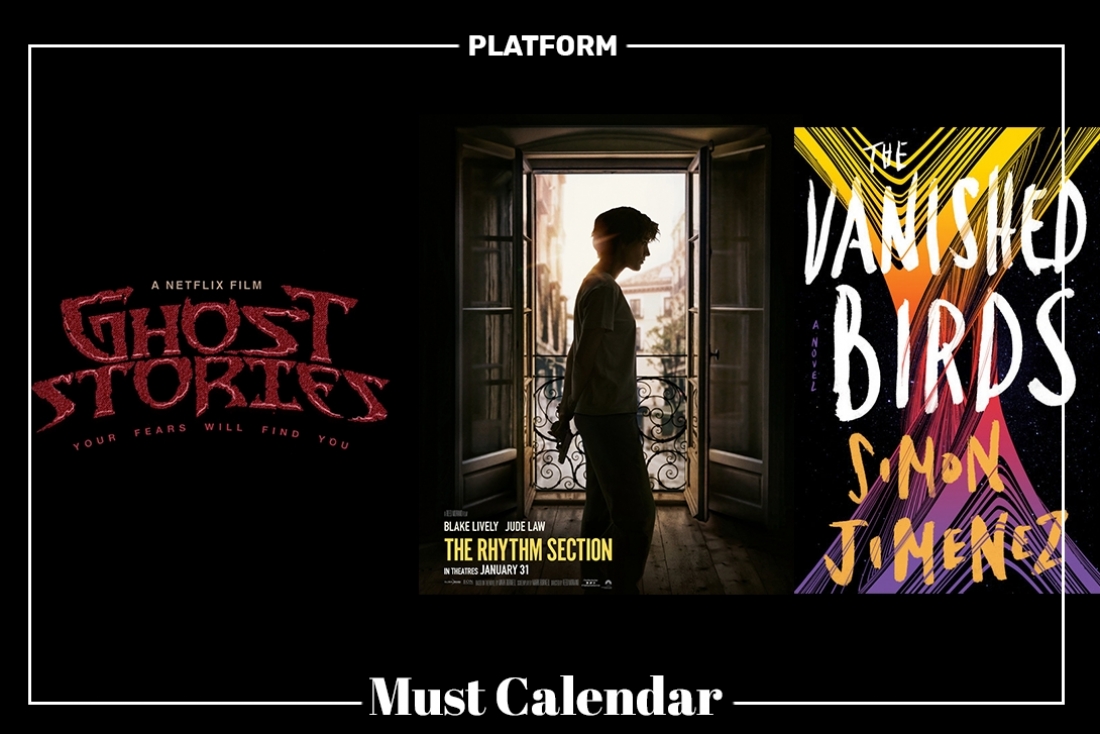 Must Calendar: January 2020
As we move into the new year, Team Platform has curated a special list of all the events you must attend, all the new music you must listen to, all the upcoming movies you must watch and all the books you must read to kickstart the decade on a positive note.

Must Watch:

Chhapaak- Starring Deepika Padukone and Vikrant Massey and helmed by Meghna Gulzar, the narrative traces the journey of real life acid attack victim Laxmi and the ordeals she went through while rebuilding her life post the attack.

Bombshell- Directed by Jay Roach and starring Charlize Theron, Nicole Kidman and Margot Robbie, this biographical account traces the accounts of several women at Fox News who set out to expose CEO Roger Ailes for sexual harassment.

Ghost Stories- With this Netflix original the Lust Stories quartet is back with an anthology of some spine chilling narratives. Directed by Anurag Kashyap, Zoya Akhtar, Dibakar Banerjee and Karan Johar, the films star Jahnvi Kapoor, Sobhita Dhulipala and Mrunal Thakur amongst others.

Dolittle- Reprising the role of the iconic Dr John Dolittle is Robert Downey Jr in this fantasy drama based on The Voyages of Doctor Dolittle by Hugh Lofting.

The Rhythm Section- Helmed by Reed Morano and starring Blake Lively, this gripping thriller embarks on the journey of Stephanie Patrick who sets on a bloody quest for revenge against all those who were responsible for the death of her family.

Must Attend:

India Art Fair- Back with it's 2020 edition, the platform will discover modern and contemporary art from South Asia. This year's lineup includes performance artists such as Maya Krishna Rao and Raisa Kabir amongst others.
When: 30th January- 2nd February

Jaipur Literature Festival- The speaker lineup for this year's festival includes some impressive names such as Elizabeth Gilbert, Nandita Das, Aanchal Malhotra, Shashi Tharoor and Saba Naqvi amongst others to engage the audience in stimulating conversations.
When: 23rd January- 27th January

Mumbai International Film Festival- The week long fiesta for filmmakers, students and cinephiles will screen the best documentaries, short fiction and animation films from across the world.
When: 28th January- 3rd February

Lior Suchard in a Brand New Show- Israeli mentalist Lior Suchard is back in India to delve into the innermost thoughts and predictions of individuals. Touted as the World's Best Mentalist, he has performed in over 50 countries.
When: 12th January- 14th January

Sunplash Festival- India's biggest celebration of reggae music, this festival to be held in Goa will feature performances by Macka B, Housewife's Choice and Kadambari and The Coffee Cats amongst others.
When: 10th January- 12th January

Must Read:

Low by Jeet Thayil- Poet, musician and novelist Thayil's upcoming narrative traces the journey of Ullis as he overcomes his grief through excessive consumption of narcotics that results in various dysfunctional episodes.

The Vanished Birds by Simon Jiminez- Debut author Jimenez's science fiction narrative delves deep into the hazards of not learning from one's shortcomings and the consequences of it.

A Long Petal of The Sea by Isabel Allende- The New York Times bestselling author of The House of the Spirits, Allende's upcoming narrative spans decades and crosses continents following two young people as they flee the aftermath of the Spanish Civil War in search of a place to call home.

Night Theatre by Vikram Paralkar- The physician-scientist's deeply engaging narrative is the perfect amalgam of fiction, medical drama and philosophical conemplation on death. It deals with the challenges faced by a surgeon in rural India.

American Dirt by Jeanine Cummings- Being touted as not only a great American novel but a great novel of las Americas, Cumming's gripping tale deals with a mother and son fleeing a drug cartel to cross the US-Mexico border.

Must Listen:

Rare by Selena Gomez- The third solo-studio album by pop sensation Selena Gomez is her diary from the past few years by the singer's own admission and will feature some soulful melodies tracing her personal journey of growth over the years.

Manic by Halsey- The third studio album by Halsey will be a tribute to her true self, to the woman beneath the stage name "Halsey". The artist said the melodies follow a personal conversation. The album will be followed by a tour all across Europe for it's first installment.

Lana Del Rey- The singer-songwriter who rose to fame due to the cinematic edge to her music videos and lyrics that are not only melancholic in nature but also reference the 50's and 60's American pop culture is planning to release a spoken word album for the new year.

Justin Bieber- The teenage sensation is coming up with not only a new album but also a new docu-series on his life after a long sabbatical. The new single titles Yummy is scheduled to release on 3rd January.