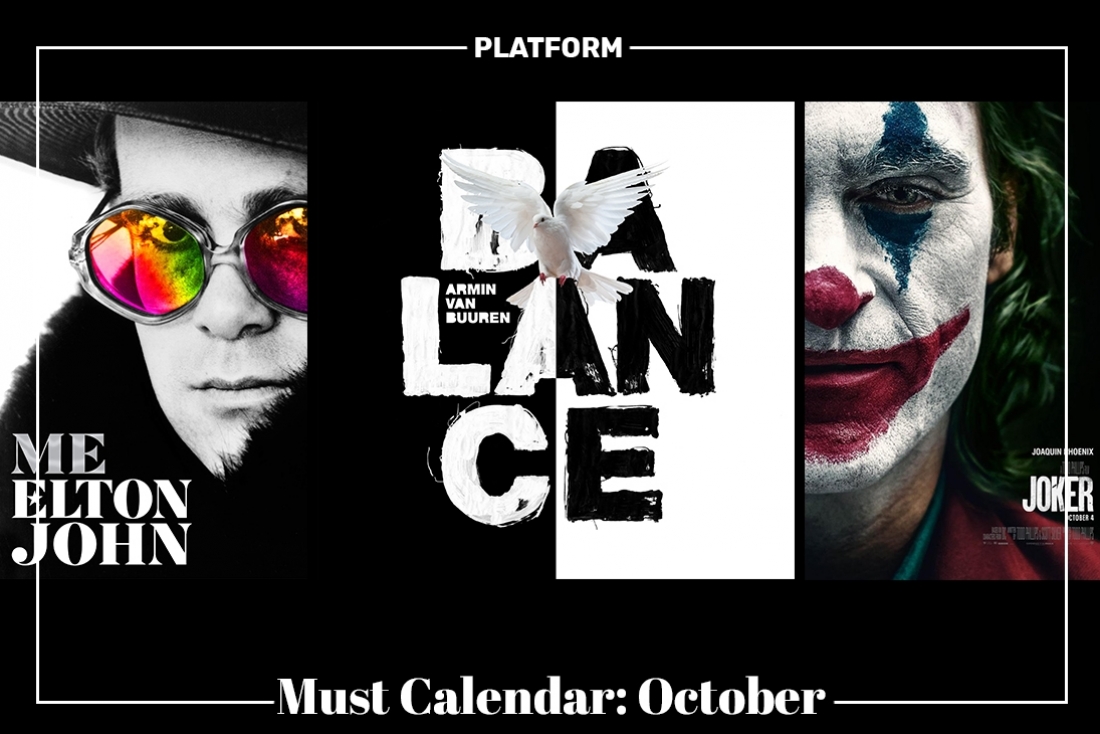 MUST READ:
Frankissstein by Jeanette Winterson
Since her astonishing debut at twenty-five with Oranges Are Not the Only Fruit, Jeanette Winterson has achieved worldwide critical and commercial success as "one of the most daring and inventive writers of our time" (Elle). Her new novel, Frankissstein, is an audacious love story that weaves together disparate lives into an exploration of transhumanism, artificial intelligence, and queer love.
Release date: 1st October
Grand Union by Zadie Smith
Moving exhilaratingly across genres and perspectives, from the historic to the vividly current to the slyly dystopian, Grand Union is a sharply alert and prescient collection about time and place, identity and rebirth, the persistent legacies that haunt our present selves and the uncanny futures that rush up to meet us.
Release date: 3rd October
Me by Elton John
In his first and only official autobiography, music icon Elton John reveals the truth about his extraordinary life, from his rollercoaster lifestyle as shown in the film Rocketman, to becoming a living legend.
Release date: 15th October
The Man Who Saw Everything by Deborah Levy
The Man Who Saw Everything is about the difficulty of seeing ourselves and others clearly. It greets the specters that come back to haunt old and new love, previous and current incarnations of Europe, conscious and unconscious transgressions, and real and imagined betrayals, while investigating the cyclic nature of history and its reinvention by people in power. Here, Levy traverses the vast reaches of the human imagination while artfully blurring sexual and political binaries-feminine and masculine.
Release date: 15th October
Find Me by Andre Aciman
In this spellbinding exploration of the varieties of love, the author of the worldwide bestseller Call Me by Your Name revisits its complex and beguiling characters decades after their first meeting.
Release date: 29th October
MUST WATCH:

Joker
Joker is a 2019 American psychological thriller film directed by Todd Phillips, who co-wrote the screenplay with Scott Silver. The film, based on DC Comics characters, stars Joaquin Phoenix as the Joker. An origin story set in 1981, the film follows Arthur Fleck, a failed stand-up comedian who turns to a life of crime and chaos in Gotham City. Robert De Niro, Zazie Beetz, Frances Conroy, Brett Cullen, Glenn Fleshler, Bill Camp, Shea Whigham, and Marc Maron appear in supporting roles.
Release date: 4th October
The Sky is Pink
The Sky Is Pink is a 2019 Indian biographical film directed by Shonali Bose and co-produced by Siddharth Roy Kapur, Ronnie Screwvala and Priyanka Chopra under the banner of RSVP Movies, Roy Kapur Films and Purple Pebble Pictures. It stars Priyanka Chopra, Farhan Akhtar, Zaira Wasim, and Rohit Suresh Saraf. The film is the return of Chopra after a break of three years from Bollywood. It is based on the love story of a couple spanning 25 years, told through the lens of their spunky teenage daughter – Aisha Chaudhary, who was diagnosed with Pulmonary fibrosis.
Release date: 11th October
Gemini Man
Gemini Man is a 2019 American action thriller film directed by Ang Lee and written by David Benioff, Billy Ray, and Darren Lemke. Starring Will Smith, Mary Elizabeth Winstead, Clive Owen, and Benedict Wong, the film follows a hitman who is targeted by a younger clone of himself.
Release date: 11th October
Diego Maradona
Diego Maradona is a 2019 British documentary film directed by Asif Kapadia about the Argentine footballer Diego Maradona with never before seen archival footage. The film documents and centres around the time Maradona switched sides from FC Barcelona to S.S.C. Napoli in 1984, eventually winning the 1988–89 UEFA Cup with the Italian team.
Release date: 11th October
Weathering With You
Weathering with You is a 2019 Japanese animated romantic fantasy film written and directed by Makoto Shinkai. The film is set in Japan during a period of exceptionally rainy weather and tells the story of a high school boy who runs away to Tokyo and befriends an orphan girl who appears to be able to manipulate the weather. It was selected as the Japanese entry for Best International Feature Film at the 92nd Academy Awards and is also the first mature anime movie to be released theatrically in India after a petition drive collected more than 50,000 signatures from fans.
Release date: 11th October
MUST LISTEN

By Chance's Time
Final track of the trilogy by Rohan Solomon's new trio releases worldwide on October 10th, 2019 titled Time. It completes the set by reiterating the need to take action now to save - the world we live in, the environment that nourishes life and the air that we breathe... and be sensitive to the fact that the time is in fact running out.
James Arthur's YOU
You is the upcoming third studio album by British singer-songwriter James Arthur, scheduled to be released on 18 October 2019. It has spawned the singles "Naked", "Empty Space", "Falling Like the Stars", "Treehouse", and "Finally Feel Good". Arthur is currently embarking on the North American You – Up Close and Personal tour in support of the album until October 2019.
Armin van Buuren's Balance
Balance is the seventh studio album, written by Dutch DJ and record producer Armin van Buuren. It is scheduled to be released on 25 October 2019 through Armada Music, succeeding his 2015 album Embrace. It will also be released as a double-album with each part consisting of 14 tracks.[3] It will feature collaborations, including with Above & Beyond, Avian Grays, BT, Garibay, Lucas & Steve, Luke Bond, Rudimental, and Shapov.
Cigarettes After Sex's Cry
In August 2019, the band announced their second studio album, titled Cry, along with the single "Heavenly". The album is due for release on October 25, 2019.