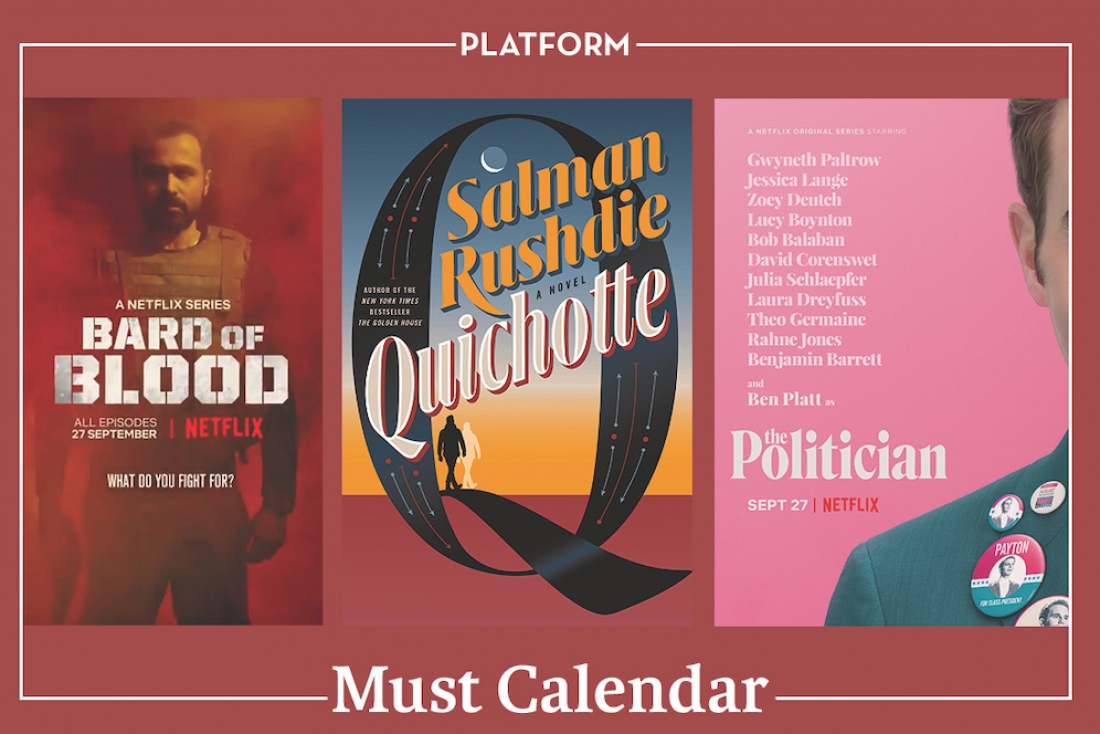 MUST READ:
Salman Rushdie's Quichotte
SHORTLISTED FOR THE MAN BOOKER PRIZE. A dazzling Don Quixote for the modern age—an epic tour de force that is as much an homage to an immortal work of literature as it is to the quest for love and family, by Booker Prize–winning, internationally bestselling author Salman Rushdie.
Release Date: September 3
Lara Prescott's The Secrets We Kept
Lara Prescott's highly anticipated debut novel offers two stories for the price of one. The first centres on the women who staffed the CIA's typing pool in Washington in the 1950s. As a young Russian émigré with a hatred for the Soviet Union, Irina is quickly recruited as a spy to help disseminate Boris Pasternak's banned novel Doctor Zhivago around the world as part of America's struggle against communism.
Release Date: September 3
Pico Iyer's A Beginner's Guide to Japan
A Beginner's Guide to Japan is a playful and profound guidebook full of surprising, brief, incisive glimpses into Japanese culture. Iyer's adventures and observations as he travels from a meditation-hall to a love-hotel, from West Point to Kyoto Station, make for a constantly surprising series of provocations guaranteed to pique the interest and curiosity of those who don't know Japan, and to remind those who do of the wide range of fascinations the country and culture contain.
Release Date: September 5
Margaret Atwood's The Testaments
SHORTLISTED FOR THE BOOKER PRIZE. In this brilliant sequel to The Handmaid's Tale, acclaimed author Margaret Atwood answers the questions that have tantalised readers for decades. When the van door slammed on Offred's future at the end of The Handmaid's Tale, readers had no way of telling what lay ahead for her—freedom, prison or death. Margaret Atwood's sequel picks up the story more than fifteen years after Offred stepped into the unknown, with the explosive testaments of three female narrators from Gilead.
Release Date: September 10
William Dalrymple's The Anarchy: The Relentless Rise of the East India Company
The Anarchy tells the remarkable story of how one of the world's most magnificent empires disintegrated and came to be replaced by a dangerously unregulated private company, based thousands of miles overseas in one small office, five windows wide, and answerable only to its distant shareholders. In his most ambitious and riveting book to date, William Dalrymple tells the story of the East India Company as it has never been told before, unfolding a timely cautionary tale of the first global corporate power.
Release Date: September 10

MUST WATCH:
The Goldfinch
The cinematic adaptation of the Pulitzer prize winning book The Goldfinch.
Theodore Decker was 13 years old when his mother was killed in a bombing at the Metropolitan Museum of Art in New York. The tragedy changes the course of his life, sending him on a stirring odyssey of grief and guilt, reinvention and redemption, and even love. Through it all, he holds on to one tangible piece of hope from that terrible day -- a painting of a tiny bird chained to its perch.
Release Date: September 13
Ad Astra
A man journeys across a lawless solar system to find his missing father -- a renegade scientist who poses a threat to humanity. Brad Pitt stars in this space odyssey that talks about toxic masculinity.
Release Date: September 20
The Zoya Factor
Sonam Kapoor stars as Zoya, a young and successful advertising executive who becomes the good luck charm for India's cricket team during the World Cup. Based on the book by Anuja Chauhan of the same title.
Release Date: September 20
Bard of Blood
Netflix has a brand new Indian original, Bard of Blood, starring Emraan Hashmi, Shobhita Dhulipala and Kirti Kulhari. It's the story of an excommunicated RAW agent taking on a mission to rescue three captured Indian spies. This one is based on the eponymous book written by Bilal Siddiqui and is produced by Shah Rukh Khan's Red Chillies Entertainment
Release Date: September 27
The Politician
Netflix's massive deal with Ryan Murphy kicks off in September with the first season of The Politician. The series sees a big cast looking to cash in on the same genre that Veep did. The Politician is set to revolve around "the politician aspirations of Platt's Payton Hobart, a wealthy Santa Barbarian, and every season will revolve around a different political race his character is involved in. The series features Ben Plat, Gwyneth Paltrow, Zoey Deutch, and Jessica Lange among many others.
Release Date: September 27

MUST LISTEN

Gouri and Aksha's Look Inside
In just a year since they formed, Mumbai soul/pop singer-songwriter duo Gouri and Aksha have accomplished quite a bit. They've toured Japan, opened for Irish singer-songwriter Damien Rice at house gig series Sofar Bombay and are now out with their debut pop offering, "Look Inside." "Look Inside" is laced with everything from crisp harmonies and pop/jazz sounds to a funky outro.

IP Singh's The Wild Blue Yonder
Fans and followers of the Indie Rock genre that boomed in India at the turn of the millennium, remember the trailblazing alternative rock band menwhopause as well as they remember the band's spirited co-founder and acoustic guitar player IP Singh. IP has spent more than 15 years with the iconic act menwhopause and he is musically, he is known for his raw sound. Singh's explosive political satire Kaatil Sardar, was one of the first few songs to achieve the urban legend tag of the era, known to take the 'thinking man's music' to another level.
IP has recently released his first solo album - The Wild Blue Yonder. The ten track offering is largely ambient electronic music and is accompanied by a stunning animated video of one of the tracks called Firefly.
By Chance's Hard to Breathe
Rohan Solomon is a Singer-Songwriter, Composer, Vocal Coach and Audio Engineer, all rolled into one. Well-known in the Indian Indie Circles as the vocalist of Delhi-based Alt-Rock outfit Cyanide, the band, was successful in making its presence felt in significant Indie Rock events of the country, in a short span of time, in the era of Channel V Launchpad and the Great Indian Rock Concerts. Rohan, moved to New York a few years ago, where he met his soon to be new bandmates - By Chance and the trio of business partners, decided to name themselves after their fortuitous coming together for the love of music. During his time in New York Rohan also was a part of a Grammy Award winning track called Bubblin by Anderson Paak, in the capacity of an assistant engineer.

Daastan LIVE's Mat Ro Bacche
An art-rock experience like never before, Daastan Live is honestly, a rare act in this day and age. The beauty, finesse & magic of the collective can only be experienced in its full glory - LIVE. VR video seemed to be the ideal bridge between their live shows and recorded material.Dastaan LIVE has released two video presentations (including India's first Indie 360-degree VR video) of their debut single Mat Ro Bachche, based on a Faiz Ahmed Faiz classic, that eerily relevant in today's socio-political climate. Based on the poem 'Philistini Bachche Ke Liye Lori' by Faiz Ahmed Faiz.