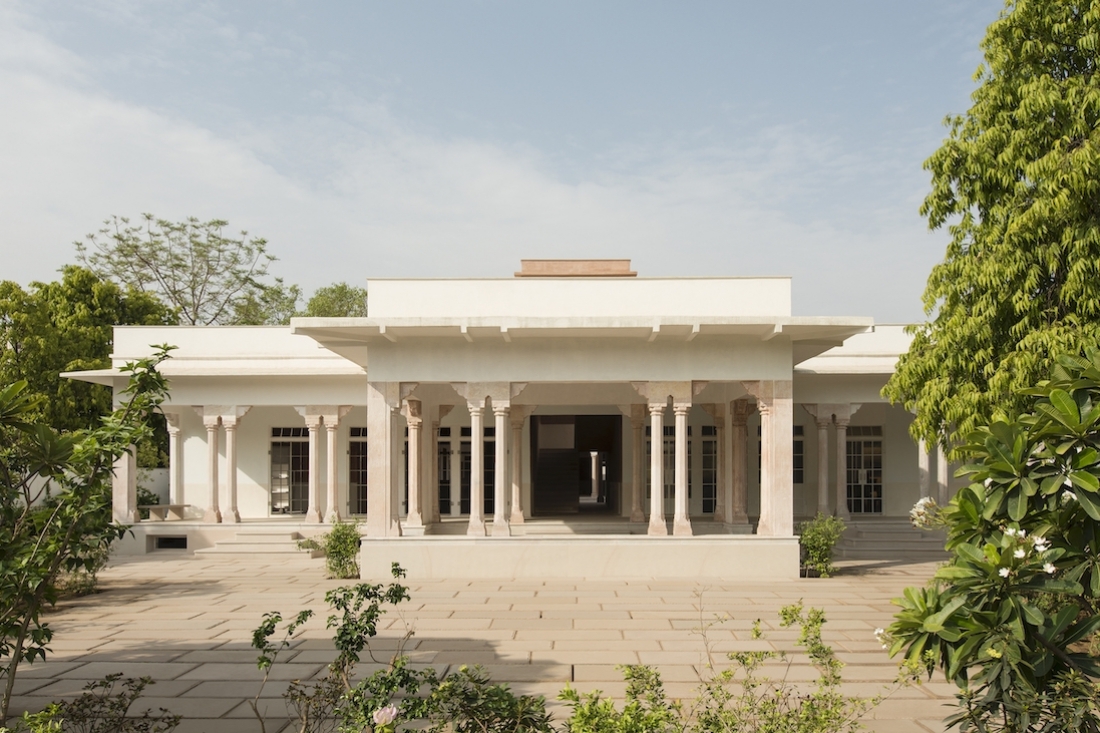 Nila House exterior view. Photgraph: Shine Bhola. Image Courtesy: Nila House
In the past couple of years one can see a growing conversation around the preservation of handwoven textiles and the promotion of sustainable design processes. Nila House, located in Jaipur, Rajasthan, against the backdrop of a refurbished Indian home from the 1940s, is a space that that aims to enhance this trend by embracing sustainable design and preserving artisanal knowledge. The space will be a centre of excellence - a repository of valuable knowledge on traditional Indian textiles and natural dyes, as well as a dynamic site for experimentation to bring together traditional artisanal skills and contemporary design.
With the opening of the space last week, we spoke to Anuradha Singh, the Head of Nila House and Juhi Pandey, who handles the artisan development aspect of the House. Excerpts below:
Anuradha Singh

Could you take us behind the sensibility of the Nila House and its vision for the future?
Nila House is driven by a deep love for Indian crafts and textiles. Founded by Carole Bamford in 2016, Nila stemmed from her love for India, and an environmental commitment to believe that if we look after the land it will look after us, now and for generations to come. Nila House is the result of a gradual process of understanding and exploring these aspects of our traditions and rich cultural heritage. Our vision is to conserve promote and strengthen the traditional artisan communities, creating sustainable value chains and positioning the craft sector in the main stream creative industry. We aim to develop relationships with artisans, organisations and individuals that share a similar philosophy towards building genuine and long-lasting collaborations between traditional crafts and contemporary design. With in-depth research, sensitive innovation and knowledge sharing, we believe we can create a credible model that will make a positive impact to the craft and textile sector.
L: Indigo yarn
R: Indigo textiles at Nila House. Photograph: Shine Bhola. Image Courtesy: Nila House
What is your curatorial process like with the programmes and exhibitions to be held at Nila House?
Nila House, a centre of excellence through its various facilities and programs will provide a physical, creative and intellectual space to celebrate the rich tradition of the "handmade" in India, to inspire designers and sustainable practices in both traditional and innovative ways, and to support these crafts and their makers by offering a platform for artistic exchange. This ethos of knowledge-sharing and celebrating the nuances of our craft practices and their positioning in the contemporary creative industry will very much steer the curatorial approach to exhibitions and programmes of Nila House.
This is a time of great transformation in art and design—the mediums are blurring, the disciplines are merging and sustainability seems to be the common connector. Your views.
There always has been a thin line between art craft and design and yet in some cases invidious distinctions have dominated the industry. Today mediums and disciplines are merging to keep pace with modern change. The philosophy of craft is rethinking the concept of design and one art theorist has even declared craft as the new cool. Along with these transformations, we are also at a critical historical juncture, whereby we're seeing innovation at an unprecedented scale across sectors. We also have at hand the largest environmental crisis the world has seen to date. These circumstances make for a complex combination which has led to dialogues on sustainability. This has become a key message across various sectors and the need to addressed this collectively to create impact is crucial. There is still somewhat of a gap in truly understanding what sustainability stands for and how this movement towards "organic" and "sustainable" can be effectively adapted by the different layers of the system. That's where the need for collaboration and knowledge-sharing across sectors becomes critical. Nila hopes to fill this gap as well as set new standards for thoughtful, elegant and inclusive processes, reinforcing sustainability for change.
L: Nila House exterior corridor and products from the Nila House collection. Photograph: Shine Bhola
R: Nila House exterior view. Photograph: Shine Bhola. Image Courtesy: Nila House
Juhi Pandey
You've been working very closely with the artisans. Could you tell us more about them and the significance of their work with regards to Nila House?
Nila House is preceded by work the Lady Bamford Charitable Trust's have done with artisan clusters across India. The resource building and training that has been going on over the last few years has created a strong foundation for Nila House to be established as a hub for excellence and innovation in design practices. We're looking to establish a model of collaboration between artisans and designers that will leverage traditional skills and contemporary design to create a new paradigm, setting a high bar for what can be considered "sustainable". This includes creating direct market opportunities for craftspeople as well as infrastructural support that will allow for efficient, ecologically conscious and fair design practices. My work with artisan groups across India has enabled me to create a strong network across the crafts sector, whom we are looking to invite to be a part of Nila House's work and vision. I'm looking to use the grassroots knowledge and data to create the infrastructure that will allow Nila House to support its raison d'etre of encouraging and enabling the heritage of Indian handlooms and handmade traditions.
Could you tell use a little about your experience of working with Anuradha Singh and bringing together the Nila House?
Anuradha is a fantastic institution-builder; she was at the helm of things at the Jawahar Kala Kendra and in a short span of three years, managed to transform the space into a dynamic cultural hub. Our areas of expertise work well together as a collaborative working relationship.

Text Nidhi Verma