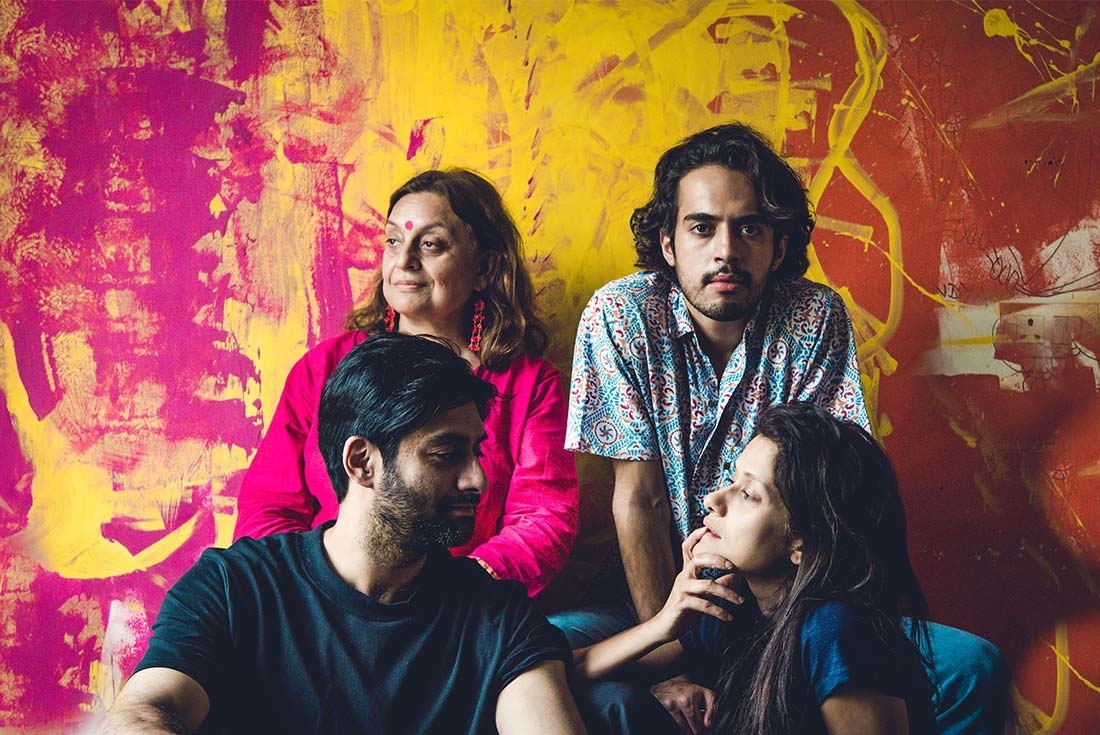 Samar Sarila
Lives of Others
When his father passed away, Samar decided to mourn in a different way. Five days after, he wrote the play, Lives of Others. His play is family centric that revolves around two families, a mother and her son, and a wife and her husband. From pitching the play to a small festival that never staged his play to performing in various cities, Samar and his team have come a long way. We talk to him to know more about his initial struggle, his journey as a playwright and as a theatre actor.

How did theatre happen? Tell me about your initial years as a theatre actor.
Instinctively. Theatre wasn't a deliberate choice because it happened when I was fairly young, around when I was 13-15 years old. I gravitated toward theatre because I was socially inept. Unknowingly, the stage facilitated a certain confidence in me, which translated itself into my daily activities and in turn, stirred my imagination. I was also lucky that my boarding school had a very accomplished drama teacher, Desmond Hann, and a very efficient, well-equipped drama studio, drama dept. I profoundly believe that I am, today, a more understanding; tolerant human being because of what theatre brought out in me in those initial, impressionable years. It introduced me to writing; plays introduced me to complex human emotions. It appealed to me at a very basic level, love of jealousy, anger, ambition etcetera, all of which I experienced later in life- as one does. Also, the applause at the end of a show wasn't too bad either. It was very intoxicating. I felt that I belonged because I, in my own little way, excelled at something finally and was prepared to work hard at it because I was passionate about it.

What inspired Lives of Others?
I wrote The Lives of Others, 5 days after my father passed away five years ago, initially for the Short and Sweet Festival (Mumbai). It was never staged at that festival because I wasn't ready. To be frank, there was not much thought behind it. It all began with a simple premise of me wanting to divide the stage into two flats and tell what at first seem two distinctively separate stories. As the play progresses you realize that these characters have more in common than the first time it meets the eye. I wanted to put my experience in context in whatever way. I believed at that time that I was actually being courageous. The process was cathartic. I certainly wrote it with the idea that it would be performed soon i.e. at this festival. Let's not forget that it's a very short play but I wanted light and sound to play an integral part in the lives of these characters without forgoing the complex nature of their relationships. A mother and her son and a wife and her husband. Two flats respectively.

The play is about two completely different lifestyles that revolve around four characters. How difficult was the writing process?
I wrote it in 10 minutes. Improved it later. I think it's a similar experience for many. Inspiration comes and goes. In that specific period, after the death of my father, the themes I wanted to discuss through these four characters flowed with unwarranted ease.
L to R: Adhiraj Katoch, Sohaila Kapur, Vidushi Mehra and Samar Sarila
How did the story shape up?
The play doesn't let up. Two different stories. About addiction to alcohol and prescription drugs, loss and regret, blindness and people's struggle to find relevance in life. It's a comedy! These are themes that, if one has the privilege to, should be contemplating everyday. Every character, reading it now, is the personification of an experience, however destructive. That's how the story shaped up and the relationships (however brief their time is on stage) develop by being thrown with each other into the claustrophobic environment in which they live. They are forced to deal with each other. Escape is not an option. I also wanted to simplify complexity, make the story accessible to everyone but at the same time give the story, the characters a multi-dimensional element. Tell a story through words but also through props, sets, light and sound. Make it a complete sensory experience for the audience.

You are also acting in this play. Is your character inspired by your life?
About acting in the play- why not? Also, being in it, I could quickly discover its shortcomings. I was conscious when writing that I wanted something, however short, which would keep the audience invested. To me, everyone is important in the theatre, it's a collaborative effort: venue, lights, sound, scenery, and prop manager, stage director. I have always felt the most comfortable in this atmosphere (in an auditorium) working toward staging an evening. And what all of that entails. I would like to, if circumstances permit me, to continue being part of this world in whatever shape or form.

What are you working on next?
Vidushi Mehra and I who produced a play called Skylight by David Hare in December and February, have a few projects in August, September, October. We will be bringing Skylight back to the Oddbird Theatre in November. There are now innumerable possibilities in Delhi. It's vibrant with culture. There is a lot a talent here. It's encouraging. It keeps me on my toes, motivates me to do better stuff. Competition is always good but with that there needs to be a spirit of cooperation also. Only then will theatre etcetera flourish here. I have witnessed eager, talented, hungry minds with vibrant imagination. This is good.

Catch the play, Lives of Others, at Oddbird Theatre on 17th,18th and 19th May, 2017.

Text Suhani Lakhotia