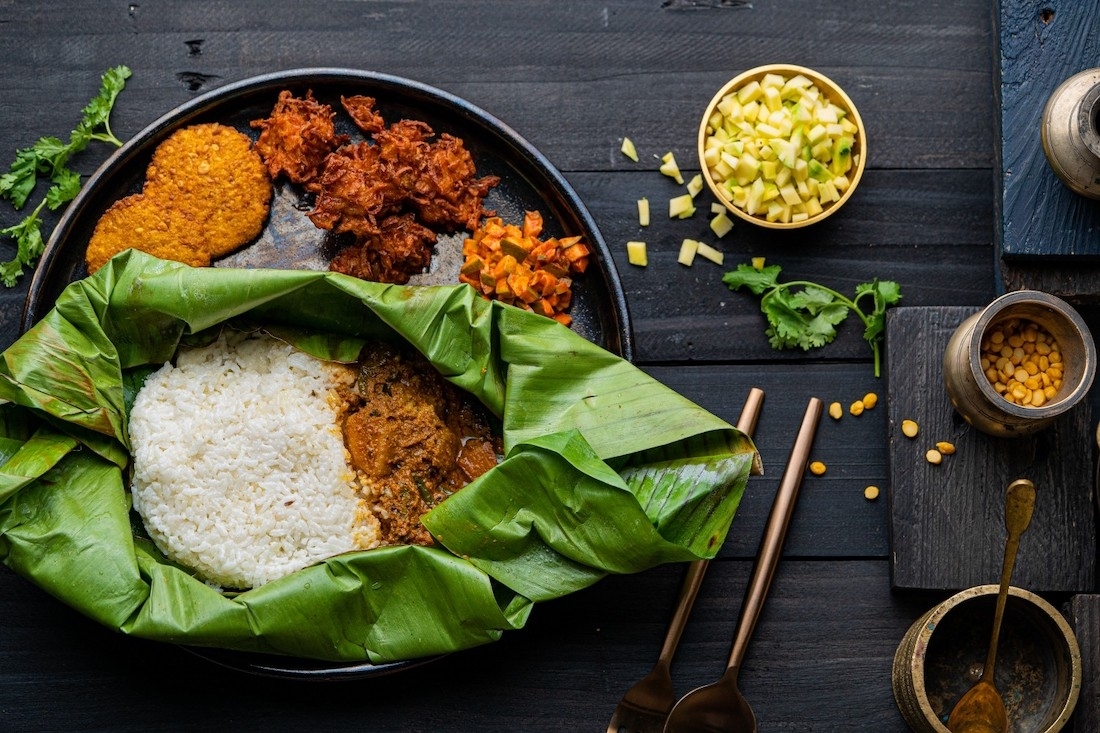 So what sort of place that serves 'South Indian' does not have dosa and idli? And 'mind you' (with no over the top dramatics), there's a seven-course meal it serves us instead – with all states and all spices covered. That's Savya Rasa, standing out like a fresh strand of kokum amid everything south that the city has thus largely known.
We walk into a warmly lit, wood-furnished hall of seating, as is the norm of the culture, and servers in pleasant white mundus float about ushering and smiling. The staff at Savya Rasa, we observe, has been flown in from all the different southern states, for which we must compliment Japtej Ahluwalia, the Sikh co-founder who has long years of hospitality in Chennai behind him. 'The idea was to break away from the idli and dosa norm and take our patrons on a culinary exploration that reaches unto the very depths of the region,' he says before we begin our seven courses, albeit shrunk on request to suit the appetite. There's the rich mix of culinary culture and history before us from the regions of Kongunadu, Chettinad, Malabar (Moplah), Nasrani (Syrian Christian), Mangaluru, Mysuru (Hinterland Karnataka) and Nellore; 'we decided not to do Coorgi as it is completely different,' he shares as we bring up the coffee paradise.
The Meal
We began with the Vasantha Neer (tender coconut water, lime juice, mango, honey, mint leaves) - a specialty from Kongunadu as well as the rose flavoured milk that would do great to soothe the tongue after the heavy spices we'd signed up for. The Pallipalyam Kalaan (pan-fried button mushrooms cooked with freshly ground masala made of turmeric and red chilli powder, finished with coconut silvers), a dish from the banks of the river Kaveri, was as strong as her flow.
Next up, the Kori Ghee Roast - chicken marinated overnight with byadgi chilli spice mix and pan tossed ghee, was quite the classic from Mangalore. The portions are a reflection of the largesse of the South, if not the grandeur of the interiors that we will come to, a little later. Not to forget, however, the underlying simplicity that best defines the attribute of the traditional southern kitchen. In sync, we took a break and opted for good old curd rice with the perfect blend and broken grain.
If you are, however, more adventurous, there's a big variety of massive mains to choose from: Kalaan Thirattal (a thick curry made with button mushrooms, ground nut, shallots and red chillies) - a Kongunadu treat best enjoyed with Savya Rasa's special Bun Parotta; Milagu Kozhi Chettinad - chicken gravy flavoured with crushed black pepper, star anise, edible lichen, coconut and curry leaves; Vetrilai Poondu Saadam – short grain rice flavoured with digestive betel leaves and fried garlic - a secret recipe from the land of the Cheras; chicken pakoda, yeral varuval, milagu kozhi et al.
If you were to ask us the clear winner, it would be the dessert - the Kongunadu special Elaneer Payasam (tender coconut cream simmered in a mix of milk and coconut milk, flavoured with cardamom and sweetened with sugar - served chilled). When the cream topped jelly appears, it looks other-worldly almost, and tastes quite the bit. We couldn't risk giving up that aftertaste for the house brew - Filter Kaapi – but the freshly roasted and ground arabica beans smelled quite tempting from the long table right across.
The Art
The colourful ambient lighting and wall art takes you right back to the temples and homes down the coast, but while Japtej shared in detail how each pillar was carved by craftsmen from states in the South, we must go back to the informatory note to bring you the details.
There are handmade, eco friendly clay tiles from Athangudi, a small village near Karaikudi in the Chettinad region of Tamil Nadu. These have traditional patterns and designs which involve intense labour and take weeks to manufacture a single piece. The ones used at Savya Rasa are custom made and inspired by the tale of Annaparavai. The pillars, door frames and windows are inspired from Chettinad style too - with pillars made in stucco form to reveal the ancient Dravidian architecture; the carved majestic looking entrance of the door and the windows is made out of Burma teak, and the windows are adorned with Belgium coloured glass. Bhuta masks depicting bulls from the Tulu Nadu region of southern coastal Karnataka are cast out of an alloy in metal. This is an ancient ritual where a person wears these masks on their heads with elaborate clothing and answers problems or settles quarrels among their followers using powers from ancestral worship.
Kori ghee roast coin canapes
Kalamkari art (tree of life) from Andhra Pradesh is painted in Srikalahasti style using vegetable dye, and depicts five important scenes of day to day life in a village - of weavers, potters, farmers, carpenters and even a wedding in the village.
One can also find the ancient coconut scraper from Tamil Nadu carved by craftsmen of yesteryears with flora and fauna designs. Many of the utensils and tools are made of brass, straight out of South Indian households - water containers such as the ritualistic panchapatra from Tamil Nadu, sombu to serve water traditionally, kindi (container with a spout) as well as kooja (used to carry water in the shape of a cashew fruit called 'mundhiri kooja') - the last two being necessities in Kerala homes.
We also liked the detail of the vettilai chellam – a box to hold betel leaf and betel nuts from Kerala; uppu maravai, a container to store salt in the kitchens of south Tamil Nadu; mortar and pestle to pound spices or medicinal dry herbs; paathram, a cast flat bowl with lead coating used to serve curries; and marakkaal, a measuring bowl made of brass used to measure paddy and rice found along the Delta region of Tanjore in Tamil Nadu.
More than a culinary experience, Savya Rasa is an immersive artistic exploration into the southside story, and it will take a couple of trips to fully delight in each aspect therein.
Text Platform Desk