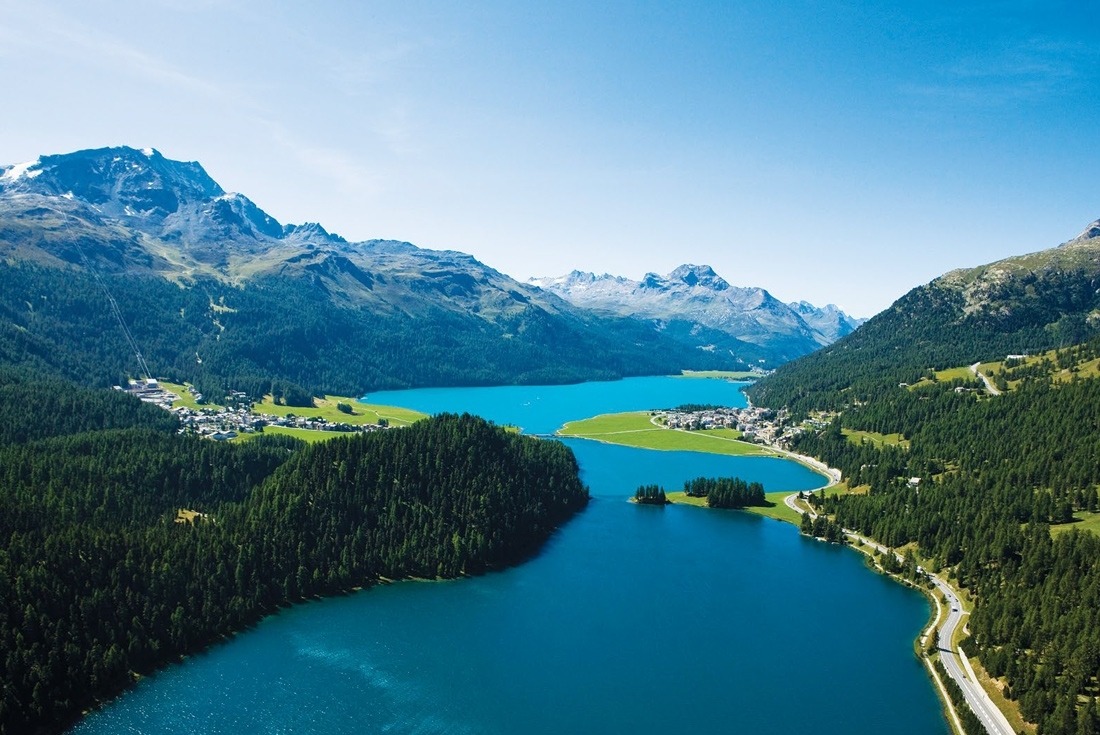 View of the Engadin Valley
I'd long wanted to visit Zurich. My grandfather, Dr Arvind Vasavada, had studied there with Dr Carl Jung; they had shared a complicated relationship. I had wanted to stop by Jung's Institute here, locate shared correspondence if possible. My home in Zurich was the Baur au Lac, the local jewel. A grand property so close to the waterfront that on the following morning, a duck was nesting in the green cover outside the breakfast room. After devouring some heavy duty chocolate in my lovely room at the Baur au Lac, I headed for a walk. My friend DB had pointed out to Stazione Paradiso, a down home bar by the river, with an alternative vibe. He also recommended The Rooftop Bar at The Widder Hotel, which indeed had the best cocktail menu and commanding views of town. Most of Zurich's after-work crowd stops by the Rimini Bar— you can overhear bankers talking up models, and you just know this is where the next scam in finance is dreamed up over a daiquiri.

DB had told me about the Maison Blunt for a fine weekend brunch but on the Sunday I arrived I checked out an open air market in the square close to Baur au Lac—a vintage LV suit hanger was on sale amongst old silverware and useless LPs. A stroll through the Niederholf gives great glimpses of medieval Zurich, with hidden alleys and secret gardens of yore. In spite of so many dandy things on hand—including DB's favourite Cabaret Volataire for a cafe/art book store, one of the founding venues of the DADA movement—I found Zurich a city leaden with dullness. I define geographical dullness as a space where money anesthetises pain so profoundly that pleasure has no chance to appear. Zurich, where the streets sometimes resound to a Ferrari being fired up, also gave me little opportunity to explore the Jung Institute meaningfully; I found inadequate co-operation from the team at the institute. By the time dullness was to get better off me, it was swiftly replaced with annoyance, when at the Sprugli Café, a member of the Great Indian Tourist Classes insisted to the server he wanted 'cold coffee with ice cream'. I'm sure it is on the Sprugli menu— they'd have relented after years of requests—but it was here that I first saw cultural imperialism now swings both ways. I sped away the next morning, on the train to the Engadin Valley—the best way to get around Switzerland is on its train, I'd invest in a fortnightly Swiss Pass, which allows access of public transport as well as to many museums and public steamers.

Badrutt's, easily, is in the running for my favourite hotel in the world. The location is gloriously unforgettable—across the still, noble lake in St Moritz—it is the last of the grand hotels, with its liveried butlers, its Rolls Royce pick up, and palatial dining rooms. On arrival was the subliminal awareness this was a singular beast, a lion, something made from rare, dark minerals, a secret wine whose consumption permitted you a few perfect days in this world. But its beauty had an eerie undertone. In the Hitchcock Suite—named after the director who retreated here—was a strange, suspicious shape in the middle of the bed, like a body—perhaps a husband, or a mother- in-law, someone had left behind. My own suite, sumptuous and restful, looked out at the lake in the summer sun. As I stood in my balcony, the clouds, the mountains, the trees caught in a bowl of grey water, I took in great gulps of pristine air—you were here to heal, to mend, to seek succor, this feeling was president.

Badrutt's Palace dining hall
At dinner with Yvonne Geiling, Badrutt's impressively charming relations manager, I confessed I was an easy convert to the allures of St Moritz. She assured me that while summer was spectacular, winter was where the action was—pointing out to the polo on ice, and of course the legendary slopes which have invited Olympic attention. At Le Restaurant, their splendid restaurant, I felt right at home with the hearty, home-style barley soup [the best I'd had since its last outing in Florence at the Belmond's Villa San Michele] and it went swimmingly with char from the Engadin lakes. As we sipped wine into the dying sunset, Geiling tempted me to return: a highkey restaurant opening in winter came outfitted with a 3 star Michelin chef, and Badrutt's classic King's Club was to get a facelift and some sparkle.

The shopping around town is super luxe—I stopped by Bottega Veneta to stare at all the lovely things I'd neverbuy while a trip to the pharmacy for the Swiss vitamins made my list of definite spend. A jazz festival was scheduled to open in St Moritz, with performances by Bill Evans Band and Diana Krall, another reason to not leave town. However, the art I encountered was systematically mediocre—at local galleries, overpriced, out of loop. A thoroughly forgettable Norman Foster construction [I couldn't lend 'architecture' to it] reminded me overrated architects rule design, where symbol trumps quality. While there are many neighboring towns as remarkably lovely or more so, than St Moritz, the exceptional, singular hospitality of Badrutt's made me think this was a slope I'll be going to be going down many times. On my last night, in the grand dining hall, the thoughtful maître's peach flambé flames lit up the solitary evening; outside, night fell on the mountains, as licks of fire reflected on the floor-to-ceiling windows.

The Park Weggis is on the island of Weggis, an excellent hideaway from Luzern, a city I love but avoid because of tourists— mostly Indians and Chinese who fly thousands miles to Switzerland only to order double whoopers and then ask for seat belt extensions on the flight home. Best advanced by ferry, the island of Weggis charmed me on arrival, with its fairytale feel and discreet remove. I went past a small antique store—I stopped, bought old silver—and arrived at my hotel, The Park Weggis. Set on the lake, the property has a minimalist Japanese Garden and its own private beach, where I parked myself for the afternoon, in glorious sunlight, with a glass of champagne. Later, I'd tour through the Mark Twain suite— named after the island's former resident—while my own room, in a newer part of the hotel, was absolutely glamorous…ceiling to floor glass, private terrace, totally Bond.

After an energising breakfast the next morning I head out to Luzern.

My first port of call: The Sammlung Rosengart Museum has one of the finest, most intimate collections of Picasso. The Rosengarts were friends of Picasso, in addition to having dealt in the artist's work. The collection has the feeling of trespassing a private box of jewels; the works are particular, full of feeling, knowledge. The portrait of Angela Rosengart is key to seeing how Picasso painted women with whom he was not romantically involved, the strokes are masterful, untouched by lust, but there is a cool remove.

Luzern has the feeling of being a young town, with bars and, for Europe, a disproportionate population of young and attractive people. On my return to The Park Weggis I stopped by the superb spa for a Tibetan massage and later head to their restaurant, La Brasserie, for a robust meal— but to be honest, I was truly feasting on the sublime view, the water touching the land touching the sky. I cannot recommend Weggis enough, particularly if you want to escape big city Switzerland yet dip into its energy. I'd stop by the Kuntz Museum—housed in a stunning structure, all black and glass—only after a careful exhibition check. My own stopover for its show of Sonja Sekula, and her better known friends like Jason Pollock and Max Ernst, revealed a mostly mediocre exhibition, hastily put together, lacking curatorial coherence, unable to sit out on Sekula's erratic strengths in spite of a top ticket assemblage. Sina Conrad, the lovely publicity manager of The Park Weggis, told me over a drink the great news that Delhi's Taj Palace was bringing out a special menu for them at the hotel in the fall—so if you suddenly ache for the tandoor then you know where to head. Just don't ask for seat belt extensions on your way home.

Art is frequently used to rev up destinations; the failing town of Bilbao, for instance, was remade after a museum makeover, and over 500 million Euros followed in tourist revenue. After a quick visit to Galerie Tschudi Zuoz, which has one of the most stunning display spaces, a blend between a large barn and a New York loft, I made my way to the Hotel Castell, an Engadin property distinguished by an art collection that could easily be housed in a small museum. Ruedi Bechtler, owner of the Castell is an avid collector, and the hotel houses a chunk of his collection in this modernist marvel of a hotel, expertly managed by husband and wife duo of the Muellers.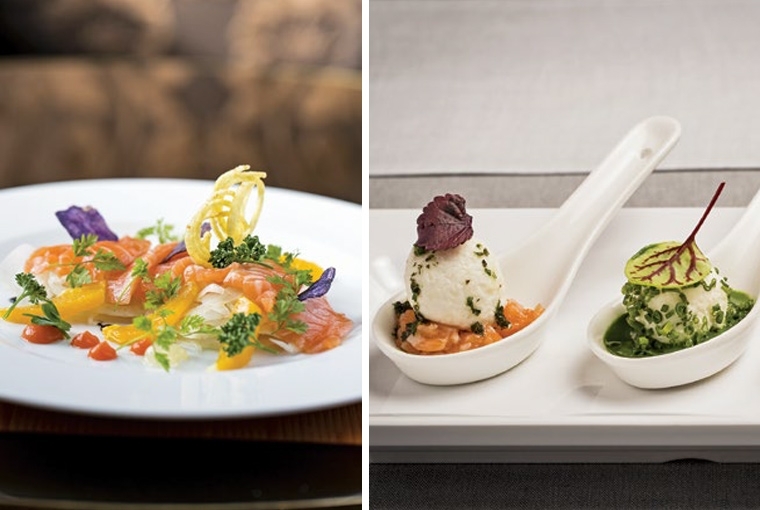 The culinary spread at Hotel Castell
In the sprawling grounds, framed by a humming stream on one flank and noble slopes on the other, there's a magnificent James Turell viewing chamber. An outdoor installation clad in stone, with a circular aperture in the roof to showcase the gleaming summer sky, while another cut out—through which one enters—frames the slopes. At times I felt I was wandering through an art fair: there were so many works to look at, hung on walls, installed on the roof, artists include Carsten Holler and Ross Sinclair. When it was all too wonderfully overwhelming, I snuck down to the Castell's hamam; honestly, it had all the high voltage glamour of a sex club, with red lights and steam wafting out of from secret, circular vaults; this was the best hamam I've ever been. While walking through the grounds, I encountered the bridge, an installation by Tadashi Kawamata. The cool July air, the hum of the spring, the distant vistas of the peaks—and a meandering walk through rooms of art. The experience was surreal, and perfect. In the Engadin valley, the food has the Swiss evenness hinging on boring; I am not sold to fondue. But at the Castell, the menu was small yet exceptional. Their version of the bruschetta was drizzled with chef-sourced olive oil, the sort in which you can taste gnarled vines, high sun and dry earth. If you're the sort of traveller who reads Geoff Dyer and prefers small jazz clubs over huge EDM festivals, if you like to shop at Muji and little organic stores in Anjuna, the Castell is exactly the sort of space you will return to.

Stephanie Elmer, of the Engadin's tourism department, accompanied me to Alpschaukäserei Morteratsch, which is where all the cool locals take their guests to see how cheese is spun, and to breakfast in the woods. It's airy and charming and run by a husband-and-wife team. The menu is simple and deliciously fresh; I had the sort of breakfast I'd remember for a long time, amid tall trees, in bracing air, after passing the rush of a river on the curl. Elmer, a paragon of graciousness, took me up on the Engadin's famous mountain railway to Muottas Muragl, at whose apex we lunch, gazing out at lakes and mountains—it's one of those places that is so beautiful it is romantic even if you come alone, the landscape seduces and companions you. This was my key awareness on travels through Switzerland: sometimes you move through so much natural splendour that you become aware of how the trees, the streams, the robin on the fence can fill you with their own powerful sense of destiny and place on this earth.

Shanghvi flew his preferred carrier, Turkish Airline. Internal travel support: Switzerland Tourism.


Text Siddharth Dhanvant Shanghvi