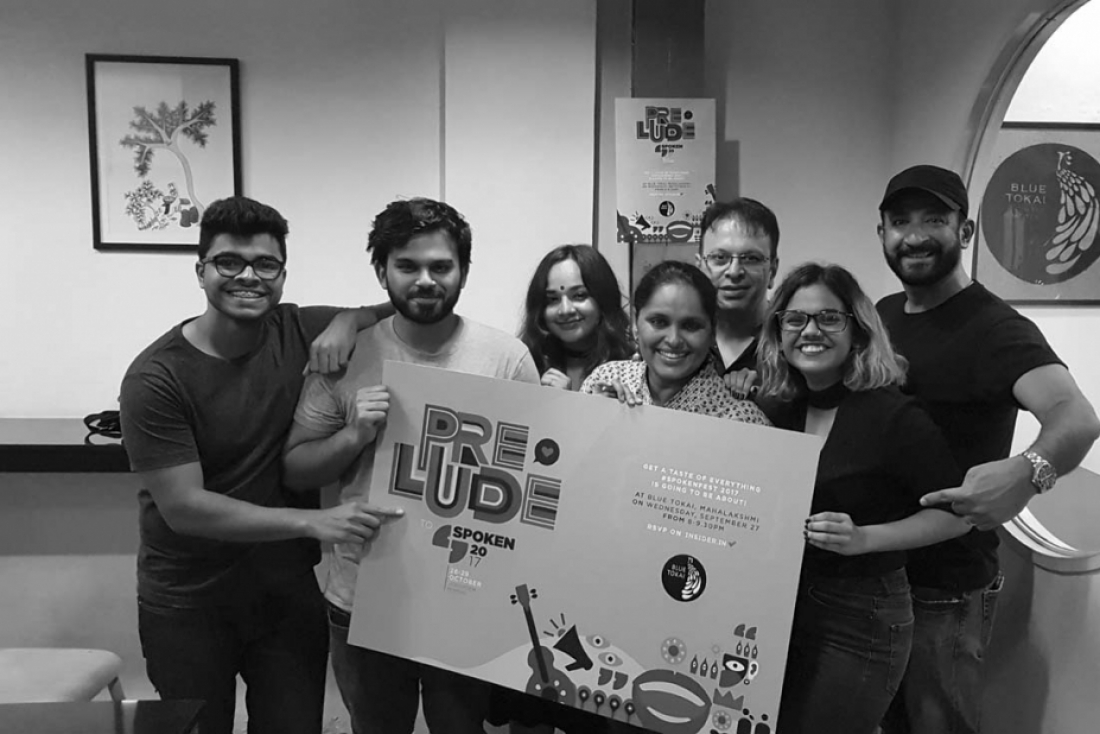 Kommune, a collective of all things creative, is organizing a first-of-its-kind festival featuring Spoken word poets and storytellers from all across the country. SPOKEN, a unique celebration of words, is happening at Jio Gardens, Mumbai on 28-29 October, 2017. Roshan Abbas, Director & Founder of Kommune, talks about the potential of Spoken word in a country ripe with struggle and stories just waiting to be told.

Storytelling is a powerful medium of community sharing. As someone who has experimented with television, radio and films – how do you think Spoken Word stands out?
Each generation has its form of expression. Radio, when it began, gave every city a voice of its own. The television has now taken on regional identities. Spoken word, with open platforms like Youtube and Facebook, has found its purpose too. I am amazed at every session we do because of the diverse range of topics that come up. We have people discussing mental health, insecurities, first love, identity and a lot more. And they do this not just through poignant poems but through hilarious tales as well.

Can you tell us about your journey with Kommune?
Kommune started almost 3 years ago with an attempt to create a platform where performers can find places and patrons who appreciate their art. We wanted to take away the pressure of trying to sell your art. Gaurav, Ankur and I – we started doing micro performances and experimented with poetry, theatre and storytelling. To our surprise, people started showing up in large numbers. We then hired a small team and started working on our presence, both physical and digital.
"This is just a bigger celebration of what we were already doing on a micro level."
Kommune has been conducting creative art performance events with a smaller audience across the country. What inspired it to change that and target a larger audience instead?
We felt we had hit the tipping point. Our social media without any spends had got over 1.5 lakhs subscribers. We knew that even if 2% of these people are willing to come to the festival, it would be enough. This is just a bigger celebration of what we were already doing on a micro level.

Was there a particular idea behind curating the list?
We looked at global icons like Margot Lietmann, Dianae Ferlatte, Tristan Saro and those who have made a name here in India. The focus is on stories, poetry, and singer-songwriters with an emphasis on words.
"We need to express ourselves and the plethora of issues in our country makes it ripe for the same."
Do you think Spoken word has the potential to be a tool of social change and awareness?
Look at the standout pieces we have seen so far: Hindustani Musalmaan by Hussain Haidry is an expression of a modern Muslim; The Introvert's Banter by Rabia Kapoor is a discussion on insecurities; Ghar is Rakesh Tiwari's attempt to capture his feelings for a home in a Google-obsessed world. We need to express ourselves and the plethora of issues in our country makes it ripe for the same.

Tell us about the artist you are looking forward to.
I'm really looking forward to Alif – a Kashmiri band with poetry; Tristan Saro is again a loop station champion from France and I'm excited to see what he develops. Also, Kalki, and Tajdar Junaid who has sampled a Kaiif Azmi piece in Shabana Azmi's voice; Ankur Tiwari's new single; Piyush Mishra; and Ballimaran who is a favourite. I love his revolutionary poems. Each act is different and unique.

Text Pankhuri Shukla