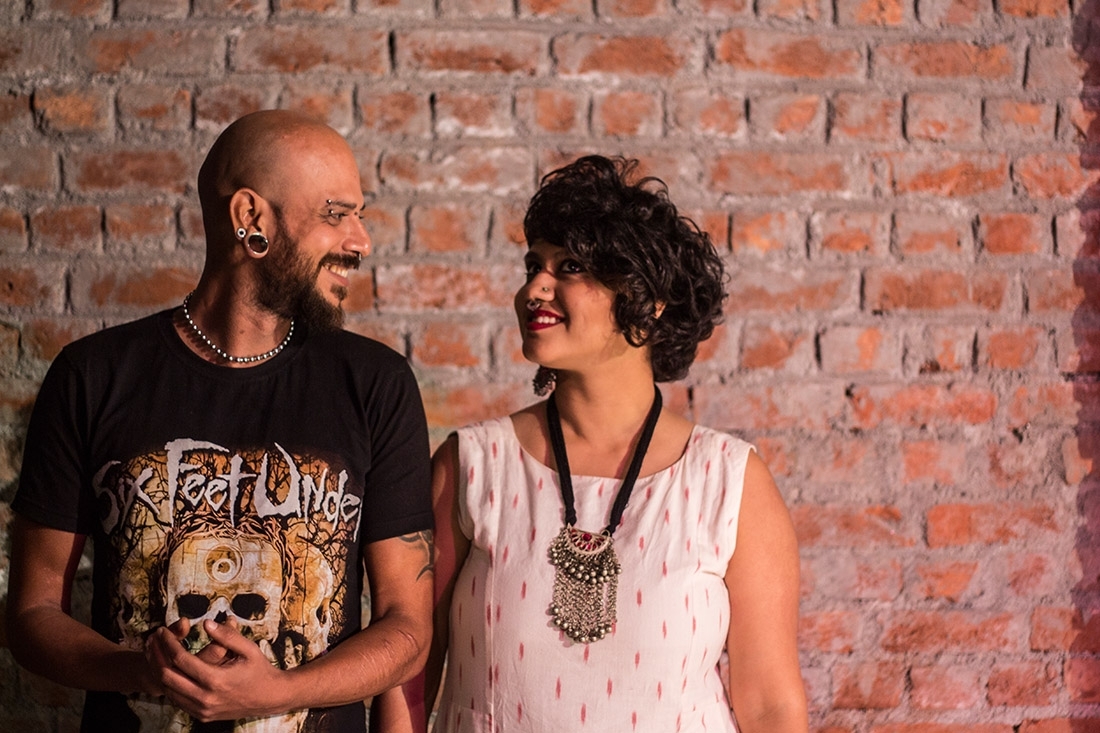 Rohan Sabharwal and Rachana Iyer
Photography by Ishani Das
Spreading Cycology
Rohan Sabharwal
A social entrepreneur, designer, mental health advocate and filmmaker, Rohan Sabharwal believes in the power of storytelling to influence society. Hailing from Bandra, the cultural epicentre of Mumbai, Rohan spent most of his childhood in a boarding school at Lovedale, until he finally moved back to his city to pursue college.

Unlike a lot of filmmakers who have known their calling right from a young age, Rohan loved reading books. Reminiscing the good old days, he shares, 'I wasn't really interested in making films but I loved the art of storytelling. As a child, I used to read a lot of comics and loved books that were vividly written, such as Enid Blyton.' While pursuing his studies in English Literature, he found himself on the sets of a film that his college friend was assisting on. The experience made him learn the 'how not to-s' of film making… 'I have always believed that films should serve one of two purposes—to entertain or inform. I was never really interested in the process of filmmaking until I helped out on a short film during in my college days. It was messy and I did not enjoy it.' Rohan went on to becoming a movie buff and watching films ranging from Hollywood chick-flicks to interesting BBC documentaries.

In 2003, Rohan started working in an ad agency in Mumbai led by a prominent Creative Director and his inspiration to pursue filmmaking came from watching a film she acted in that was brilliant in concept but very poorly executed. He shares, 'I decided to make my own short film that year. I wrote the script but when we finally shot it but it was nothing like I had expected it to be. My first short film was only good on paper and badly executed.' This motivated Rohan even more and he finally made up his mind to pursue film-making academically. This short film came in handy at the time of his applications and needless to say he got accepted to the prestigious London Film School.

After graduating from film school in 2006, the same year that he edited the award winning commercial Sarah and Wendy that won the Kodak Student Commercial Award in the UK, he left London to pursue his career in India. Back in Bombay, while Rohan shot his graduation film Shunyata, which premiered at the ICA cinema in London, he met Arfi Lamba, an aspiring actor who was part of the cast in Shunyata. Post that, Rohan set up his production company and worked on commercial films that generated a lot of revenue but did not quite quench his thirst of creating good cinema.

Rohan's approach to cinema has always been research driven. Intrigued by the existence of Jewish communities in India, he began collecting information and exploring various stories around them. He then finally met Mathew Anthony - who was an alumna from the same boarding school and closely associated with the Jewish families in Fort Kochi, who were dwindling in number. Rohan then went on to making a documentary on this community called Where The Heart Is, which he shot between India and Israel. Around this time, Rohan had also been experiencing trouble with his mental health and was diagnosed with both Borderline Personality Disorder and Major Depressive Disorder. He wrapped up the edit, screened it at a few places and decided to take time off.

After having a severe mental break down and being institutionalised for treatment, Rohan finally came back to Mumbai and started working at The Hive - one of Mumbai's most prominent cultural spaces. Apart from video production, he used to curate cinema and launched The Fourth Wall —a film club that always dared to screen the most controversial, interesting and relevant cinema from India and across the world.

This is when I met Rohan. As a writer, spoken word artist and a social impact specialist, we instantly connected. We were surrounded by the arts, mainly the performing arts and decided to co-create CraYon Impact, a social enterprise that worked with artists on curating socially relevant yet highly entertaining, accessible to those with disabilities. We have experimented and launched event properties using standup comedy, slam poetry and Improv, focusing on taboo topics such as Sexuality, Mental Illness and Gender. We started to recognise that mental illness was one of the most misunderstood and stigma ridden social issues that the country was facing. We also realised that with all our programs we were catering to only the urban elite, who despite harboring prejudices, had much more access to mental health services than the rural poor.

So, in December 2016, Rohan took to cycling. What started off as short rides near his studio, ended up in him cycling almost 6 hours every night. He was able to control his mood swings and also felt better physically. One day, while we were in the middle of a conversation, Rohan shared that he was loving cycling and wanted to do a ride from Bombay to Goa. This conversation sparked an idea and thus Spreading Cycology—his upcoming documentary—was born. Rohan happened to reconnect with Arfi Lamba [after almost a decade since Shunyata] who was now not only an actor but also a producer. In less than thirty minutes, Arfi was convinced about the mission and idea behind Spreading Cycology and his company, Bombay Berlin Film Productions, came on board to produce the documentary.

In his first expedition of Spreading Cycology, Rohan cycled Mumbai-Goa-Kerala-Bangalore where he visited over 10 small towns and villages, people with mental illness and disability and psychiatrists and therapists working in the field. With a support vehicle comprising of a driver and a DOP, Rohan is not only cycling but also directing his documentary as he navigates across diverse terrain and harsh weather. He began the second leg of his expedition on 19th April, cycling from Mumbai to Madhya Pradesh, Rajasthan, Gujarat, Delhi and Chandigarh. Unlike films that are shot in pre-planned locations and mostly on sets which have access to basic amenities, Spreading Cycology follows Rohan as he travels from village to village, exploring spaces and meeting people organically. The crew also live on a meagre budget and stay with members of the community as much as possible to be able to build trust and really understand their lives by living it their way. In the process of shooting the documentary, individuals, NGOs or communities living in rural areas, who require support either financially or otherwise, are also being connected to professionals living in cities who would like to contribute.

'The most honest documentaries have been those where the filmmaker is completely connected and engaged with his topic of interest,' says Rohan. Spreading Cycology is a culmination of his experiences with mental illness, lessons from us working together in mental health awareness and an exploration of the reality of mental health in India's grassroots, using documentary film as the format. The documentary is scheduled to release for viewing and distribution in November 2017, and a web series which will include more in-depth interviews, will release in early 2018.


Text Rachana Iyer