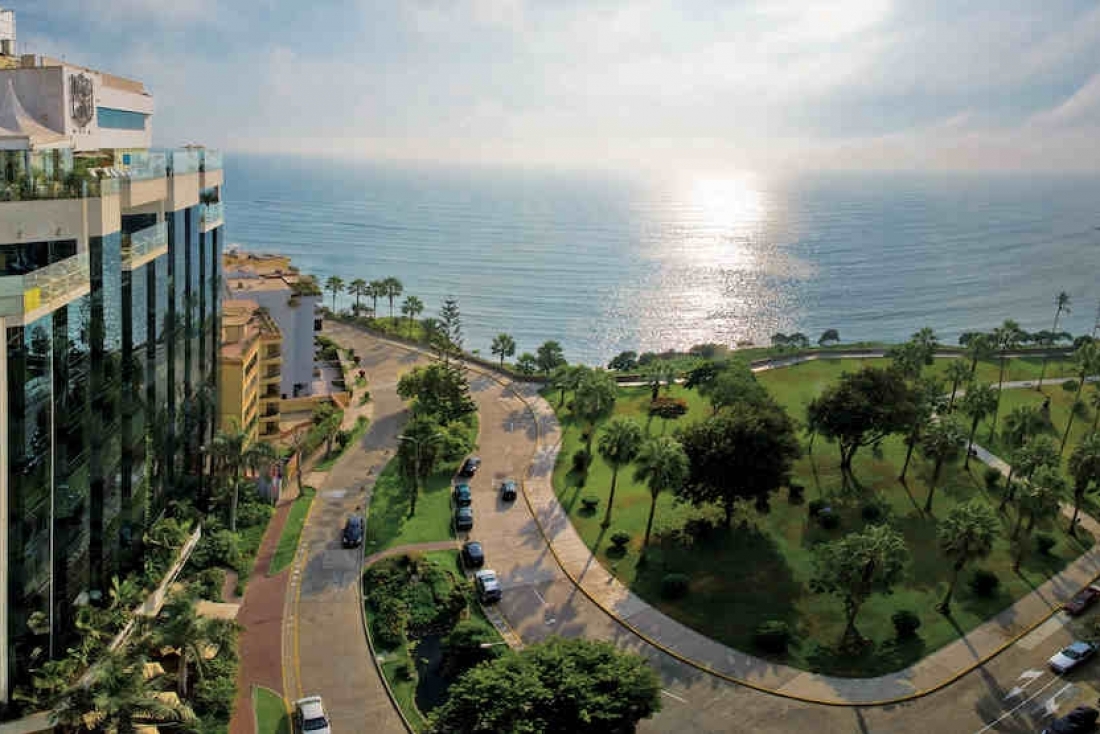 Miraflores Park, Endless views from the Belmond Hotel
My first introduction to Peru [aside from the geography lessons of our school days] was via my much-loved Tintin— in this case the two-part delight, The Seven Crystal balls and Prisoners of the sun. I first read these when I was six or seven and so many years on, I still vividly remember a few particular moments...the amazing train ride they take through the mountains towards the Temple of the Sun, and the gigantic Peruvian condor flying off with Tintin and Snowy in its horrific talons!
Imagine my joy when, while deciding where to spend a few days in spring, Peru landed at the top of the list. I had visions of Llamas, Incas, volcanoes, and trains at impossibly high altitudes and locals in their beautiful garb wandering through ancient streets while crumbling ruins added to the scene.
L-R: Chillies at La Mar, Interior Courtyard at The Larco Museum
What I got was beyond anything I could have possibly imagined. There are few words to describe the absolute glory that is Peru...though I shall certainly attempt to.
Landing in Lima at the break of dawn was our first glimpse into this vast continent whose stories had always fascinated me but which I had never had the opportunity to visit. Capital of Peru, Lima sits on the Pacific Ocean and is home to a population of over 10 million...it is vast, spreading out over the valley it sits in and beyond as far as the eye can see. From the vantage point of our airplane window coming into land, how- ever, it looked like a beautiful lush coastal town, with the sun coming in just over the fishing boats returning from their early morning catch and palms swaying in the warm breeze. It reminded me of India in some strange way, which made it instantly familiar. Lima is divided into 43 districts [each with its own mayor] and as we drove from the airport into town we caught a glimpse of the various neighbourhoods. Some feel rural, others very urban, and some like an oasis in this mad huge city. We were heading to Miraflores, which is a wonderful area on the ocean, lush, plush and with the most amazing views. Surfing is a huge part of the culture of Lima, and even at 6am there were hoards of surfers out on the water, and loads of runners on the pathways on the ocean, making it a rather unexpectedly active scene.
L-R: Inca Objects at Artesanias Las Pallas store in Lima; Pre Columbian Inca Gold at The Museolareo
Arriving into a lovely park above the ocean, we swooshed up to our hotel...the Belmond Miraflores Park, and were greeted by our smiling hosts for the next few days. With all the influences over time [from the Spanish conquistadors in the 1500s, to the Chinese who were brought in originally as slaves in the 16th century, to the Filipinos who were mariners and of course the Incas and their descendants] it's hard to pinpoint a typical Peruvian look, which is another detail that makes this country so unique.
Above L-R: The stunning courtyard of the Belmond Monesterio Hotel in Cusco, Local colour with baby A
As always the Belmond Hotels are a perfectly placed perch from which one can venture forth, and their Miraflores property was no different. Sweeping views of the Pacific from all the sea facing rooms, a rooftop restaurant and pool from which to admire the view yet again and the hotels particular access to the pedestrian pathway and bike path that runs for 18 kms by the ocean is the perfect way to enjoy this civilised part of town without spending hours sitting in traffic. It is also right next to the Barranco district [hip, cool and beautiful] and the San isidoro district [posh, plush and old money on the cliffs above the ocean], which meant that most of my two days in Lima were spent wandering from one of these districts to another look- ing at galleries, museums and eating the most delicious food I've had in years. The food deserves its own novella but in brief it was some of the most inventive, distinctive and mouthwatering fare I have had the good fortune to taste. Peruvian cuisine is, like its culture, a product of its various influences and one sees large family style Chinese restaurants, street food that consists of tamales and grilled meat, Japanese Peruvian fusions, traditional farmers dishes like tripe, blood sausage prepared in stews with corn, and my favourite amongst them all—the cevicherias. Ceviche is traditionally fresh raw fish marinated in citrus juices and spiced with chilis and raw onions. Accompany that with the local specialty of a Pisco sour or two [or three] and I think the word "perfect" would not be an overstatement. I had come armed with recommendations from all my food savvy friends, 'Go here! Eat there!' and I could have spent two weeks eating five meals a day and not covered all the amazing restaurants and eateries. What I did do was take two recommendations [the best meal of my life! Was the precursor from one friend] for slightly fancier dinners and then ask the oh so knowledgeable concierge at the Belmond hotel which restaurants I should meander into during my daily walks through neighbourhoods. Everyone agreed on La Mar Cebicheria for lunch and we decided to stop there on our way back from a visit to the old town. The old town, like a lot of Lima, is a mishmash of architecture. There are the grand plazas; the Plaza Mayor formerly Plaza des Armas built by the founder of Lima—the Spaniard Francisco Pizzaro is the oldest of them all, build in 1535, and the most beautiful of them all The Plaza San Martin built in 1921 to honour the first centenary of the liberation of Peru] the Spanish colonial buildings, the baroque buildings of the 15th century along with the modernism that came after the second world war, sitting along- side some impressive brutalist structures and some neo classical hybrids. And the colours! Mustards, terracotta. pinks, reds, acid greens and baby blues...and that's just from a 360 swivel in the Plaza Mayor. Dizzy with so much architecture, so many churches and all the details it was the moment for a meal at La Mar! A long line awaited us, but walking into that lovely place with its bamboo ceiling, buzzy crowd, raw bar and huge wood burning oven I knew it was going to be worth the wait. One waits with a drink [pisco sour for me and an Inca cola for my teenage son] and roasted kernels of corn [fact: there are 370 varieties of corn in Peru and over 2000 varieties of potatoes] and then when finally a table appears we spend three hours trying ceviches, grilled seafood, eight different types of hot sauces and so much more. Content with a day well spent we head back to our lovely hotel to have a twilight walk on the cliffs above the ocean and soak in some local flavours.
Early morning train stop at lake Titicaca
The Belmond hotels are more than a hotel; in the case of our trip to Peru they were an entire experience. Every recommendation and every part of the trip was impeccably planned, and planned to suit our particular tastes, which run to art, food and architecture. Their suggestions were rich with great museums [The MATE museum by Mario Testino, The Larco museum—rich repository of Incan art in the most gorgeous setting], architecture [The cloisters of St Francis, and Huaca Pucllana from 200-700 AD—the most amazing clay and adobe pyramid built from seven staggered platforms in the heart of miraflores [still being excavated] hidden treasures [the incomparable store of Mari Solari called Las palas that has some of the most exquisite collection of Peruvian, Inca and pre Inca art and artifacts...vintage and modern day] and of course the food! [Maido-Japanse Peruvian fine dining, El Mercado— insanely good seafood, and Chez Wong—home cooking for small groups of friends or friends who personally recommend you!]. This is the mark of a great hotel company—that goes beyond the beautiful rooms and location, it is the ability to dis- cern the unique fancies of their guests and make their experience richer for it.
Clockwise: The bar on the Belmond Andean Explorer Train; Ensuite Cabins; Peruvian Highlands
After our action-packed days in Lima we headed to Cusco, which was the ancient capital city of the Incas. At 3800 meter it is set in a verdant valley - charming city of narrow cobble- stoned streets, archaeological remains and Spanish architecture. Wherever I travelled in Peru city, town or countryside I was amazed by how many hundreds and thousands of people still wore the traditional costumes. This was not for us tourists, it is truly part of their daily lives—these stunning elaborately detailed clothes, combinations of brightly coloured wool capes and skirts [hand-woven from wool called polleras and some- times worn in multiples], ponchos, and those crazy, crazy hats. The best ones look like bowlers or top hats and they are worn mainly by the women, each ones different shape immediately tells you which region they come from—down to their village. I tried many, they all looked ridiculous on me, but incredible on the locals. Wandering through Cusco we spotted lots of women and children with their alpacas and llamas, they were happy to take a photo with us, and the llamas were a lot better behaved than I remembered from my Tintins! Cusco feels like a treasure map with hidden alleys, squares and winding path- ways. The highlight of our 24 hours in Cusco was our stunning hotel—The Belmond Monasterio. Entering through an ancient archway into the stone hall of the 16th century monastery which this sumptuous hotel now occupies, one encounters the striking inner courtyard with its 300 year old Cedar tree— the oldest in the region, and a tinkling fountain around which are beautifully laid out gardens and a perfect restaurant. The hotel itself is akin to a museum with its collection of old Cusco school artworks, striking altarpieces, arcaded walkways and a bar in the monks reading room with soaring ceilings, a roaring fireplace and massive iron windows. It is the perfect spot from which to explore Cusco, right in the center of town but hidden away like a private home. My only regret is that we didn't stay longer but we were heading on a three day journey aboard the Belmond Andean explorer train into the Peruvian Highlands and at promptly 11 am the next morning we boarded this beauty. It is a luxury sleeper train with the plushest cabins and suites, two restaurants, a piano bar car, an observation car and the kindest most gracious and knowledgeable staff I have ever met. It was service at its highest standards, and there is no better way to see the Andes and Highlands than from the train. We slowly left the station at Cusco with our final destination of Arequipa 3 days away, seen off in grand style by traditional Peruvian dancers. Each cabin is decorated with beautiful Peruvian textiles, and the small details like the iron work on the knobs that match the door handles of the ancient palace in Arequipa, or tassels hanging from windows woven by local alpaca farmers is what marks this as something beyond the usual luxury train experience. The wonder of sitting in bed and watching the country go by through the massive windows of the cabin, of tasting delicious food pre- pared by fantastic chefs as we moved through the mountains, of getting to know ones fellow passengers while nursing a pre dinner champagne or an after dinner whisky in the piano bar, of being rocked to sleep in my heavenly bed in my cozy cabin by the motion of a slowly moving train was an experience I have never had. We climbed for hours and just as dusk was enveloping the snow capped Andes we stopped at a remote spot 3800 meters up at a small whitewashed church and dis- embarked to take in the magnificent view and were greeted by a small group of alpaca farmers who live some miles away and had come to show us their wares. Alpacas are related to Llamas but noticeably smaller and they have the softest wool and fur...they are also incredibly cute and live only above 3800 meters, so it was a treat to see them in their natural habitat. Moving on we were docking for the night near Lake Titicaca, which is a wondrous sight to behold. It is the largest lake in South America and is home to the moveable floating islands of Uros, which are floating man made islands made of local reeds.
The floating islands of the Uros
Entire populations live on these islands, and the excitement amongst us passengers was palpable...we were to wake at sunrise for a view over the lake and then after our 6 course breakfast leave the train for a portion of the day to take the reed boats to these islands, meet the inhabitants and have lunch with them. I awoke as the sun arose at 5am, and stepped off the train to view the most incredible sunrise over the massive lake. It was the highest point of our journey at almost 5000 meters and even though there was a chill in the air, we all stood and watched the sun rise, and the moon wane and it felt like we were at the top of the world with not a sound for miles and miles. A truly magical moment, and worth the entire journey—except that there were so many more such moments during those three days on the train. Peru is home to many volcanoes, but the grandest amongst them is the Misti... we spotted it in the distance from our train frequently as we sped through the vast mountains that felt like a lunar land- scape at times and a lush green paradise at others. There are no hotels or places to stay at these heights—just vast expanses of sky and mountains and volcanoes and small Inca villages...the only way to be part of it is to move through it on these tracks that cut through gorges and race over rivers and climb over gigantic peaks while ensconced in our cozy cabin. There was not one guest who didn't mark this as the experience of a life- time and they ranged from families with teenagers, to couples taking some time together to grandparents on a big trip...there was something for everyone and in fact it would not be an exaggerating to say everyone loved everything.... After 3 days we all felt like a convivial family, and that included the crew who were the quintessence of the Belmond service, impeccable friendly and warm. Disembarking in Arequipa with great sorrow, [if only we could have stayed another few days on the train] we headed back to Lima and New York. I was buoyed by the fact that there was still so much to see on my next visit... we hadn't seen Machu Pichu nor the Colca Canyon [home of the great Peruvian condor] and that is something to savour on our next visit!
A trip of a lifetime, to be repeated!

TEXT Rymn Massand