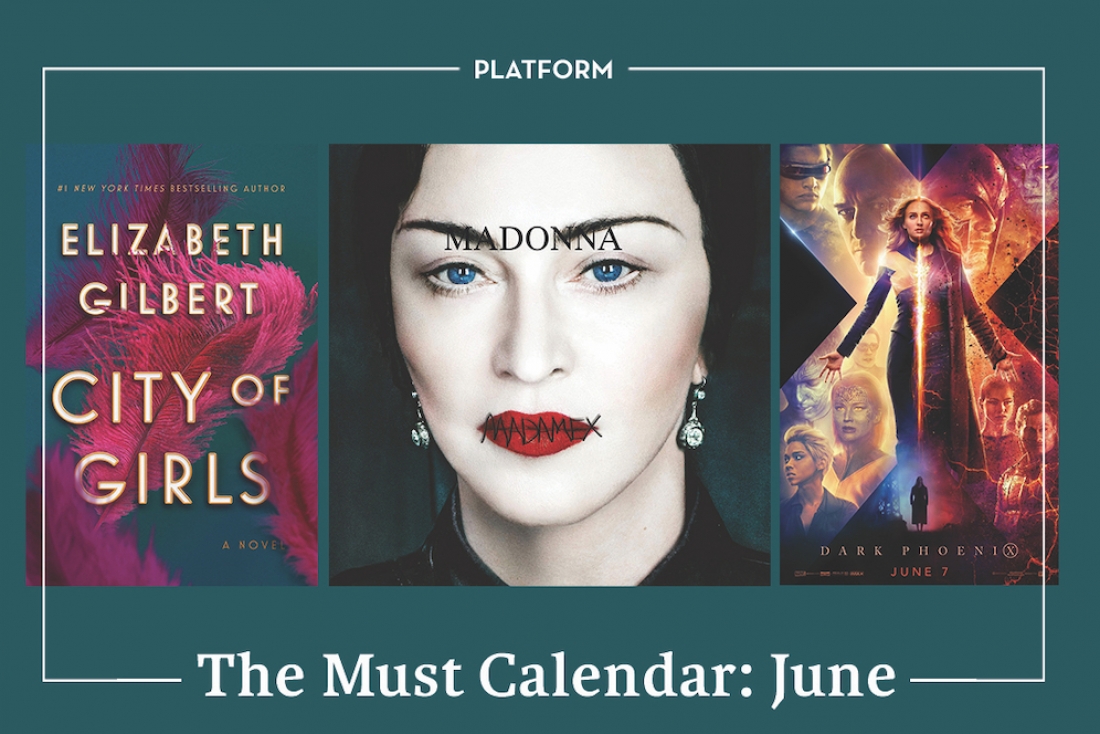 Everything you MUST do this June. The definitive Platform calendar.
Must Read:
City of Girls by Elizabeth Gilbert
Beloved author Elizabeth Gilbert (who wrote Eat, Pray, Love) returns to fiction with a unique love story set in the New York City theater world during the 1940s. Told from the perspective of an older woman as she looks back on her youth with both pleasure and regret (but mostly pleasure), City of Girls explores themes of female sexuality and promiscuity, as well as the idiosyncrasies of true love.
Release Date: June 4
On Earth We're Briefly Gorgeous by Ocean Vuong
Poet Ocean Vuong's debut novel is a shattering portrait of a family, a first love, and the redemptive power of storytelling. On Earth We're Briefly Gorgeous is a letter from a son to a mother who cannot read. Written when the speaker, Little Dog, is in his late twenties, the letter unearths a family's history that began before he was born — a history whose epicenter is rooted in Vietnam — and serves as a doorway into parts of his life his mother has never known, all of it leading to an unforgettable revelation.
Release Date: June 4
Gun Island by Amitav Ghosh
Bundook. Gun. A common word, but one that turns Deen Datta's world upside down.A dealer of rare books, Deen is used to a quiet life spent indoors, but as his once-solid beliefs begin to shift, he is forced to set out on an extraordinary journey; one that takes him from India to Los Angeles and Venice via a tangled route through the memories and experiences of those he meets along the way. Amitav Ghosh's Gun Island is a beautifully realized novel that effortlessly spans space and time. It is the story of a world on the brink, of increasing displacement and unstoppable transition. But it is also a story of hope, of a man whose faith in the world and the future is restored by two remarkable women.
Release Date: June 6

My Seditious Heart: Collected Non-fiction by Arundhati Roy
Twenty years, a thousand pages, and now a single beautiful edition of Arundhati Roy's complete nonfiction.Radical and superbly readable, the essays speak in a voice of unique spirit, marked by compassion, clarity, and courage. Roy offers a powerful defense of the collective, of the individual, and of the land, in the face of the destructive logic of financial, social, religious, military, and governmental elites.
Release Date: June 11
The Carpet Weaver by Nemat Sadat
Afghanistan, 1977. Kanishka Nurzada, the son of a leading carpet seller, falls in love with his friend Maihan, with whom he shares his first kiss at the age of sixteen. Their romance must be kept secret in a nation where the death penalty is meted out to those deemed to be kuni, a derogatory term for gay men. And when war comes to Afghanistan, it brings even greater challenges-and danger-for the two lovers.From the cultural melting pot of Kabul to the horrors of an internment camp in Pakistan, Kanishka's arduous journey finally takes him to the USA in the desperate search for a place to call home-and the fervent hope of reuniting with his beloved Maihan. But destiny seems to have different plans in store for him.Intimate and powerful, The Carpet Weaver is a sweeping tale of a young gay man's struggle to come of age and find love in the face of brutal persecution.
Release Date: June 25
Bullet-proof: A Journalist's Notebook on Reporting Conflict by Teresa Rehman
A first-of-its-kind account, Bulletproof is the story of a female combat journalist and her encounters with insurgency from north-east India. Going beyond mere statistics, of deaths and arms recovered, and other documentary evidence, it shows us how conflict impacts women, children, health, environment, sanitation, wildlife and society. This book is a collection of rare human stories from one of the most under-reported regions in the world.
The Unlikely Adventures of the Shergill Sisters by Balli Kaur Jaswal
British-born Punjabi sisters Rajni, Jezmeen and Shirina have never been close, so when their dying mother instructs them to go on a pilgrimage across India to carry out her final wishes, the sisters are forced together like never before. A moving and delightful novel about family from the author of Erotic Stories for Punjabi Widows.
Must Watch
Bharat
Bharat is an upcoming Indian Hindi-language period drama film written and directed by Ali Abbas Zafar. The film stars Salman Khan, Katrina Kaif, Tabu, Disha Patani and Jackie Shroff. Bharat is based on the South Korean melodrama Ode to My Father (2014), which traces the history of South Korea parallel to a man's life, spanning from the 1950s to the 2010s. During the Partition of India in 1947, Bharat's father stays back in present-day Pakistan and makes his eight-year-old son promise to lead the household and keep the family together, no matter what. Bharat's life over a period of 60 years, from 18 to 70 years of age, traces India's post-independence history.
Release Date: June 5

Big Little Lies Season 2
The Nicole Kidman, Reese Witherspoon, Shailene Woodley starrer gets a reboot with a brilliant addition of Meryl Streep. This seasonn picks up after the murder that shattered the lives of Madeline, Celeste and Jane, a trio of wealthy young women in Monterey, California.
Release Date: 9th June

Black Mirror Season 5
Netflix's popular and edgy science fiction anthology series is back with three episodes, this time with the addition of Miley Cyrus in one of the episodes.
Release Date: June 5

Leila
Leila is an upcoming Indian dystopian drama web television series directed by Deepa Mehta, Shanker Raman and Pawan Kumar. Based on the 2017 eponymous novel by Prayaag Akbar, Leila follows the story of Shalini, who tries to find her missing daughter in a totalitarian region in near future. Written by Urmi Juvekar, it will star Huma Qureshi, Siddharth, Rahul Khanna, Sanjay Suri and Arif Zakaria. The six-episode series will premiere on 14 June, 2019 on Netflix.

Article 15
Article 15 is an upcoming Indian Hindi-language police procedural film directed by Anubhav Sinha and stars Ayushmann Khurrana, Isha Talwar, Sayani Gupta, Kumud Mishra and Manoj Pahwa. The film is based on Article 15 of the Indian Constitution, which prohibits discrimination on grounds of religion, race, caste, sex or place of birth.Article 15 takes inspiration from true life events.[3] Ayushmann Khurrana the protagonist, is playing a police officer in the film.
Release Date: June 28
99 Songs
99 Songs is an upcoming Indian Hindi romantic musical film directed by Vishwesh Krishnamoorthy. The film stars Ehan Bhat and Edilsy Vargas in the lead roles. The film is co-written and produced by A. R. Rahman, who thus makes his debut in both roles. He also composed the original score and songs. The film is a sensual story about art and self-discovery of a struggling singer who wants to be a successful music composer.
Release Date: June 21
Dark Phoenix
Dark Phoenix (also known as X-Men: Dark Phoenix) is an upcoming American superhero film based on the Marvel Comics X-Men characters. It is the twelfth installment in the X-Men film series, a direct sequel to X-Men: Apocalypse and the seventh and final installment in the main X-Men series. The film is written and directed by Simon Kinberg, and stars an ensemble cast featuring James McAvoy, Michael Fassbender, Jennifer Lawrence, Nicholas Hoult, Sophie Turner, Tye Sheridan, Alexandra Shipp and Jessica Chastain. In Dark Phoenix, the X-Men must face the full power of the Phoenix after a mission goes wrong.
Release Date: June 7
Late Night
Late Night is an American comedy-drama film directed by Nisha Ganatra from a screenplay by Mindy Kaling. It stars Emma Thompson, Kaling, Max Casella, Hugh Dancy, John Lithgow, Denis O'Hare, Reid Scott, and Amy Ryan. The plot follows the host of a late-night talk show who teams up with one of her new staff writers in an attempt to save the show.
Release Date: June 7
Yesterday
Yesterday is an upcoming British comedy film directed by Danny Boyle and written by Richard Curtis, from a story by Jack Barth and Curtis. The film stars Himesh Patel as a musician who, after an accident, finds himself in another world where he is the only person who remembers The Beatles, and becomes famous taking credit for writing and performing their songs. Lily James, Kate McKinnon, and Ed Sheeran also star.
Release Date: June 28
Must Listen
Poetry Ceylon by Ditty
Poetry Ceylon is Ditty's debut album, who is an urban ecologist by day and a musician by night. Inspired by the natural world and people on the island of Sri Lanka, Poetry Ceylon, is an earthy, eclectic and experimental journey of music, offering the listener an invitation to feel all that is beautiful and heart wrenching about being human.
Bismillah by Peter Car Recording Co.
Peter Cat Recording Co's music draws one into a trance that is hard to escape. Their work is an experiment across genres from retro jazz blues club to vintage Indian ballroom; it is vibrant, leaving one with a sense of odd comfort with its blend of myriad instrumental notes and lyrics that come from a place of yearning. They are set to release their album Bismillah this month.

Happiness Begins by Jonas Brothers
Happiness Begins is the upcoming fifth studio album by the Jonas Brothers, and their first album since 2013's Live, and first studio album since 2009's Lines, Vines and Trying Times.In writing and recording for the album, the brothers said that they wanted a "new and improved sound" with "feel-good tracks". Billboard described the resulting sound as containing "hints of everything from '80s new wave to reggae to country"
Western Stars by Bruce Springsteen
The album marks Springsteen's first new studio album of completely original material since Wrecking Ball, as well as his first solo album since 2005's Devils & Dust. Upon announcing the album in April 2019, he called it "a return to my solo recordings featuring character-driven songs and sweeping, cinematic orchestral arrangements", with a press release characterizing it as about a "range of American themes, of highways and desert spaces, of isolation and community and the permanence of home and hope".
Madame X by Madonna
Madame X is Madonna's fourteenth studio album. Madonna was given the name of the album at the age of 19 by her then dance teacher Martha Graham. Graham rebranded her saying "I'm going to give you a new name: Madame X. Every day, you come to school and I don't recognize you. Every day, you change your identity. You're a mystery to me." Madonna said that, 'Madame X is a secret agent. Traveling around the world. Changing identities. Fighting for freedom. Bringing light to dark places. She is a dancer. A professor. A head of state. A housekeeper. An equestrian. A prisoner. A student. A mother. A child. A teacher. A nun. A singer. A saint. A whore. A spy in the house of love. I am Madame X.'