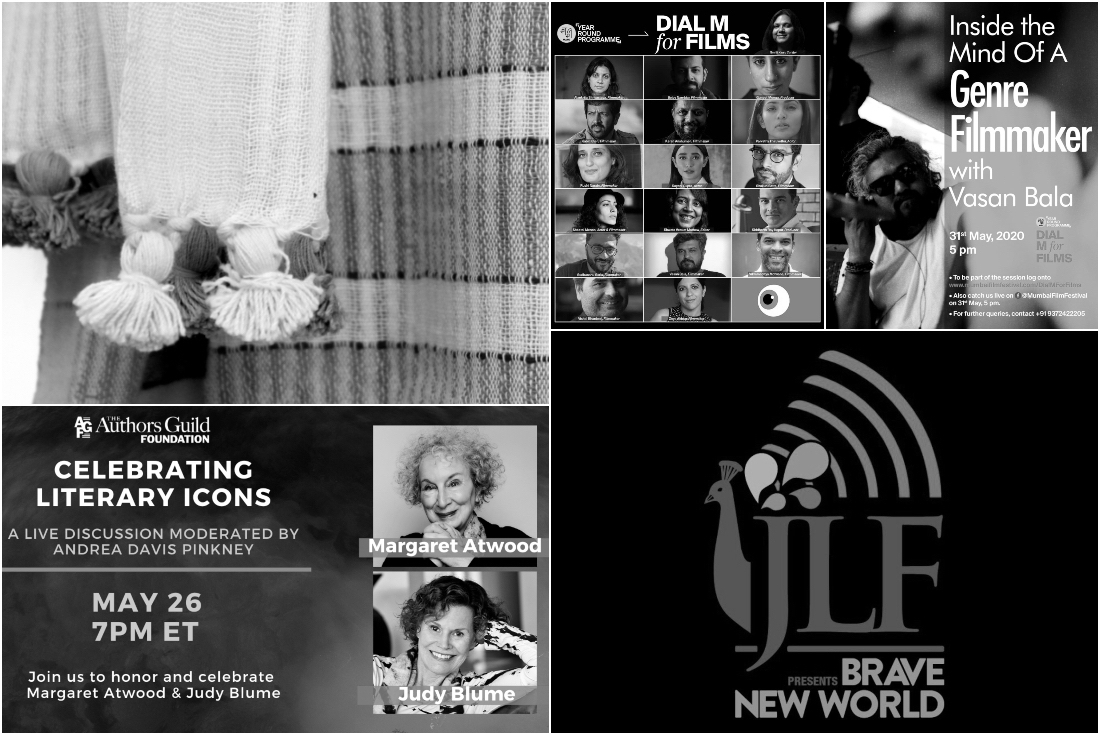 We're just as bored sitting at home as you are but don't worry Team Platform has you covered. We have curated a list of events you can attend sitting at home just at the click of a button. Presenting the Virtual Edit:

Margaret Atwood and Judy Blume Live In Conversation
Authors Guild Foundation's virtual event, celebrates these literary icons as 2020 Honorees for Distinguished Service to the Literary Community. In this time of crisis, Authors Guild Foundation is honoring these two authors, who have prevailed against censorship, fought for the literary community, and demonstrated the power of a great book. Each in her own unique way, Margaret Atwood and Judy Blume have transformed the way we see books and the way we see ourselves. Award-winning author Andrea Davis Pinkney will moderate a live discussion with Margaret and Judy, with appearances by special guest.
Where: Register to attend the event via this link: https://www.crowdcast.io/e/AGResponseFundCelebration/register
When: Tuesday, May 26, 2020, 7:00 PM ET.
JLF Brave New World
The iconic Jaipur Literature Festival's literary series is a virtual initiative to celebrate books, their power and positivity during the nationwide 21-day coronavirus lockdown. The week's line up includes Erling Kagge in conversation with Asne Seirstad, Supriya Gandhi in conversation with Ira Mukhoty, Laura Cummings in conversation with Raghu Karnad, Madhuri Vijay in conversation with Mita Kapur, Asma Khan in conversation with Rakhshanda Jalil and Zanny Minton Beddoes in conversation with Mihir S. Sharma.
Where: Across Jaipur Literature Festival's social media platforms
When: On the 27th, 30th and 31st of this week, two sessions per day, 7:30 pm IST onwards.
Inside the Mind of a Genre Filmmaker with Vasan Bala
Get answers to all your questions about genre films. The process, the craft, the sensibility:
Inside the Mind of A Genre Filmmaker with Vasan Bala
is the first film session in the knowledge series,
Dial M for Films
, curated by MAMI Festival Director Smriti Kiran, as part of the
MAMI Year Round Program.
Where
:
http://www.mumbaifilmfestival.com/DialMForFilms
When
: On 31st May, 5 p.m. IST

Working with Artisans: Nivedita Rai
As a part of the SUSS Hangouts: The Future of Fashion series, Nivedita Rai, Head of Gudi Mudi at Women Weave will discuss in depth, the technicalities and realities of working with artisans for a sustainable future of fashion.
Where: Instagram Live at @aboutsuss
When: On 30th May, 8-8:30 pm IST

Pause in a Flicker by Tanya Goel
Tanya Goel is a painter whose work is deeply involved with the science of color, the mechanics of optics, and an analytical approach to Modernism, both within the arts and how it has particularly impacted the fabric of her home city, the capital of India, New Delhi. Her new series of works is available on Nature Morte's virtual Viewing Room.
Where: https://viewingroom.naturemorte.com/tanyagoel
When: 21st May to 21st June 2020