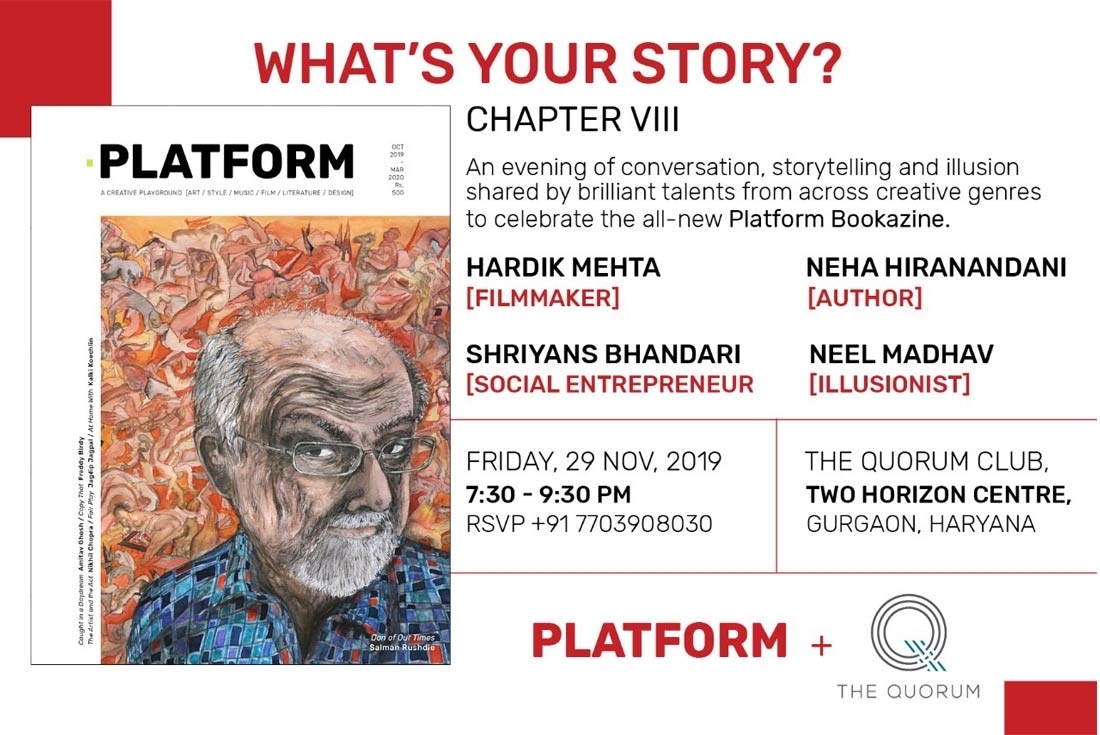 What's your Story?
Chapter VIII
To celebrate the all-new Platform Bookazine, we're getting together some brilliant, creative minds to share their story. Scheduled for this Friday, What's your Story, Chapter VIII, is an evening of conversations, storytelling and illusion shared by excellent talent from across creative genres.
Four diverse artistic individuals share their story…

The Storytellers
Hardik Mehta [Filmmaker]
From winning a National Award for his documentary film, Amdavad Ma Famous, to working on his first big budget Bollywood commercial film, Rooh Afza, Hardik Mehta has made a big leap. During this time, he has co-written movies like Trapped and The Affair, of which the latter he also directed, and has also made his directorial debut as a feature filmmaker through his film Kaamyaab, which premiered at Busan Film Festival last year. Hardik's outstanding skills as a filmmaker might make it seem like he was planning to be a filmmaker since ever since he was a child but such is not the case. It was only after he completed his degree in Engineering that he ventured into the world of advertising which finally led him to filmmaking. Kaamyaab, is set to release commercially by the end of this year and his next film Rooh Afza, starring Rajkummar Rao and Janhvi Kapoor, is set to release early 2020.
Shriyans Bhandari [Social Entrepreneur]
The brains behind Greensole, Shriyans Bhandari is essentially from Udaipur. Greensole is a PETA approved, Mumbai-based social enterprise that takes used sneakers which would otherwise end up in a landfill, and refurbishes them into sandals that get donated to hundreds of thousands of under-privileged kids in India. He has spoken at various environmental and entrepreneurship forums including the ones at Harvard Kennedy School, Babson College, MIT, Wharton and TEDx Youth WASO, Dubai. Shriyans is passionate about his vision of bridging the social, economic and environmental gap through Greensole.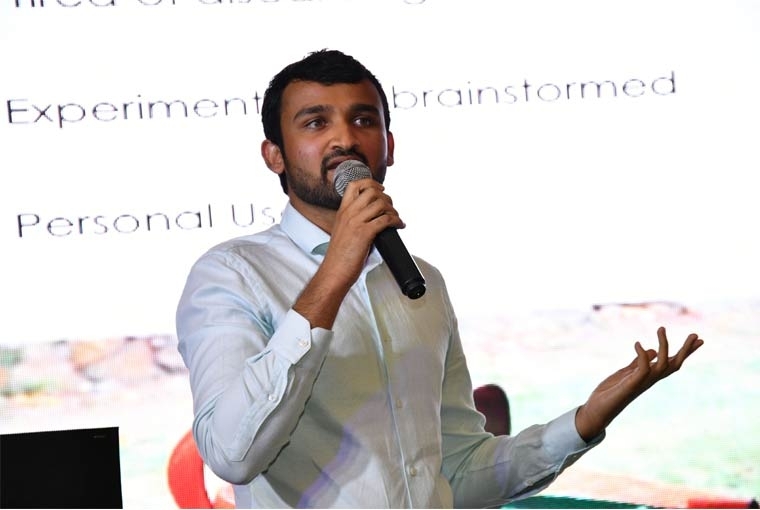 Neha Hiranandani [Author]
Essentially a writer, Neha Hiranandani worked in healthcare in Boston, after her graduation from Wellesley, for a short period of time till she realized that she was more interested in education instead. To get a better understanding of it she went to Harvard and did her Masters in Education. After that an internship with UNICEF drew her to India. One thing led to another and she began writing for publications like Indian Express, Huffington post and NDTV. Her writing is witty, meaningful, fun and makes you think. Neha's first book titled Girl Power is now available on stands.
Neel Madhav [Illusionist]
An Author, Mentalist, Illusionist and TEDx speaker, Neel Madhav recently made it to Forbes Asia 30 under 30 list for his contribution in sports and entertainment. His tricks include a combination of magic with mentalism, neuro-linguistic programming, and criminology.
Entry is by invite only. Please write to us if you wish to attend it.
Where: The Quorum Club, Two Horizon Centre
When: Friday, 29th Nov, 7:30-9:30