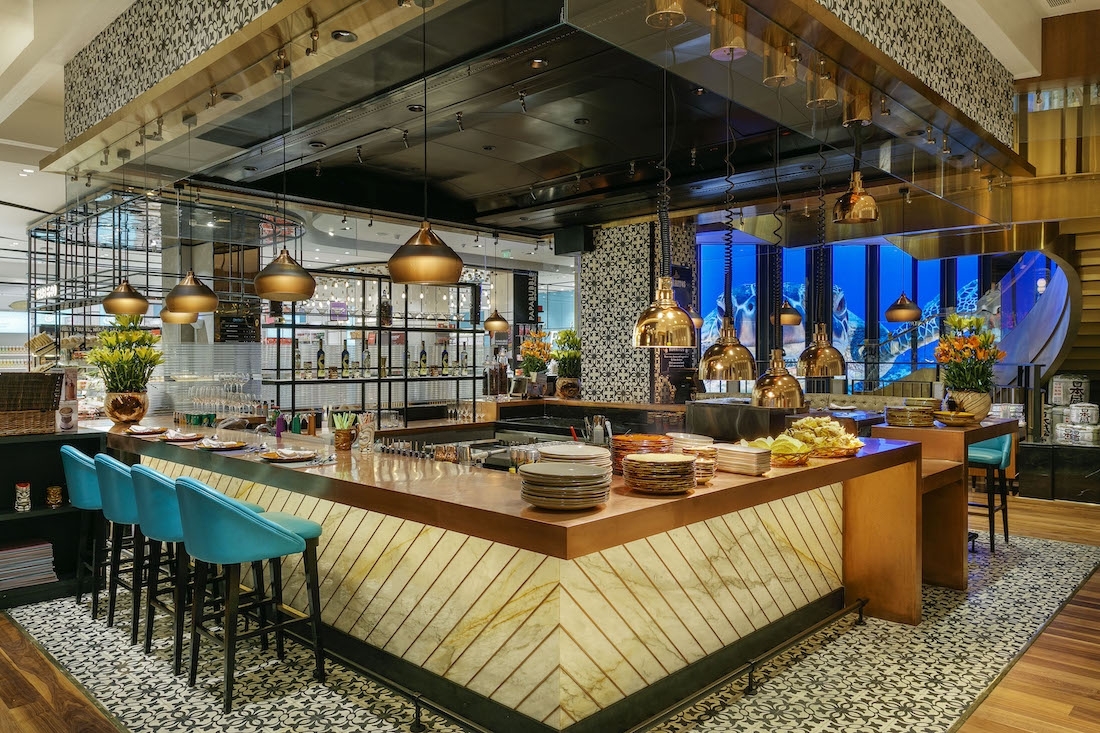 MKT - New Delhi, India
MKT is a space that is elevating the foodcourt experience in myriad ways. With interiors designed by award-winning designer David Rockwell, MKT is divided into stylish, interactive live kitchens surrounded by a semi-formal seating arrangement. The scrumptious selection spread across 17 cuisines from across the world, is a delight. Our personal favourites include the Kokum cooler—a refreshing summer drink, Yasai Maki from the choice of sushi, and the Belgium Nutella Chocolate among desserts. The immersive experience of viewing the preparation of the dishes at the live kitchen is another plus. Another unique feature of the place is the adjacent Foodhall that offers one of the largest gourmet food retail experiences in the city, complete with a live candy station, more than a 100 cheeses and the freshest sea-food with a live lobster tank. 'The idea is to provide visitors with a place where they can both enjoy delicacies from around the world and can also buy the ingredients to re-create the delicacies back at home,' says Dinaz Madhukar, Executive Vice President, DLF Luxury, Retail and Hospitality.
Urbanspace - Vanderbilt, New York
A stone's throw from the Grand Central Terminal, Urbanspace Vanderbilt brings over 20 artisanal and chef-driven food con- cepts to the heart of Midtown Manhattan. As a year-round culinary destination, Urbanspace Vanderbilt has quickly become one of New York's most buzzed about gourmet foodcourts or foodhalls, featuring an unbeatable selection of rotating concepts inside a truly iconic New York space. The 12,000-square-foot food hall occupies the ground floor of a tower at 230 Park Avenue and brings together a well curated selection of food vendors. Mouth-watering options abound at this foodhall as you mean- der through a lively labyrinth of diverse flavours, shake hands with local chefs, and choose from innovative vendors. Whether it's a silky cappuccino from Toby's Estate paired with a melt-in-your mouth cookie from Ovenly, or a world-famous brick-oven pizza from Roberta's, the place will match your culinary expectations in the best way possible. Other notable vendors includeMimi's Hummus, Delaney Chicken, BrisketTown's, Daniel Delaney's fried-chicken concept; an outpost of Dough; Greenpoint bak- ery Ovenly; Kuro-Obi by Ippudo; and a second location of Nolita gelato shop A.B. Biagi.
Mathallen Foodhall - Oslo, Norway
Mathallen Oslo is inspired by the great European food courts and boasts of itself as an indoor food market with more than 30 specialty shops, cafe%u0301s and eateries that offer high-quality products from Norwegian small-scale producers as well as special foreign imports. The gourmet foodcourt is brimming with not just luxurious restaurants that offer delectable dishes suited for all types of tastebuds, but also offers a gourmet market with fish, meat, vegetables, baked goods, coffee—everything brought to the consumers by the best suppliers and distributors of Norway, as well as some imported products that is often visited by some of the most celebrated professional chefs of Oslo. Mathallen Oslo is the place to go for everyone who appreciates gourmet food and drink experience in both a retail and eating environment. It is a one stop culinary destination for everyone looking for something unique and high-quality. Throughout the year, they are also a venue for different festivals and events celebrating food, drink and good experiences. The place welcomes everyone to taste, shop, drink, to share knowledge and experiences and to find inspiration.

Text Nidhi Verma