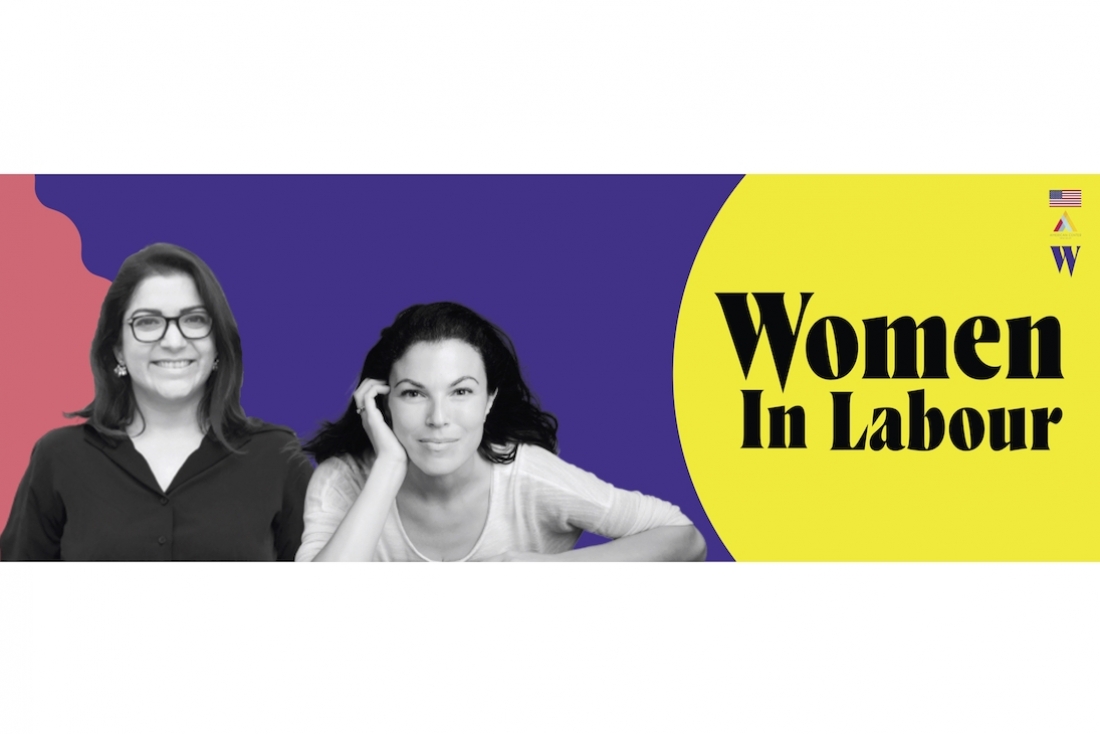 L: Aditi Mittal; R: Christina MacGillivray
In the past few years, our country has seen an unflinching rise in the number of women in the workplace, or so we'd like to believe. While more and more glass ceilings are being shattered, data and statistics seem to suggest that the rate of women participating in the workforce has seen a decline. There is certainly a need to look more closely into the politics and power dynamics that imbue the presence of women in various work sectors today.
Born out of this need, Women in Labour is a podcast that has emerged recently to champion such a subject. The podcast is co-hosted by comedian Aditi Mittal and filmmaker Christina MacGillivray and is a freewheeling, no-holds-barred conversation looking at India's relationship to its working women. Each episode features guests from different sectors, including journalists, filmmakers, IAS officers, social scientists, economists, policy influencers, entrepreneurs and opinion-makers, with compelling stories and insights. We connected with Christina and Aditi to know more about the podcast and its implications in our present reality.
What brought you to producing podcasts?
Christina MacGillivray: I've always been an audio nerd – I am that person who recommends podcasts to people who don't even listen to podcasts. While I've been producing video for around 12 years, there is something very liberating about audio. Without the cameras and the light set-up, I think people who are being interviewed feel less encumbered, less self-conscious and are able to express themselves more. I love the intimacy and honesty of it.
How did the two of you come together and what led to the creation of Women in Labour?
Christina: Laura Quinn (Co-Executive Producer) and I have both lived in India for an average of ten years and ran businesses in Delhi. In the summer of 2018, I first read about the rapidly falling rate of women participating in the workforce. At the time it had fallen from around 34% in 2005 to 24% in 2017 (it's fallen further now in 2020). When I asked friends, colleagues — and basically anyone sitting next to me anywhere — everyone was in disbelief that this drop was occurring. I think this is because anecdotally we see women working and the media often celebrates women who are the first in any profession, which gives the impression that women have shattered all glass ceilings.
There was something very interesting to explore in this grey area between what the data was telling us – and the fact that most people didn't believe this was happening. This question is in many ways a jumping off point for diverse discussions around the many things tied to women and work: public spaces, unpaid care, power dynamics in the home and outside the home, and many other topics. We also wanted to open these discussions to a wider audience, beyond say – labour economists, academics and people who are already tracking it.
Comedy is a great tool to welcome people to the discussion who might not otherwise actively seek out the issue. It provides a great entry point to a topic and is an amazing way to untangle extremely thorny subjects. In the summer of 2019, we reached out directly to Aditi to discuss it. She has been an amazing Co-Executive Producer and Co-Host. She's helped map out the guests from the start and keeps the discussion funny, bright and super engaging. She brings great candour to the conversation.
Aditi Mittal: A friendship between me and Christina started in a very unlikely place, which was the Facebook 'others' folder. I got a message one day from an account asking me if I wanted to talk about women at work. I just thought someone was trying to mock me and hence, I ignored the message. Then a week later, there was an e-mail in my inbox, from a person with the same display picture as the Facebook chat, asking if I wanted to talk about women at work. Then I realised, it was somebody serious and we started talking about it, leading to Women in Labour. One of my favourite stories on this subject is how Christina suggested that I host the show, but with another journalist. I reverted asking why not her? She hadn't thought about it because she did not think she was in a position to talk about this. However, she is an expert on the subject! It was one of my favourite conversations. I'm glad it worked out!
What is your curatorial process like behind selecting the guests you feature through the podcast?
Christina: When we began the series we thought of it almost as an investigation into why this was happening. We mapped out a series of questions we had: Is it education? Is it marriage? Is it motherhood? Is it how our public spaces are designed? Is it the voice inside your head? Is it unpaid care work? Is it the stories we tell? We narrowed it down to ten of these questions. Next we thought: if we could hear anyone explain this to us who would it be? We wanted to balance this with women discussing their own real experiences related to the issues in the podcast. These personal narratives are an amazing, honest and compelling addition to the series.
Aditi: While I am sure that Cristina and Laura had their own selection process, the people that I definitely wanted as a part of the podcasts were those who have been working in the space of women and labour for a while. We wanted people who knew the subject on an organisational and personal level — who could help us understand both the micro and macro factors keeping women away from the workforce. I wanted to give a platform to voices that have been working tirelessly but it was not widely shared and talked about.
These are unusually challenging times, how has the pandemic affected you and the conversations on the podcast?
Christina: The lockdown has impacted so many people in so many ways. We wrapped up production right before the lockdown went into place – and for that we are grateful purely from a production logistics point of view. However, I think a key issue to examine here is the impact Covid-19 will have on women and work. In a public health crisis, often women are expected to pick-up additional unpaid care work: taking care of children if schools are closed, caring for family members who have fallen ill, and picking up the slack for paid care services that are not available — including caring for older folks and other unpaid work.
At the same time when the economy contracts, which we all know is coming, women are usually the first to lose jobs. So we are going to face a challenging year. Yet at the same time, we have a unique period where both men and women are at home. This provides an opportunity for men to help out with unpaid care work: cooking, caregiving, cleaning and other work at home. While this is not a solution for everything — it is a unique opportunity to rebalance the share of the workload. Now the challenge is to continue this going forward when the lockdown lifts.
Aditi: The conversations we had on the podcasts have now taken on a real time significance. For example, the conversation on women's 'invisible work' has taken on a deeper significance as we see an intensification of normal life. Mothers are trying to juggle working from home with the added responsibility of homeschooling ,along with the usual household work. On the positive, the discussion of men shouldering domestic work in the household has come to the forefront. We're also taking a hard look at domestic abuse and intimate partner violence, which is a crisis within the larger crisis of the pandemic. We had talked about these issues in our podcast and it is going to be interesting to see the conversations that develop on these subjects in a post Covid-19 world.
What do you hope the listeners take away from the podcast?
Christina: We've been extremely blessed with the warm response and support we have received from the incredible guests on the podcast. I know the entire team is grateful for this support. Our hope with WIL is to help us understand that so many of our experiences are universal – and through this we can also help come to solutions. I love receiving messages from listeners who have said things like: I thought I was completely alone in feeling this way – and now I can see this is a much broader experience, or, I wasn't going to apply for this job because I felt under confident –after listening to this episode I am definitely going to go for it. These kinds of listener responses are what drive us. Further, we started with the aim to get the issues surrounding women dropping out of the workforce on women's agendas who otherwise didn't know about it and provide a platform to exchange diverse ideas about it – this continues to be our overarching goal.
Individually, how are you coping with the pandemic and what will be the normal for you post ?
Christina: My new hobby is cheese. Cheese and podcast post production.
Aditi: The pandemic has affected my work quite significantly and like everyone else, I'm now home all the time. My job is going out and talking to people at shows. I am experiencing a change in the way I make my income over this pandemic. I'm very blessed to live in a household where my mother doesn't like my cooking, and so she's taken on that responsibility, so I am left with the cleaning and making chai (tea), which I'm happy to do! Like everyone else, I don't know what the new normal will be for me. I'm hoping to go back to work, with packed audiences, but I doubt we'll immediately be going back to that. It's all unpredictable at the moment.
Lastly, what are you working on next?
Christina: It's a really exciting time for podcasts in India. I think we are going to see an amazing diversity of audio content in the next couple of years – and that's thrilling to see (again –audio nerd). We are looking forward to what is next for Women in Labour: we are grateful for the wonderful response we have received thus far in Season 1. It's been very encouraging to understand that there is a strong audience for these discussions. We are in the works for planning what is next.
Aditi: I am currently working on my trip to the US. The next thing I have is the Netflix Joke Festival, which is happening in LA in September and I'm really looking forward to it. I am also going to be a part of Saregama Caravan's stage adaptation of Disco Dancer, based on the classic 1980's film. These are the two things that I am working on. I really hope that as this lockdown lifts, humanity discovers its gregarious side again. Hopefully we will be able to hang out with each other again soon. Someone discover the damn vaccine, please!
You can listen to the podcast here: https://www.womeninlabour.com/podcast
Text Nidhi Verma