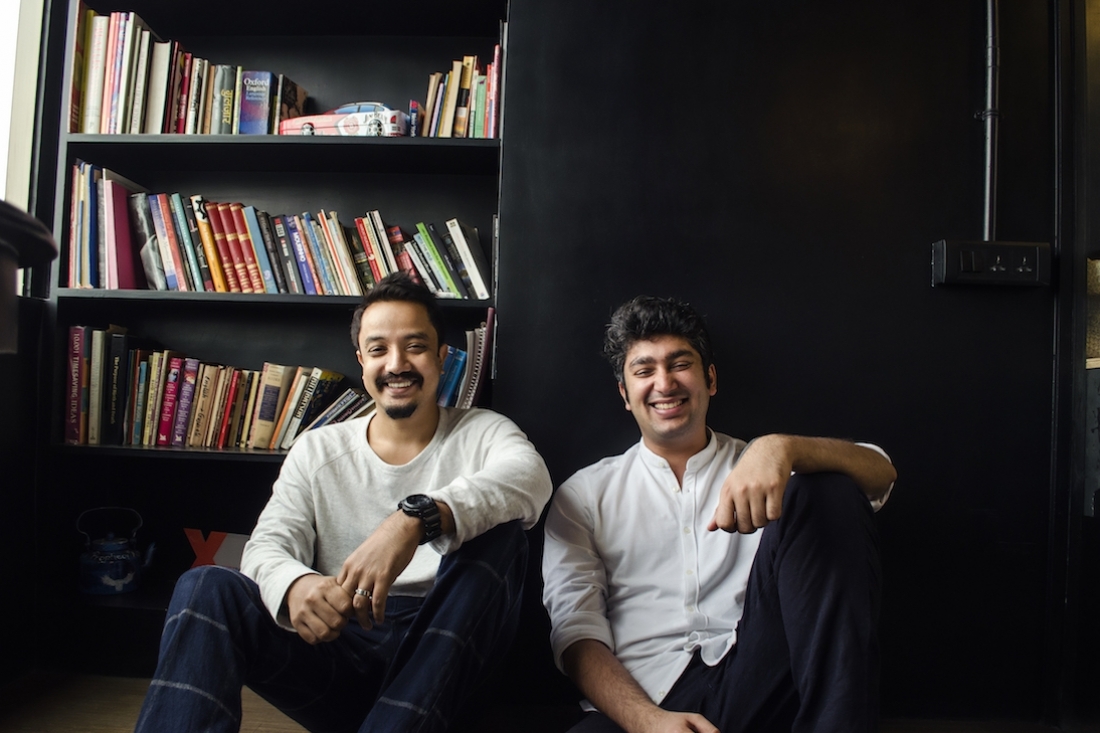 PROFILE OF THE WEEK
ANUJ GOSALIA & CHINTAN RUPAREL
Anuj Gosalia and Chintan Ruparel
Terribly Tiny Tales
WIth brevity as their trademark and championing the micro fiction genre of writing, Terribly Tiny Tales has emerged to be one of the most celebrated and sought after platforms for the new voices to express themselves through. After taking over the digital medium through their social media pages, website and app, TTT is now all set to take over the print medium through the release of their new book, in collaboration with Penguin Random House called, Ninety-Seven Poems. This is the second book released by the storytelling collective in collaboration with the same publishing house which has now become one of the most popular anthologies in the print market. In a conversation with us, the co-founders of TTT, Anuj Gosalia and Chintan Ruparel tell us about their journeys so far and what is next for their company.

Lets start from the very beginning, how and when did TTT take birth and how did the two of you come together for it?
A tale of two births
Terribly Tiny Tales had two births, both just a year apart. The first as a Facebook page and the second, as a company built around a community.
Anuj's journey (birth)
After having tasted the startup life as part of the early team at Sequoia-funded, What's On India (led by media veteran - Atul Phadnis), Anuj Gosalia - a Narsee Monjee alumnus launched his first venture Bechain Nagri - an online platform for artists to sell t-shirts, sketchbooks, and other products. After building a cult community in over 12 cities, things didn't eventually go as planned. He was quick to learn from the experience and moved on to birth Not Like That - a storytelling agency, from where he launched Terribly Tiny Tales as a Facebook page in the summer of 2013 with a handful of writers who could weave tales under 140 characters. One among them was Chintan Ruparel.
Chintan's journey (rebirth)
After 7 years in mainline advertising as a copywriter, having won several local and international awards on campaigns for brands like The Times of India, Bharti Airtel, Pepsico, Tata Sky and so on from agencies like Ogilvy and Taproot India; He decided to call it quits, and travelled alone across the country for months. Once back (in 2014), and having turned down an offer from Google India to be their brand custodian, he became co-founder to his friend, fellow writer and traveller who accompanied him to one of his trips to Ladakh - Anuj - to take TTT ahead together as a company, and build a business around a community that enjoyed reading and writing in short.
The journey together
After 10000 published curated tales across social media, 75000 writers across the world, 25 short films on YouTube, 9 Filmfare nominations (including one winner), 2 published bestsellers with Penguin India, 100 writing workshops conducted across India, 150 successful brand collaborations and millions of readers reached every day, Anuj (Co-Founder Chief Executive Officer) and Chintan (Co-Founder Chief Content Officer) humbly believe the journey has only just begun.
With the launch of the official TTT app for Android and iOS, the journey takes another turn with the future in sight, enabling thousands of stories to be written every day, with hundreds of writers getting discovered in the process. Anchoring which, is Anshuman Ghosh - ex-IBM London, now Chief Technology Officer at Terribly Tiny Tales.
With multiple offices in Mumbai home to over 30 'enablers' across content, technology, brand solutions, events, films, design and innovation; the journey has just begun!

Talk us through your individual journeys as co-founders of TTT so far, the challenges and the successes.
Chintan:
I didn't study entrepreneurship, and neither do I have a background in starting up. But I think nothing can prepare you for the grind like being on the field day after day. It's been liberating at times to be able to take quick decisions and not get mired in hierarchy, especially for someone like me who relies a lot on gut.
But overall, having come from a desk job, this new phase has been thoroughly thrilling. Unlearning the old way of doing things, getting the right talent and energy on board, giving them enough room to breathe and fly, learning to detach once in a while. Time and again I also ask myself if I'm losing empathy along the way, and that's been a genuine concern. Scale and success bring with it its own set of challenges. I think we need to enjoy it more, communicate the little things, celebrate the wins, continually work on the culture. We need to sit down and work on those things.
Having a calm partner like Anuj and a team that now own their respective domains has been a blessing.
Personally, I need to balance it with my own expression. Make time for the things I love outside of work. Watch what I eat, how I breathe. Inculcate discipline and communicate better.
Anuj:
I think the greatest joy in a start-up is to find a partner who is as, or on many days, even more passionate than you are to toil over an idea, to take it to a bigger and better, a more beautiful place. In my first venture, my partner and I had very different motivations out of the start up. Building a company is no easy thing. It takes years of relentless hustle to take a little germ of an idea and bring it out to life. I'm so grateful I met Chintan on this journey. To share our life's many moments, to have known his family, to have stayed with him on so many days and nights, even when we weren't absolutely sure of what we were building, of where the next monies would come from. Just this adventure with a friend. That's success to me. And to then, in the road ahead, find a fellow comrade in Anshuman who comes from a different world, with an incredible history of academic achievement and software experience. It's added another dimension to our core. Not to mention the team that has owned their piece so beautifully.
But the same success on many days is the challenge too.
I think with time we've stopped having fun because I don't know at what stage this became a "start-up" and not an adventure and I think it's more fun when it's an adventure, it's more fun when a problem is fun to solve and there is enthusiasm to solve the problem and the same team that owns the piece can sometimes bicker about petty things that can make it lose sight of the larger story. There are days when you don't want to wake up and go to work because the adventure is now, a gaping hollow that you don't have any energy to bring to. When a team grows beyond a certain size, you need to align the values and make them see the same thing. It's not as cohesive as when we were 10 people anymore. But imagine if 35 incredibly talented people can run fiercely towards a common purpose. That could change the world. That's what I personally look forward to.

What are your views about social media since it was the platform you used for TTT and where it became so successful. How do you think social media can become more conducive and inclusive in terms of the voices that dominate it?
Chintan:
We were born on Facebook, and that too at a time there weren't many around like us. With the platform continually looking to expand its base and vying for the next billion, it keeps tampering with its algorithm and that ends up affecting organic reach. Around the same time, thankfully, Instagram has been a relief. Regardless, we continue to experiment with storytelling formats and learn from data to create platform-specific strategies. Facebook, for instance, demands we adapt to produce scalable video formats and keep topicality and relatablility at the heart of what we put out there.
Social media will continue to value and make heroes of voices that disproportionately reward people for their time and attention. The only downside is that it will become TV, with ad revenue at the core of its model. The very reason you would avoid television will scream right back at you on your laptop and phone screens with a product window.
I won't be surprised if the next big trend (and potential industry) to emerge out of social media would be institutionalising the preach of how to detach from your phone and find a way out of social media.
Anuj:
Social media is tiring on many days. We can't ever deny the opportunities of its original democratic form that helped bring the world closer. It even helped tiny ideas such as ours become large, celebrated communities. But at some point, the echo chamber because of it's engagement driving algorithms, got annoying. The human mind is ready for more ideas and nuance, but if it only receives the same repeating content it robs the internet of its beauty and its potential of shared learning.

Brevity is the trademark of the company and in many other interviews the two of you have strongly verbalised that the intent of TTT is to make writing more inclusive and accessible for non-literary people. How do you really differentiate writing and literature in terms of accessibility. Is it not perhaps just another generic evolution in the literary world from complex long reads to more shorter easier reads just like how there were epics in the classical ages and the novel form of literature emerged just a few centuries ago.
Chintan:
There's a lot of snobbery around literature. And we want to loosen that scarf around the neck a little. Let people be, and turn 'writing' into more like 'expression', a natural extension to themselves. Tell them it can be joyful, simple, cathartic, fulfilling; just putting things out there at regular intervals.
And also, at the same time, consume what best suits their schedules and moods and patterns. Their attention spans. Tailor content around it. Let's admit it, a book is a commitment today, akin to a relationship. A piece meal on the go is what majority of the people want, maybe.
Basically, write what naturally comes to you, consume what's best according to you. That's what we strive for, I think. The inclusivity gets prescribed in flagship writing workshops and practiced at scale on the app in terms of expression on a daily basis. And the curation allows (and in fact, ensures) exclusivity in terms of the quality of content served for consumption. Currently, we're a happy dance between the two. And I don't see that changing anytime soon.
But if we are to stay relevant, we have to continue to listen openly and adapt quickly. That's the only way to survive changing trends. To become them. And with social media allowing people to finally speak their minds after so many centuries of collective (and collateral) implosion, we're the first ones to hold out the mic to them and ask 'hey, who ever said this can't be literature?'. The best form of art doesn't judge, but quietly records time and mirrors it. We try. Every single day.
And yes, Shakespeare was ridiculed in his time. And gets celebrated in ours. So that.
Since your company's presence and dominance is primarily through the digital medium, why did you venture into the print world through your two books?
Chintan:
We grew up reading books. We didn't have pixels staring back at us all our adolescent lives. Stories still warmed our hands, cuddled through pages, peeped through shelves, made us enter bookstores. While the pragmatic part of us is on autopilot digitally, the book-lover side continues to tug at us romantically. And so we aspire for both these worlds to co-exist, stories to flourish on both. The best of the best make it to the book. It's simple.
We have Penguin to thank for foreseeing this collaboration and its potential. And we've only just begun with two anthologies. Now, it seems like an endless pit, and we're happily digging.
Anuj:
Another reason to do the book was when a writers works with us, it is deeply rewarding to see your work in print and in the hands of thousands of people across India and the world. It's no small deal, at the age of 18, to be a published writer and that to with a reputed publishing house like Penguin Random House India and TTT. Back in the day, this was not easy. I have no recollection of an opportunity where my expression could find its way into a book as easily as we make it happen.

The new book , Ninety-Seven Poems is a compendium of perhaps the poems that resound with every human emotion and experience. What is the story behind the compilation of this book and what was your creative process behind it?
Chintan:
There's a general notion that nobody reads poetry anymore. But trends like Instagram poetry and Rupi Kaur made us believe otherwise. Just that we consciously strived to have a healthy mix of genres and pack in surprises at regular intervals. Honestly, I anticipated a challenging run. But thankfully, we've sold roughly 9,000 copies already until the day of the official book launch. Those in publishing will consider that a satisfying number at the onset.
Compiling it though, was a layered and complex process. We tried to make it fun though. It involved three rounds of curation and a core team of three. Over 4,000 poems were curated from at first, taking the last 3 years into account. The shortlisted 1200 odd poems were taken to a bungalow on the outskirts of Mumbai for four days and we curated diligently, discussing each piece at length. Its intent, content and construct. Whether it digressed too much, stayed true to its core emotion, finished with a feeling. And the last round involved almost the entire office, splitting the rejected pieces into batches and distributing it among several teams internally. At last count, we had ninety-seven poems. And we decided against forcing another three. After all, a hundred isn't poetic enough!

Which poems are your personal favourites from the book?
Chintan:
Tough question. I'm going to skip this one.
Anuj:
I don't have favourite poems but I really do enjoy the works of this writer called Yashodhaan Burange, especially his poem titled 'grenade' is beautiful, if I had to pick one. With over forty poets in a book, there's a poem and a poet for everyone, really.

Talk to us about the power you think words have. We just spoke about literature and its evolution. How do you think literature really affects the world and society and why do you think writing is important?
Chintan:
Because words, when strung together carefully, can both accommodate and dispel worlds. Words can hurt, heal, hug, make you feel. You can drown in them without worrying too much. It's the only addiction that isn't harmful - the excessive habit of reading or writing. That says a lot, doesn't it?
Every film that moved us was first written as a script with words. Every speech that forged governments, made policies and changed the shape of the map was made of nothing but words. Until there's a translation to what the eyes speak, or a hug reveals, words continue to be the only way to express in the most basic and universally accepted form. Writing, hence, becomes crucial to our purpose of recording time through expression.
People perish. Words live on. Through stories, memories, folklore. Pictures and statues try to depict time gone by. But words pump meaning and relevance into them. Bring them to life.
On a given day, I'd take a screenshot of a heartfelt confession by a member of our community over any data-point. Stories, when they move people, give us better sleep at night.

Are you looking at more such print book collaboration in the future?
Chintan:
Yes, several more.

What is next for TTT and what else is the company looking forward to venturing in?
Chintan:
Be at the heart of storytelling, no matter what the time, format, device, or trend be.

Anuj:
One key thing for TTT to do as we move forward will also be to identify all the things we will not do. Invariably the key to velocity and growth is focus and I think we do many things and some of those things we do really well but I think as we as we grow, we will have to find areas of focus and growth and potential and double down on them instead of spreading ourselves wider.

TEXT NIDHI VERMA