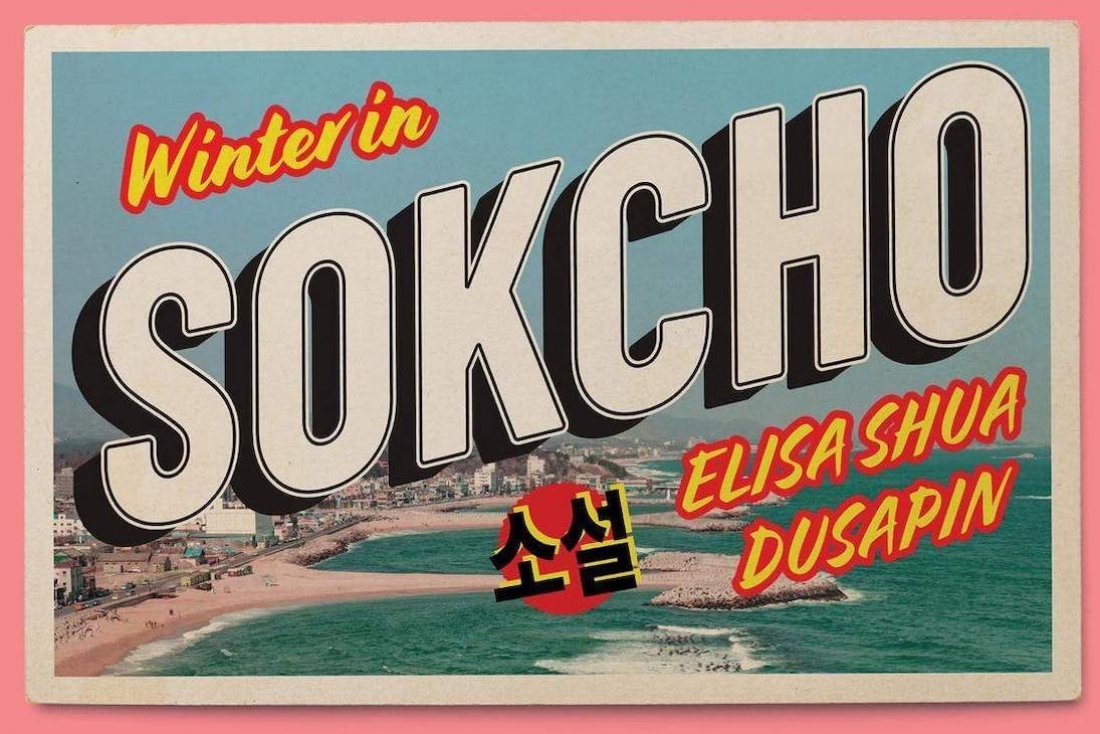 Elisa Shua Dusapin
Winter in Sokcho
It's winter in Sokcho, a tourist town on the border between South and North Korea. The cold slows everything down. Bodies are red and raw, the fish turn venomous, beyond the beach guns point out from the North's watchtowers. A young French-Korean woman works as a receptionist in a tired guesthouse. One evening, an unexpected guest arrives: a French cartoonist determined to find inspiration in this desolate landscape. The two form an uneasy relationship. When she agrees to accompany him on trips to discover an 'authentic' Korea, they visit snowy mountaintops and dramatic waterfalls, and cross into North Korea, but he takes no interest in the Sokcho she knows - the gaudy neon lights, the scars of war, the fish market where her mother works. As she's pulled into his vision and taken in by his drawings, she strikes upon a way to finally be seen.
Elisa Shua Dusapin's deeply visceral debut, Winter in Sokcho is a book, that will take you just a few hours to read, but its aftereffects will stay with you for a lifetime. The book, originally written in French, has now been translated in English by Aneesa Abbas Higgins and published by Daunt Books this year. An exquisitely-crafted novel, which had won the Prix Robert Walser, Winter in Sokcho is a novel about shared identities and divided selves, vision and blindness, intimacy and alienation. Elisa's voice is distinctive and unmistakable. We spoke to the author to know more about her book and her journey as a writer.

Tell us a little bit about yourself and how you were led towards the world of writing.
I'm 27, of French and South-Korean origins. I grew up between Paris, Seoul and Switzerland. Ever since I was a child, I've been fascinated by the arts: music, dance, theatre, drawing. I never imagined having books published, let alone making a living as a writer, as I do now, but, I've always been a great reader. I was fortunate to grow up surrounded by books. I think that deep down I needed to write, but I held myself back, due to lack of self-confidence. It all clicked when I was at the lycée (a secondary school in France) and had to think seriously about the direction my studies would take. I felt a pressing need, as if I knew that if I didn't start writing there and then, if I set off on a different path without even giving it a try, I'd never be able to write. When Winter in Sokcho was published, all my plans were turned upside-down, and I've been writing ever since — novels, plays, films, et cetera. Sometimes I can't quite believe all the things that have happened to me in the last few years. I work a lot, but most importantly, I'm lucky enough to be able to work with people who inspire me and give me a great deal of support.
What inspired your debut book, Winter in Sokcho?
In my family, there is a meeting of very different cultures. We speak at least four languages — it's a rich environment but it can be difficult at times. Eastern and western ways of thinking are very different, contradictory even, and we don't necessarily understand one another. As a child, I found it difficult to fit in. When I was thirteen, I went to South Korea for the first time. It came as a shock to me, a crisis of identity intensified by seeing the obsession in Korea with perfection — with cosmetic surgery. I wrote Winter in Sokcho between the ages of 17 and 21, a time period when one is particularly sensitive to questions of belonging, of creating a sense of self. I think I was consciously influenced, to a certain extent, by all of these things.
Could you give us a blurb on the book in your own words?
It's the story of a young French-Korean woman who has never been to Europe and who lives in a small seaside town in South Korea, a port close to the border with North Korea. She works in a run-down guesthouse, it's winter, she's bored, she dreams of going away but doesn't want to leave her mother on her own. Her boyfriend is training to be a model, he wants her to have work done on her face. . . One day, a French graphic artist arrives at the guesthouse, in search of inspiration. A fragile bond develops between them, a relationship that goes beyond language and culture.
What was the creative process like behind the writing of this book?
I draw much of my inspiration from the visual arts: photography, drawing, painting, film. I literally made a film in my head to write this book. I constructed the novel as a series of sequences. I drew storyboards to help me visualise things. I wanted to create something concrete, something visual and sensual, rather than mental and intellectual.
What kind of challenges did you face while writing this book?
Writing a novel takes a great deal of time. I also need to be alone to work. It's not always easy for family and friends to understand this need. Then there are all the doubts too — is this interesting? What am I saying here? Why do I need to write? Is the form right? All these questions that I can't always answer since most of it is to do with intuition. I'm constantly learning how to follow my intuition, to let go, and that's possibly the hardest thing about writing. The ability to see the images that appear without any premeditation. Winter in Sokcho was my first novel. These fears were ever present. Yet, at the same time, I think I was largely unaware of what was happening. Thankfully.
What do you wish the reader takes away from your work?
I have great faith in readers' ability to understand things that I myself haven't understood in my work. My relationship to the stories I tell is instinctive, I don't intellectualise them at all. When I write, I start with impressions, images, sensations, rather than ideas or concepts. Before the end of a novel I never know what direction it will take, and much of the time, even at the end, I don't know exactly what is going on. It's the readers, who help me to see it all more clearly, through their feedback. Their responses are a gift to me.
Lastly, what's next ?
I've just finished writing my third novel. It's coming out, in French, in August 2020. It's the book that up to this point in my life has meant the most to me. I'm proud of it, I can't wait, and I'm terrified too!

To read our review of the book, buy a copy of our June - September bi-annual print issue, now available on our App and Magzter!

Text Nidhi Verma
Translation Aneesa Abbas Higgins