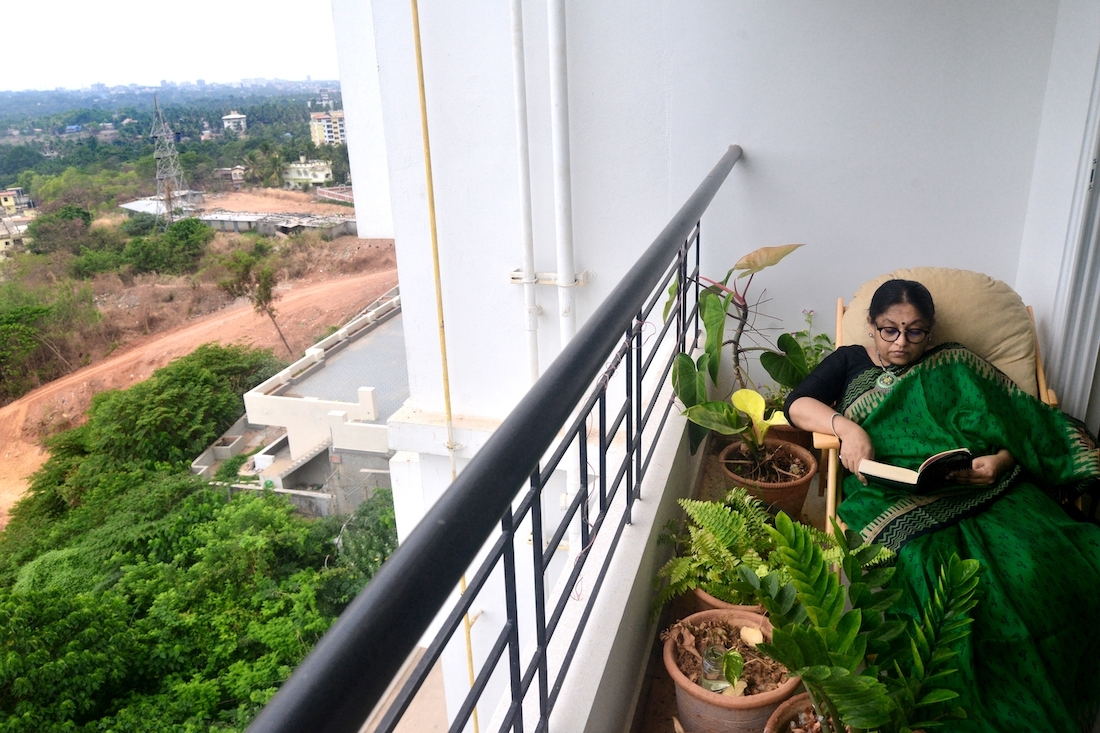 Image courtesy: Saswata Bhattacharya for the JCB Prize for Literature
K R Meera is a widely renowned author who writes fiction in Malayalam and essays in English, and has published four novels, five novellas, six collections of short fiction, two children's novels and two collections of essays. She has won all the major Malayalam literary awards, including the Kendra Sahitya Akademi Award, Kerala Sahitya Akademi Award (for best novel and for best short fiction), the Vayalar Award and the Odakuzhal Award. Her works in translation include Hangwoman, The Poison of Love, The Unseeing Idol of Light, Yellow is the Colour of Longing and The Gospel of Yudas. As she has joined the jury of he JCB Prize for Literature this year, we connected with her to know more literature, translation and her association with the prize.
Could you tell us a little about how you began your journey in writing?
It was a zig-zag path for me as I started very early in life, as early as seven or eight years, attempting to write stories and poems, always dreaming of becoming a great writer. My mother's admiration towards her writer- friend M D Ratnamma, a renowned novelist in Malayalam was of course a catalyst and I grew up with an impression that a writer is someone very special. I was a voracious reader and by the time I had read all the major literary works in Malayalam, I lost the confidence to call myself a writer. But there was no doubt that I would do my best in some profession which requires a lot of writing and naturally and I became a journalist. It was in 2001 that I re-started creative writing. My first collection of short fiction was published in 2001. In 2006, I quit journalism and became a full time writer.
Which authors or books were your formative influences?
In Malayalam, authors like E V Krishna Pillai, Kamala Das, T Padmanabhan, S V Venugopan Nair, Anand, M Mukundan, C V Sriraman, O N V Kurup, Sugatha Kumari, Zacharia - it is a long list. In English, Maxim Gorkhey, Ayn Rand and Gabriel Garcia Marquez. But if you ask me to pick the dearest of all, I would choose Gabriel Garcia Marquez.
How was your association with the JCB Prize for Literature brought about?
My first association with the prize is through Benyamin, a writer in my language and from my town, who won the first ever JCB Prize. This year, I was invited to be on the Jury which I readily agreed.
Can you give us some insight into the workings of the jury and how you came to your decisions for the long list this year?
The books started pouring in right from April and we had been reading them in the order we received them. We would discuss them one by one over Skype. It was fun as we were a bunch of readers with different tastes and expectations. We have read every single book sent to us. We have discussed and debated over each one. It was like bringing out the positive and negative of each work. After the first round of reading, we had prepared a pre- long list which had about 16 books. We re-read each one and discussed each one meticulously before long list was made. It was exciting discussion which went for hours. There is nothing nobler than fighting for a book you like. In the end, all of us are proud of the long list we have.
How do you think the Prize will influence authors, publishers and audiences in India?
Any prize is welcome for any writer, publisher and reader as it puts the book in the spot light at least for sometime. But JCB Prize does much more than that. It reminds us how important is fiction in the world we live in, not only in terms of the prize money but also in terms of the time and effort it puts into selecting the best works of fiction. And the prize money pays justice to the author and the process of creative writing. More than that, it brings the regional language writing into the centre stage too. Isn't it the first time in our history that a translation from a regional language got selected for such a big prize?
As someone who writes in Malayalam - what are the challenges involved in the translation of works?
The first and foremost is to find the best translators. You need an equally creative mind to bring out the multiple layers of meanings and ideas in the original. The translator should have a competence equal to the native speaker too. There were some wonderful books let down by the translators. I felt so grateful to my translators who undertook translation as a labour of love.
Lastly, what are you working at the moment and what are your future literary ambitions?
Right now, I am working on a novel titled Ghathakan ( The Assassin ) which is being serialised in a Malayalam weekly. I don't have any literary ambition other than to write more. I dream of themes others won't think of.