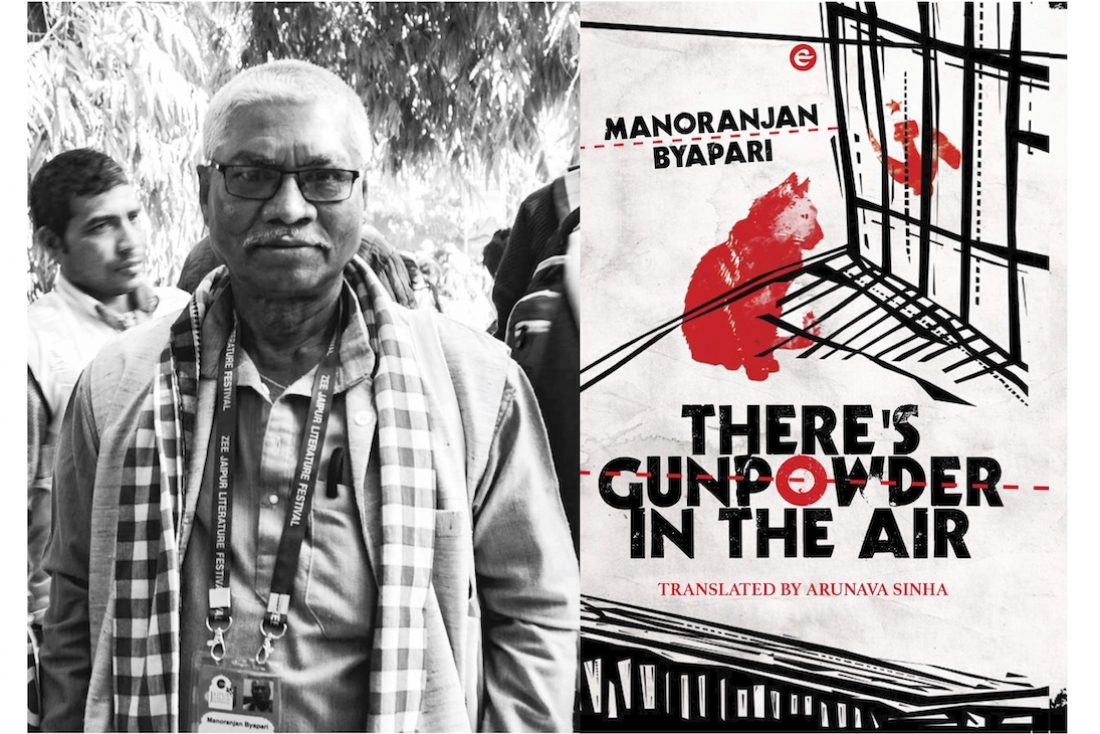 The Writer
The world of writing! My entry into it cannot be termed anything but an accident. I'm a stepchild of fate—at the age that children go to school, I was forced to herd cattle, wash dishes at a tea-shop, work as a porter. I did not have the opportunity to go to school. I learnt the alphabet scratching letters on the ground with a twig. Just as people who play sports become sport-persons, I have in the process of writing become a writer-person.
When I learnt to read, I didn't get hold of the kind of good books that expand one's thinking and understanding. But despite all the trash I have read, I have read some of the works by more or less all the revered writers in Bangla. I have been influenced by Mahasweta Devi's Shurjo Shoman Anol Anirban Krodh—the kind of anger that can come from a deep love for oppressed and deprived working class people. Then there was Samaresh Basu, whose wide, generous heart led him to create each of his characters with great empathy. And Binoy Mukhopadhyay, who wrote the novel Drishtipaat under the pseudonym of Jajabor. His art of writing prose makes it seem he has threaded words together to craft a necklace. Also, the Hindi novelist Shrilal Shukla, whose unparalleled novel Raag Darbari reveals his probing eye, his ability to see and describe things incisively, is someone who has influenced me to an extent.
The Book
It's the early seventies. The Naxalbari Movement is gathering strength in Bengal. Young men and women have left their homes, picked up arms to free land from the clutches of feudal landlords and the state, and return them to oppressed landless farmers. They are being arrested en masse and thrown into high-security jails.
In one such jail, five Naxals are meticulously planning a jailbreak. They must free themselves if the revolution is to continue. But petty thief Bhagoban, much too happy to serve frequent terms for free food and shelter, has been planted by Jailor Bireshwar Mukherjee among them as a mole. Only, Bhagoban seems to be warming up to them.There's Gunpowder in the Air is a searing investigation into what deprivation and isolation can do to human idealism.
The Process
It was the fiery seventies, I was in jail. No one today can imagine how horrifying jails were at that time. The authorities would try everything they could to break the spines of prisoners, especially those who had convicted of crimes like sedition. I witnessed, and was inspired by, the way in which a group of young men withstood this torture courageously on the strength of their ideology, not even hesitating to face death. It was to let people see this, know about this, that I wrote Batashe Baruder Gondho (There's Gunpowder in the Air).
I'm a self-taught writer-person, I have not acquired the grammar of writing. So I have never bothered about the use of similes or metaphors or other embellishments. I write because I have to, to save my life. And for this I have adhered to my own style and syntax, devoid of grammar—my own material, my own presentation, my own school of writing. It is up to the learned reader to decide whether there's any art, creativity or beauty in it. The biggest problem was its truthfulness—the immense power of truth. This makes truth perpetually unwelcome. The ruler class, the oppressor class, does not have the strength to stand up to the truth, it makes them fearful, angry, aggressive. I was worried that this fury could harm me, that something could happen to me at any point of time.
The JCB Prize for Literature Shortlist
I feel wonderful. Any recognition of this kind is welcome, obviously. The book was confined to a small circle all this time, which meant that it got very few readers. Now it might attract the attention of wise and learned people, which in turn might take it to more readers. This is an enormous gain.
The Future
I don't write as a hobby. I am angry, everything I write is the child of my rage. I was not supposed to be a writer, why then did I choose to be a pen-pusher? I want to make this world fit for children to live in. So I wish for my opponents to die. If I could slit the throats of the enemies of society, I would not have written. Because I cannot do this, I use my impotent helplessness to write instead. I create a loathsome, hateful character in every book, and I kill this person ruthlessly. It gives me some mental relief. I want the anger that's raging in my heart to be generated in my readers' hearts too.
The novel I am working on now will also be the story of people who resist and rebel, constructed with explosive material.