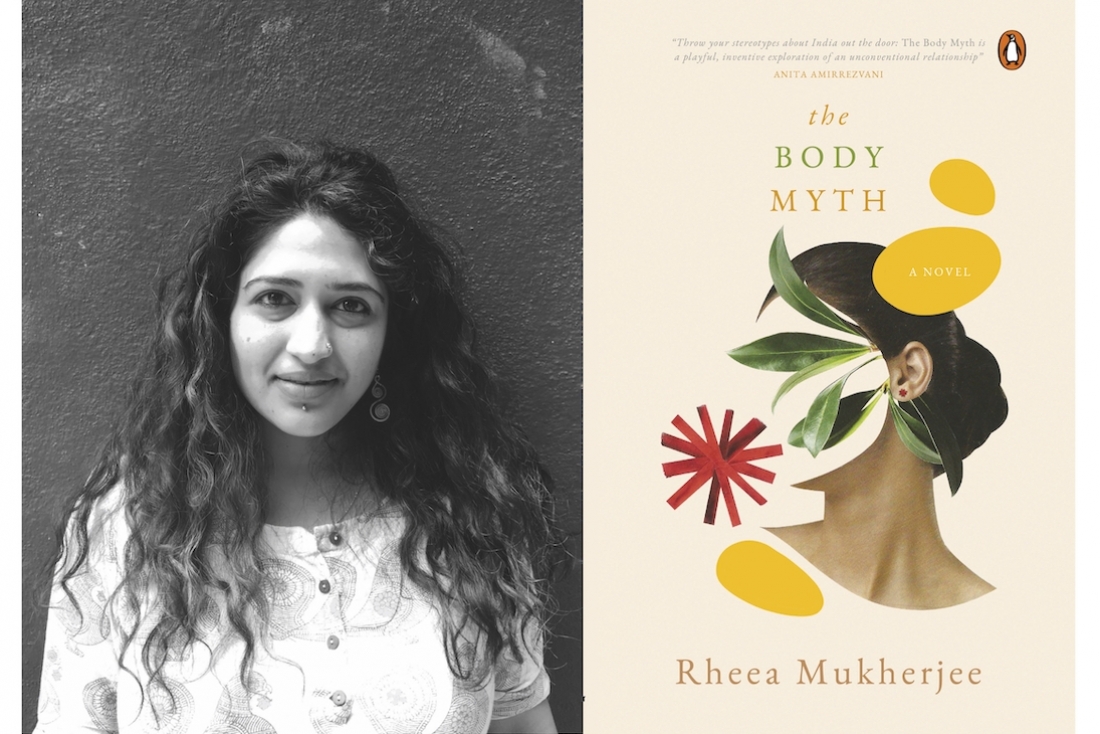 Mind, Body, Book
Rheea Mukherjee, The Body Myth
One of Huffington Post's Most Anticipated Books of 2019, Rheea Mukherjee's The Body Myth is an intriguing endeavour in exploring the mind-body duality. Philosophers and academicians have spoken and written ad nauseam about how the mind and body are distinct and separable and even vice versa. Mukherjee's work takes this debate and explores it in a fictional setting, the heart of which is an unconventional love story. The narrator Mira lives alone, and with only the French existentialists as companions, until the day she witnesses a beautiful woman having a seizure in the park. Mira runs to help her but is cautious, for she could have sworn the woman looked around to see if anyone was watching right before the seizure began. Mira is quickly drawn into the lives of this mysterious woman Sara, who suffers a myriad of unexplained illnesses, and her kind, intensely supportive husband Rahil, striking up intimate, volatile and fragile friendships with each of them that quickly become something more.
Intense and unpredictable, The Body Myth is a meditation on love and loss. Most importantly, the book is an exercise in asking some significant questions like 'Do we trust what our body is telling us? And how separate is the body from the mind, if at all?'

Excerpts from our conversation with the author follow:
Tell us a little bit about yourself and what led you towards the world of writing?
I've been a little all over the place. I didn't do well by the metrics of the Indian Education system. But I was always curious about people. I was brought up in between the U.S and India and that in itself really gave me so much perspective and a good dose of trauma. My college degree is in Social Work and I worked in the spaces of mental health and domestic violence for a bit before figuring out I wanted to write seriously. Although I was writing from my early twenties, I got serious about it after I turned 25.
What inspired the writing of The Body Myth?
I think getting this novel down was inevitable. I had 2 failed novels behind me and countless rejections. The story for this novel came to me quickly, unlike my other attempts that seemed to languish mid-plot. A lot of what inspired The Body Myth was my own negotiation between a sense of spirituality, mental health, and the age of the internet where information and opinions are so accessible. The plot may seem complicated, but in the end The Body Myth is a love story, and I am a child of the 90s Bollywood. So there's that.
The characters of Mira and Sara and their relationship is very unconventional. Can you take us behind your creative process while writing this book and the creation of these characters?
The unconventional core of the book is present because we're socialized into monogamous heteronormativity from birth. That's not a problem necessarily, but closing ourselves to how some of us express ourselves as human beings through ideas, sexuality, ideas of love, and purpose is a problem. When I was writing The Body Myth, I wasn't thinking of the sociological context in terms of polyamory and bisexuality. I don't mean to sound meta about it at all, I was really motivated by the characters themselves, they were all figuring out what their urban privileges had given them: a space to explore their needs and cope with grief in ways that seem quite odd to the average person. Mira, who leads the novel, used intellectualism to cope with the loss of her husband, and her intellectual drive needed to be challenged . Her relationship with Sara and Rahil do that.
Existentialist and absurdist literature is very important to Mira's character. What is the significance of the philosophy in your narrative?I've always been fairly pedestrian with my knowledge of Philosophy, and yet, I am exceedingly compelled by it and the questions it poses to us in terms of our purpose. As I mentioned earlier, a lot of the book was written when I was coming to terms with my own spiritual sense of the world and colliding it with rational understandings of it. The book blurs them together and hopefully allows readers to blur with it or pick a side. I also wanted to explore what it means to get to know the 'self' without the filters of what the world tells you to be, expect, and work with throughout your lifetime.
What kind of challenges did you face while writing your debut book?
My first book was actually a collection of short stories that was published by Kitaab, a small press that runs out of Singapore. I really struggled getting it published and every agent and publisher I approached told me to write a novel first. I was very persistent with The Body Myth, I had of course, developed a strong tolerance for rejection. I sent out cold queries to agents and publishers in batches and collected over 40 rejections. I was about to give up with I got in to Pitchwars, a Twitter competition for writers that pairs you with an established writing mentor. I worked on the book with my mentor, Kristen Lepionka and tightened my manuscript a whole lot. Around the same time, one of my agent cold queries replied and said they loved my book and wanted to represent me. That's how Stacy Testa came into my life. She really gave me so much of her time and space to edit the book even more before we submitted to publishers. We got another big round of rejections before finally placing it in the U.S with Unnamed Press and then Penguin India soon after. It's hard work but also I've had much support and privilege. I am pretty damn grateful.
The question, 'Do we trust what our body is telling us? And how separate is the body from the mind, if at all?' arises in the book. What was your main intent while writing this book and what do you hope the readers take away from it?
I definitely think we have a long way to go in studying consciousness and the power of the mind in relation to our body. I am also very interested in how illness, both physical and mental, are responses to who we are in context to the world we live in. There are countless medical studies that account for the placebo effect in their studies with medications and symptoms. But what does that mean? When you think about humans and belief systems, in many ways what you believe creates your reality, or at the very least what you filter from it.
In other words, we all apply confirmation bias everyday in different ways. I was talking to a friend the other day about how I have ice cold water all the time, even if I am super sick. I've never believed the temperature of a drink makes a difference to how I am feeling when I have a fever, cough and cold. The friend could not believe it, he said 'my throat hurts just thinking about it.' Anyway, my point is that we respond to the world with our own understandings of it, if many people believe the same thing the reality is easier to manifest evenly. I've noticed doctors in india also tell me not to drink anything cold if I am sick, but I've never heard this from doctors in America, in fact, as a child one doctor told me to have a popsicle when I had a sore throat. I've grown up with that belief system, so my body never thinks it's abnormal to drink a glass of iced water when I have the flu. The most I can hope for is my readers having new worldviews to think about after they read my book.
Lastly, what is next for you?
My day job keeps me busy, I co-run a tiny branding and content firm called Write Leela Write. It's what pays the bills and also gives me the flexibility to write whenever I want. Entrepreneurship in that way is familiar to me, it's much like being a writer, nurturing your idea and trying to do the best for it. So, I want to say, my work and personal life is in perfect alignment, and going from the past, this means I will have more books down the line. Although, I'd be lying if I said I wasn't freaking out at the thought.

Text Nidhi Verma